VENUE SPOTLIGHT- YANDINA STATION
VENUE SPOTLIGHT
FEATURING REAL WEDDINGS
Featuring Cassie and Schyler's Spring November Wedding.
If you are looking for a barn, with a rustic feel with exclusive and private facilities, then Yandina Station is your go to! We have been creating weddings flowers on the Sunshine Coast for 11 years and have been designing wedding dreams at Yandina Station since we began.
Nestled between views of Mt Ninderry and Mt Coolum, Yandina Station features, 14 acres of stunning grounds with feature Dairy barn, outdoor Pavilion Deck and 3 onsite cottages. The venue is working cattle farm, located in Yandina Creek amongst other farmland and pineapple fields, whilst still being close to the beaches of Coolum and Noosa. The venue can cater for up to 180 guests and a more intimate occasions, down to 60 guests in the low season. The venue is animal friendly; we have created florals for dogs, horses and llamas! We have also had owls delivering rings!
We have design and executed florals from one end of the venue to the other. So we have put together some little ideas and tips on where and what to add florals to at this stunning wedding venue.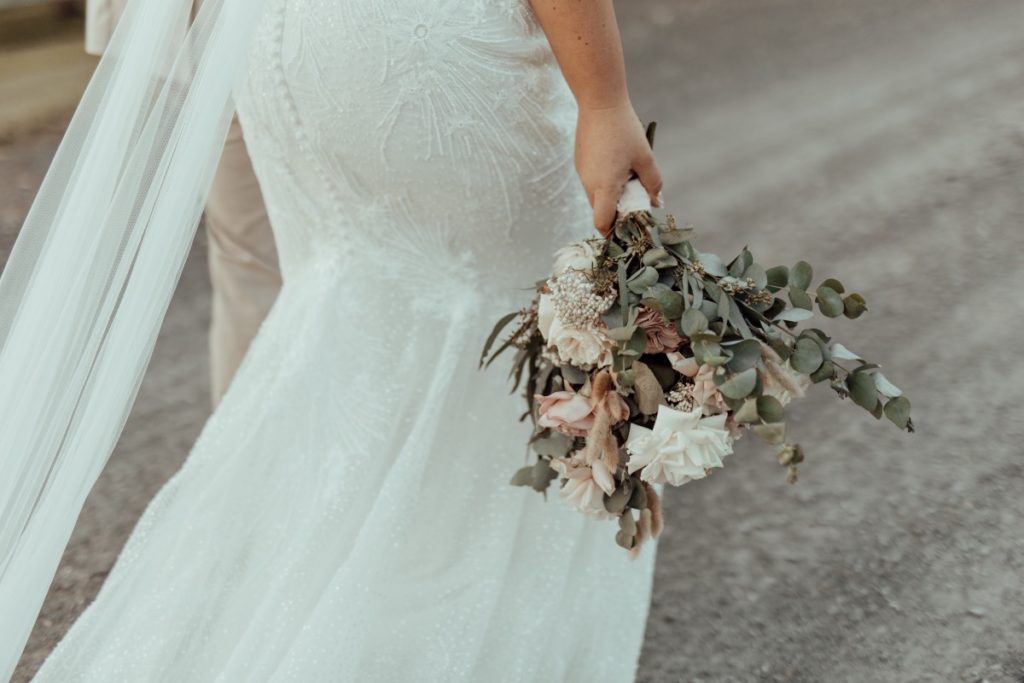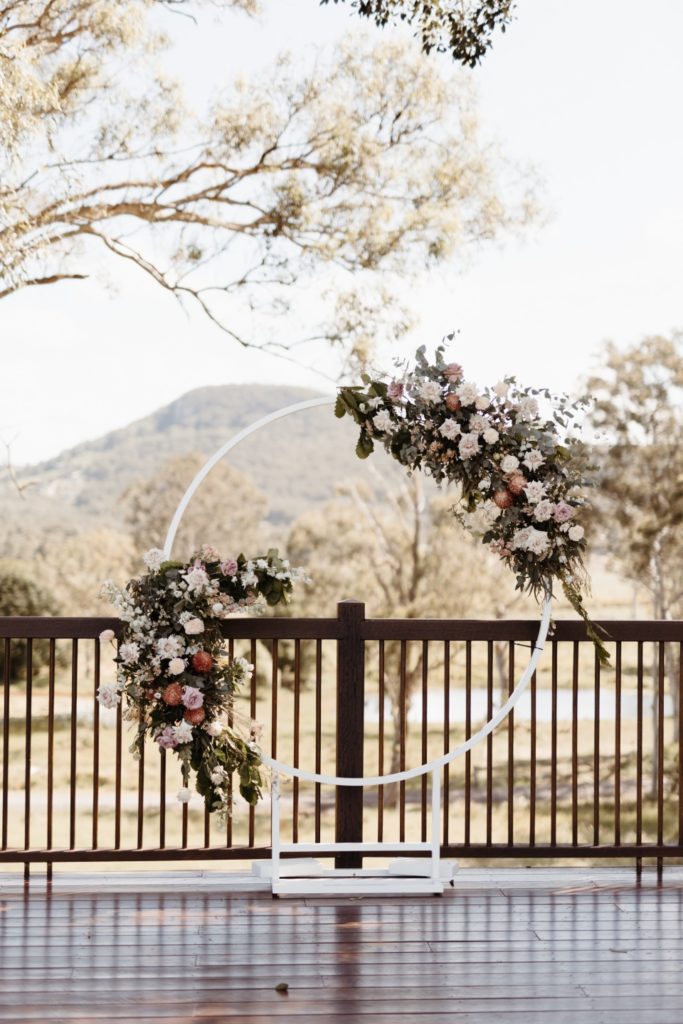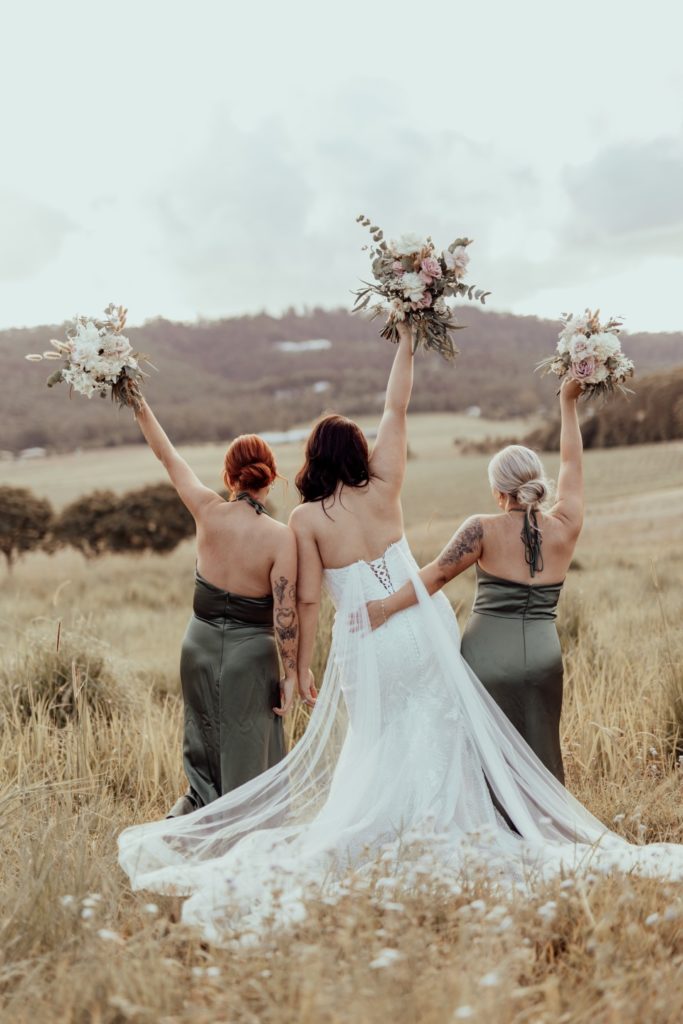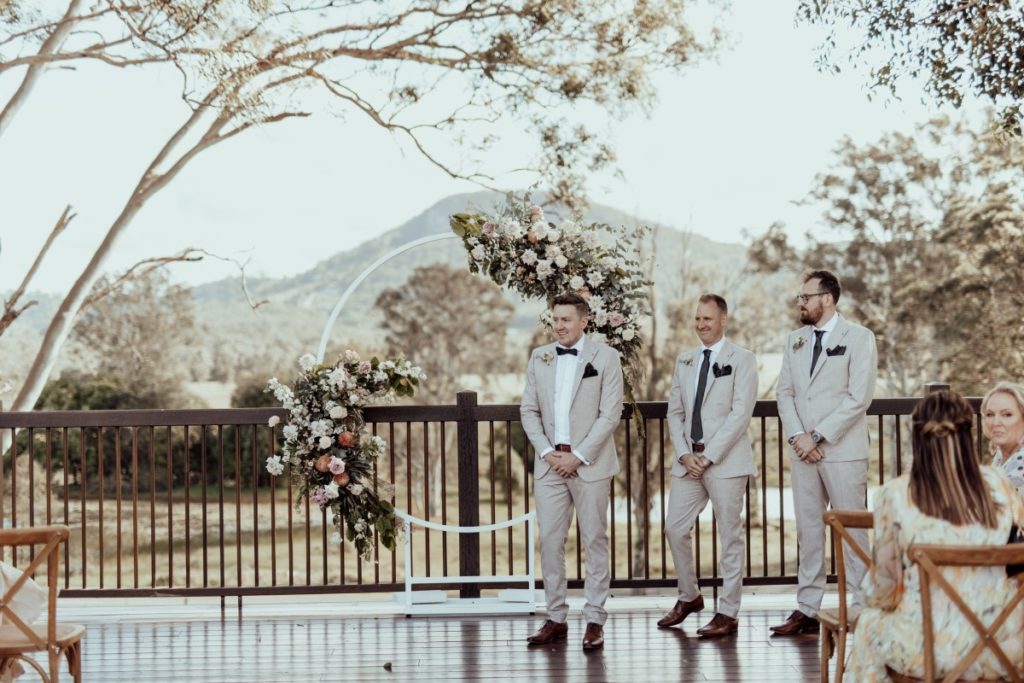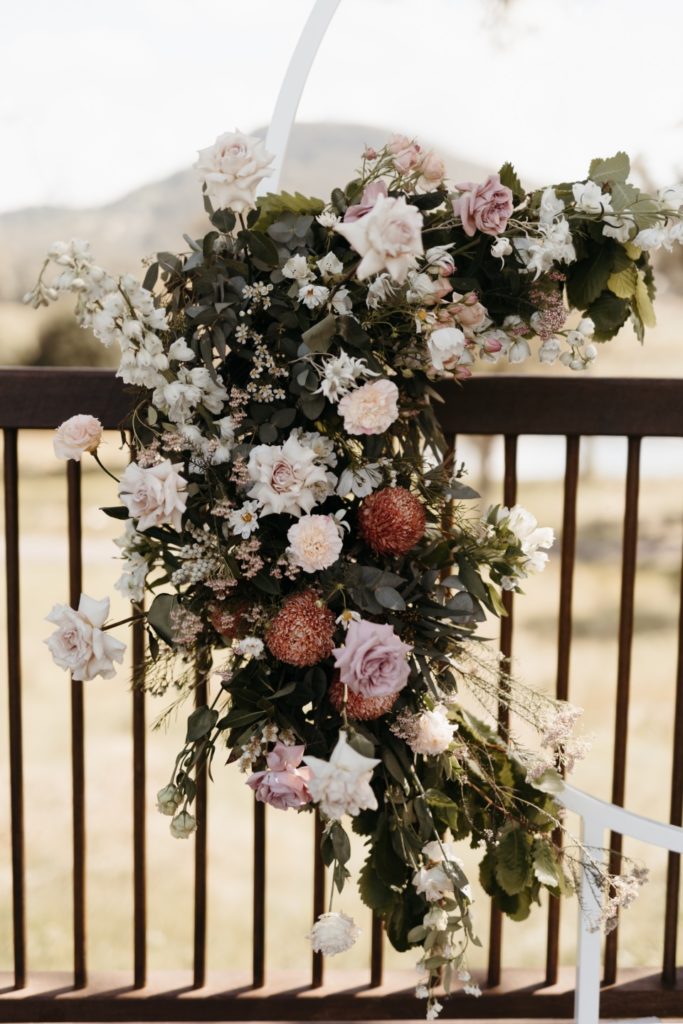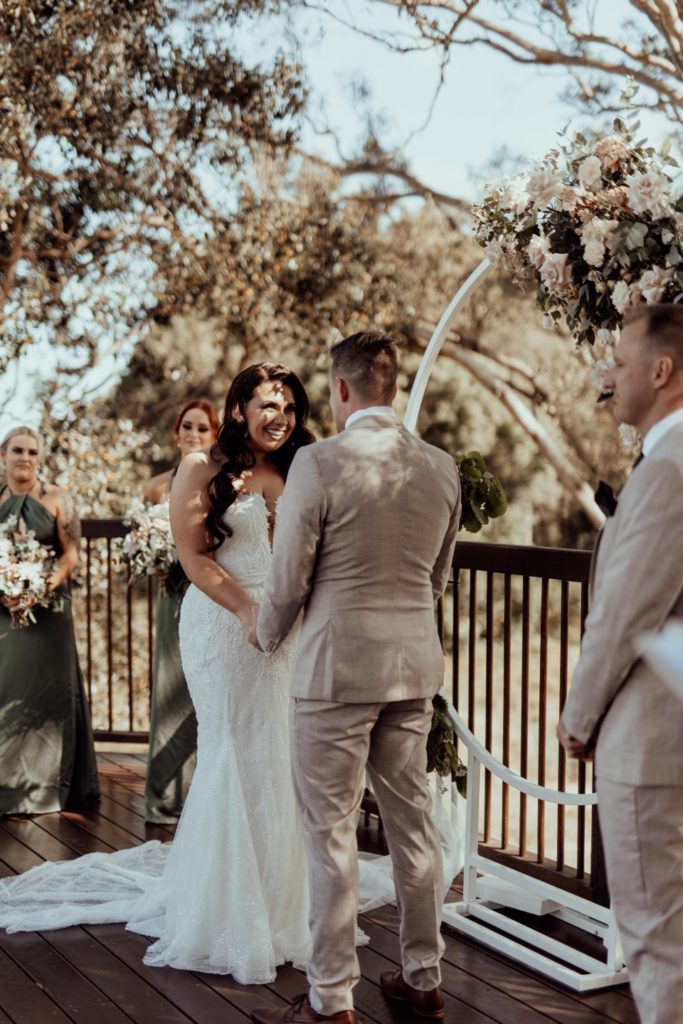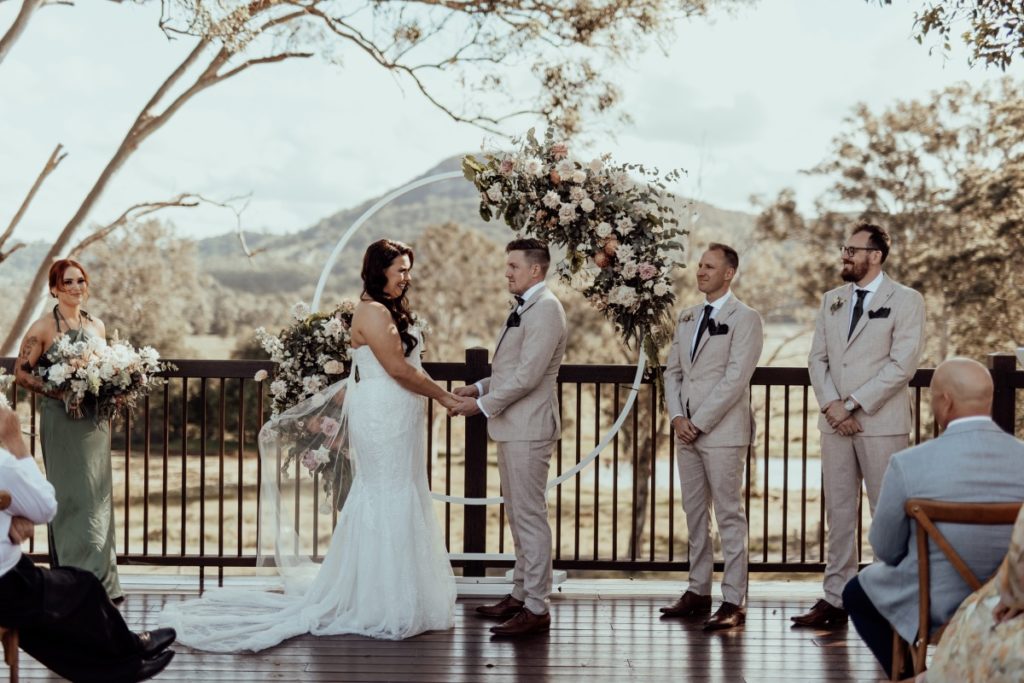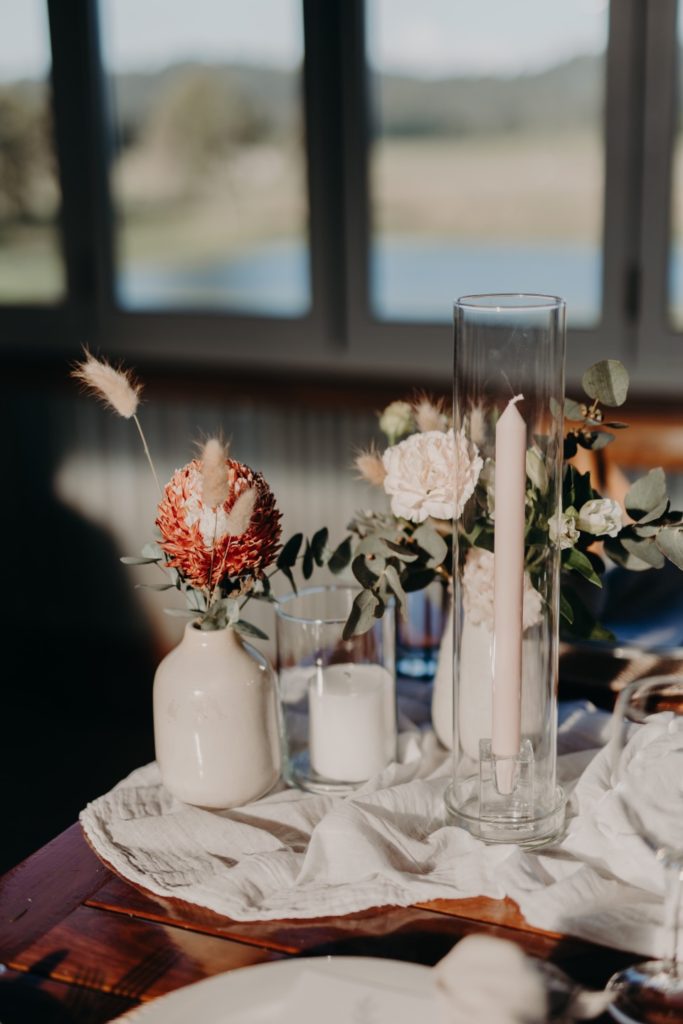 Ceremony Spaces
The most popular space to have your ceremony is the newly constructed Pavilion Deck under the trees looking over towards Mt Ninderry. This area is so popular because it is decked; so no soggy feet or shoes stuck in the grass and it is right beside the bar and Pavilion for some shade and seating after the nuptials. The area is sectioned by a handrail and we have created some stunning floral features that include the handrail in the designs. Another plus with the handrail is when it is windy, any plinths or arbour can be attached to the railing preventing swaying or something toppling. We regularly create for this space; freestanding plinth designs, either tall and framing the view or more subtle creating a sweet intimate space for the couple and minimising the hardness of the hand railing.
Some weddings that feature the Pavilion Deck ceremony space (click the initials of the couple to view):
H + L – Arch Design.    A + J – Handrail Florals.    V + M – Open Framed Plinth.   M + R – Wine Barrel Design.   L + M – Open Frame Plinth Larger.    B + M – Arbour Design.  Some Plinth Designs that camouflage the handrails A + N.    R + C
The other option that we love is the lawns next to the barn with views to Mt Coolum. There are a few different angles/spaces here to have your wedding ceremony. One option is closer to the barn under the shade of the tree looking over the dam, like K + J. We created a lush floral garden that curved towards the ceremony location under the tree. This is one of our favourite spots for a ceremony space, but choose your time of day as it can get hot! Other options on the lawns are to face more toward Mt Coolum, past the small cluster of rocks, this will have the rustic old timber fencing in your foreground, which we have created floral on and beside creating a lovely feature of some of the vintage elements. As seen here in C + R
Wet Weather or Small Gathering Options
Yandina Station has some amazing options for if the weather turns sour. We pride ourselves on being able to pivot, as we create most ceremony florals on site, we can revise your design on the fly and make a stunning (sometimes almost better) design on site to suit the space and situation.
The Pavilion. This is a perfect wet weather option, and oozes rustic charm. Although a modern addition it has some salvaged and original elements from the venue. There are also some wine barrels and create that we can use to build height or interest if they were not in your original design. Here is a great blog post about wet weather options featuring a wedding in the Pavilion. Wet Weather Blog.  The Pavilion is also a great space for a small gathering under cover.
The Dairy Barn. There are a few spaces in the barn that can be converted to a ceremony space, with a great team of vendors and the Yandina Station team you can have a dream ceremony not matter what the weather is doing out side. Like this stunning day for B + K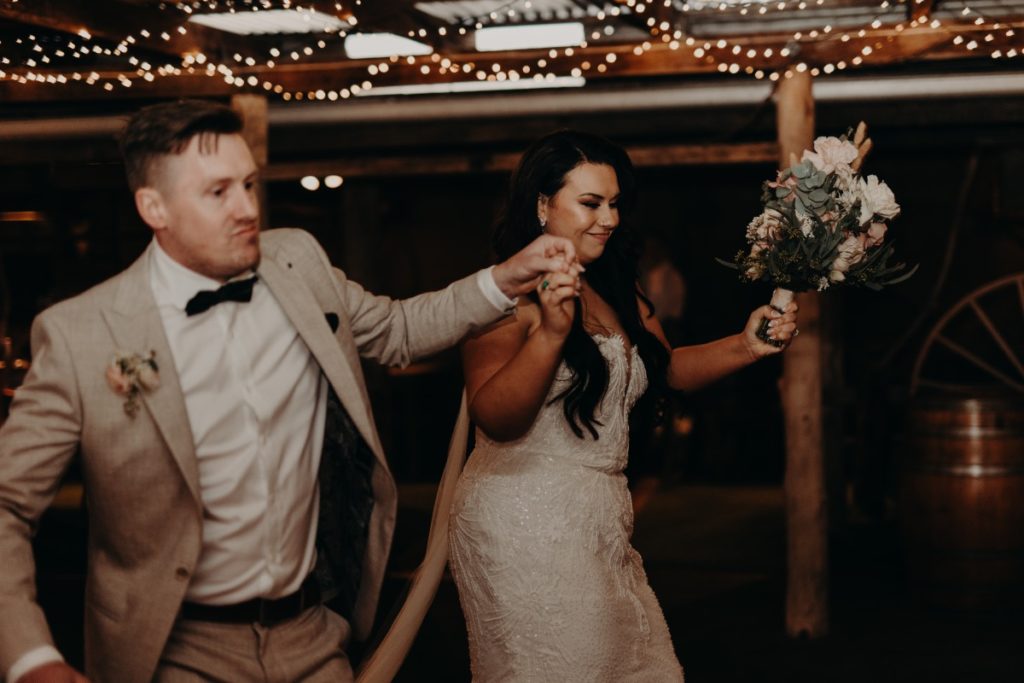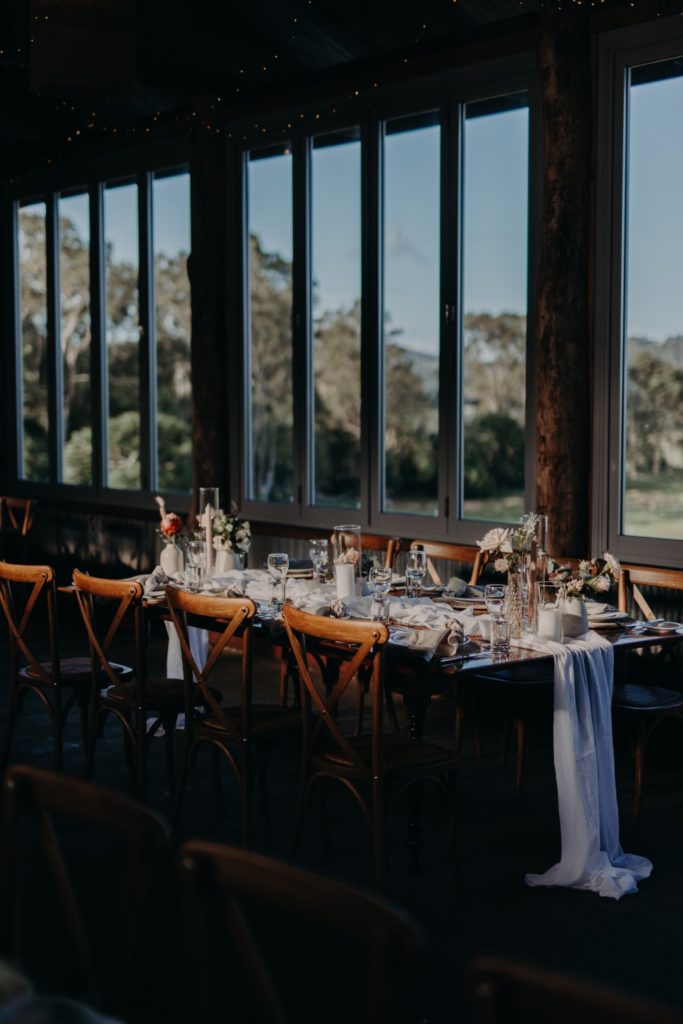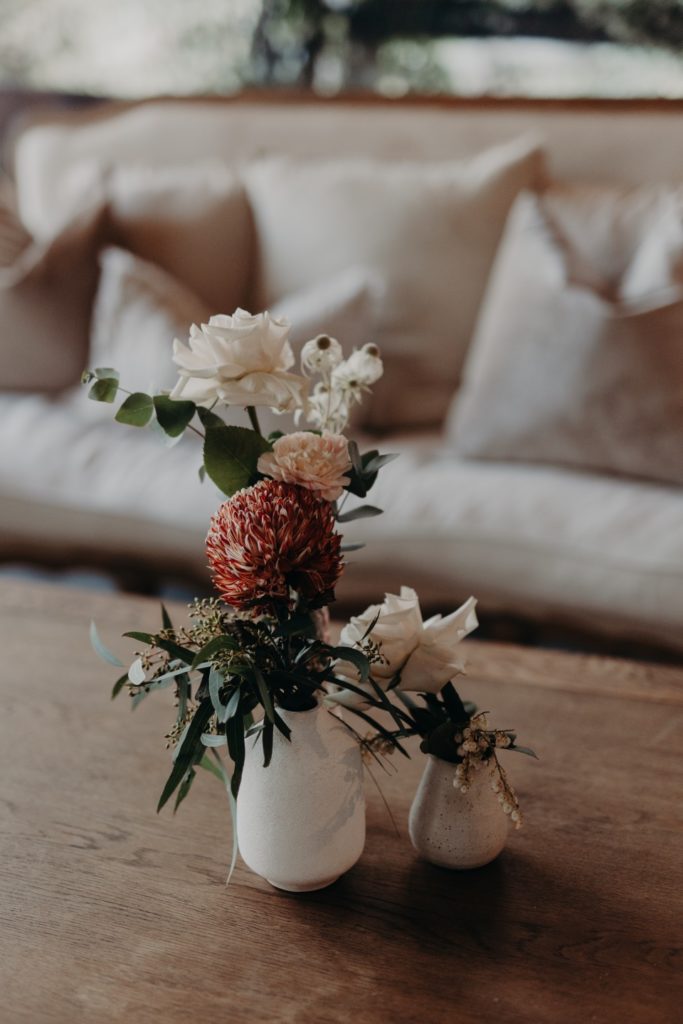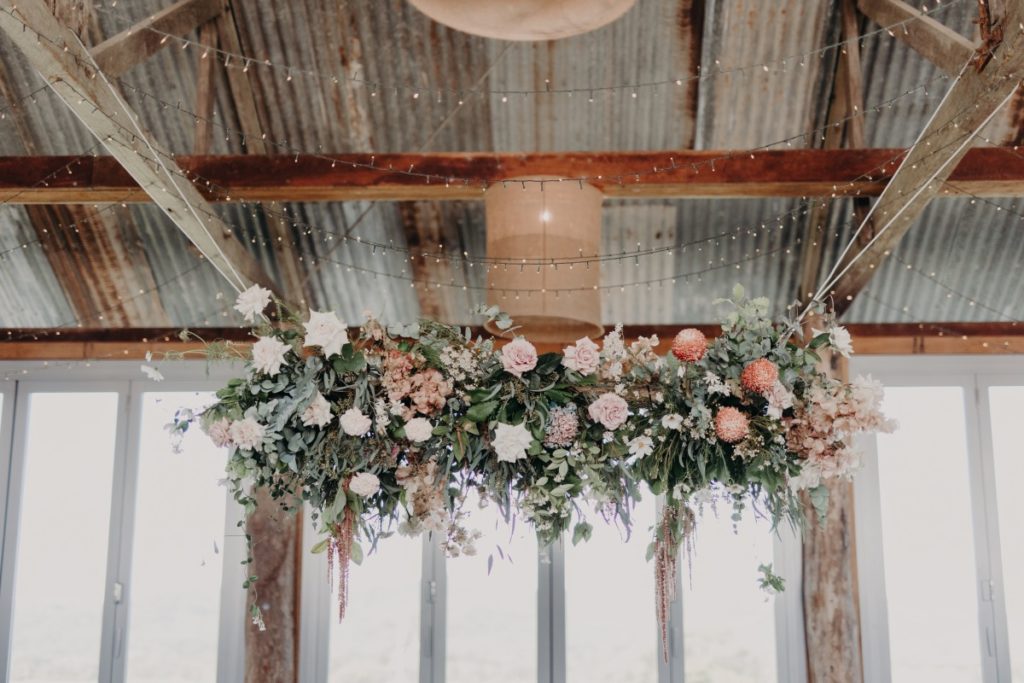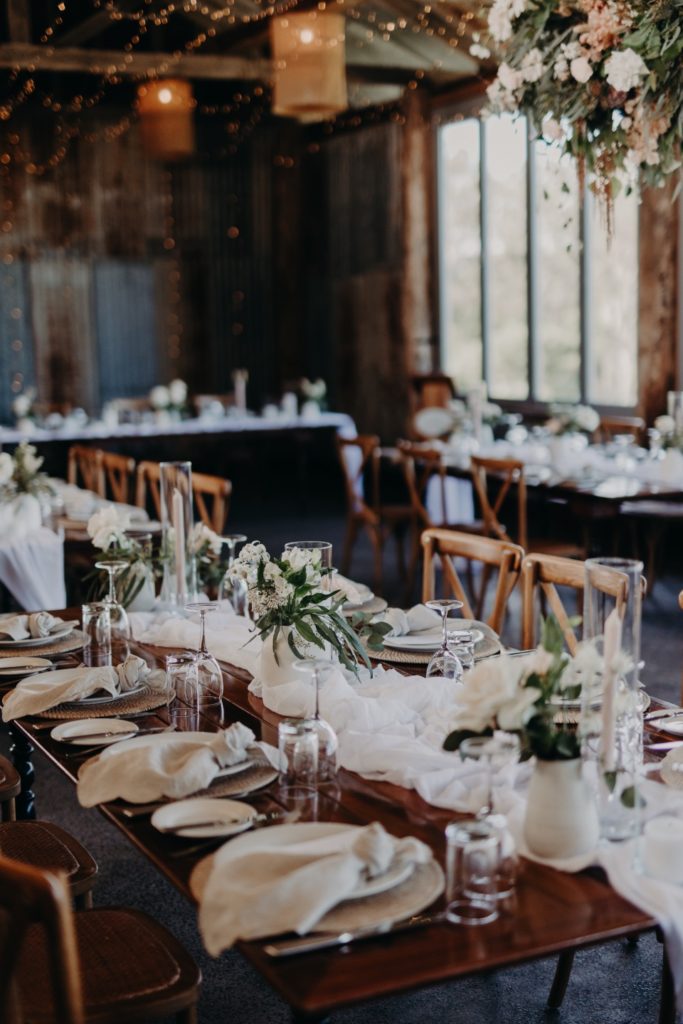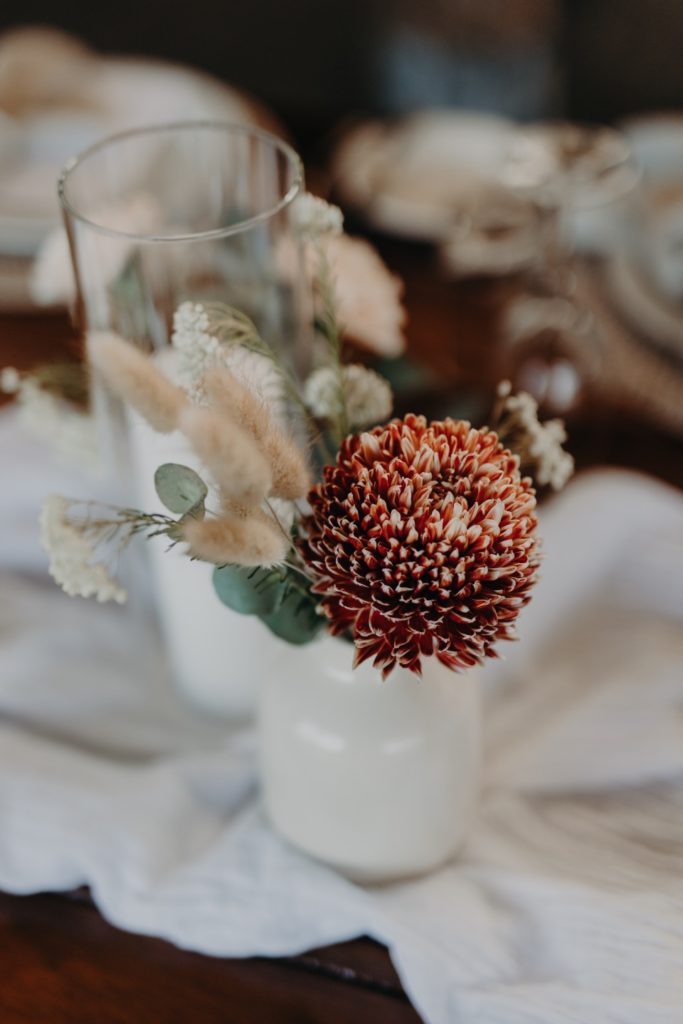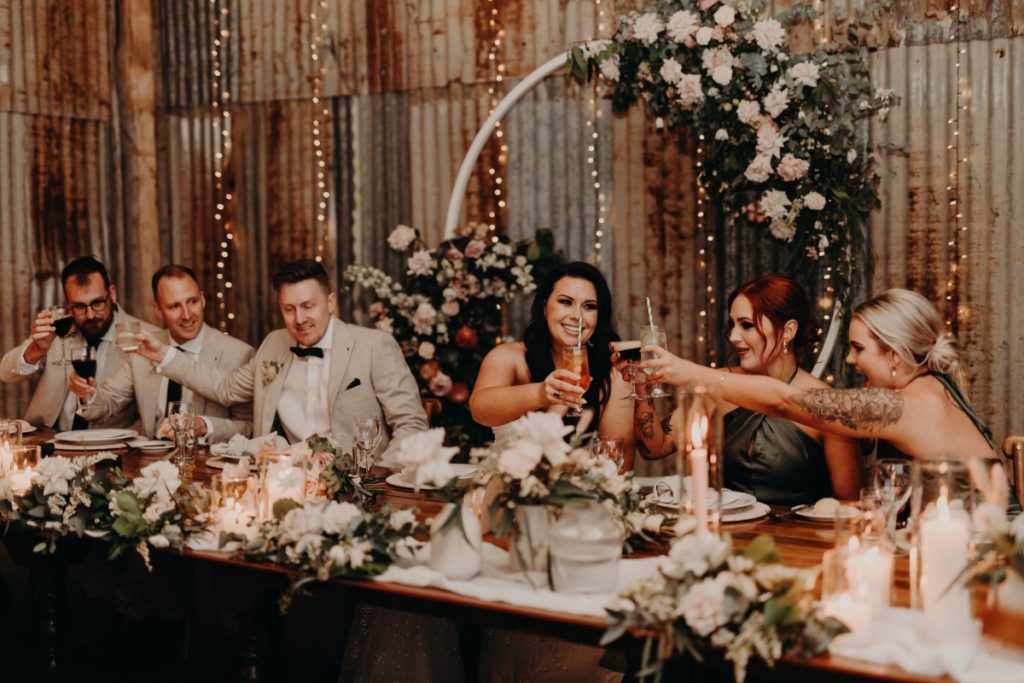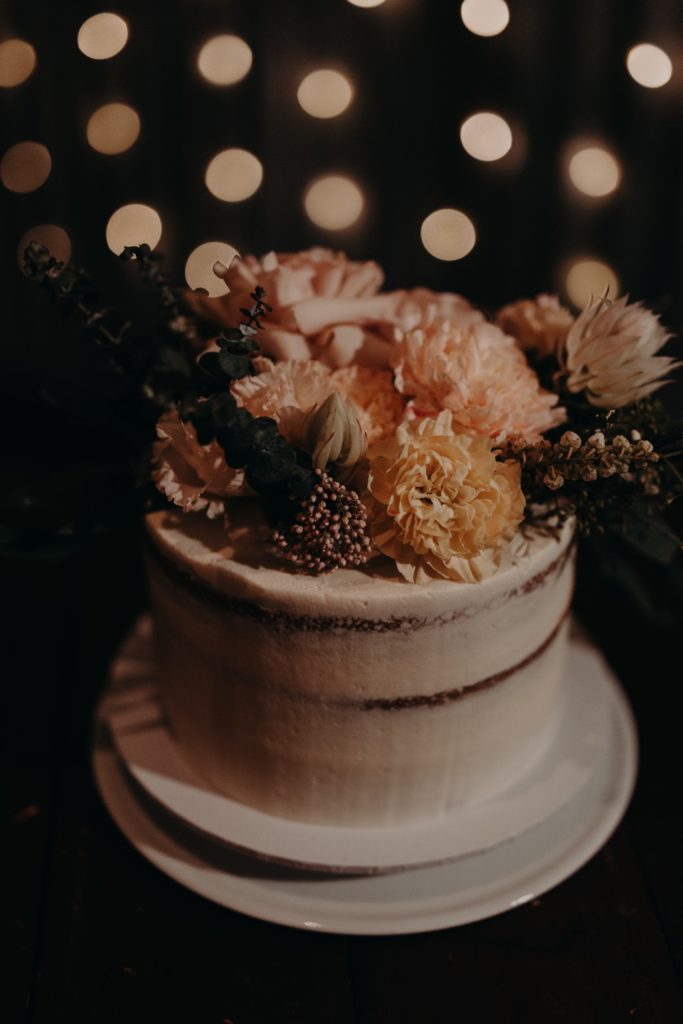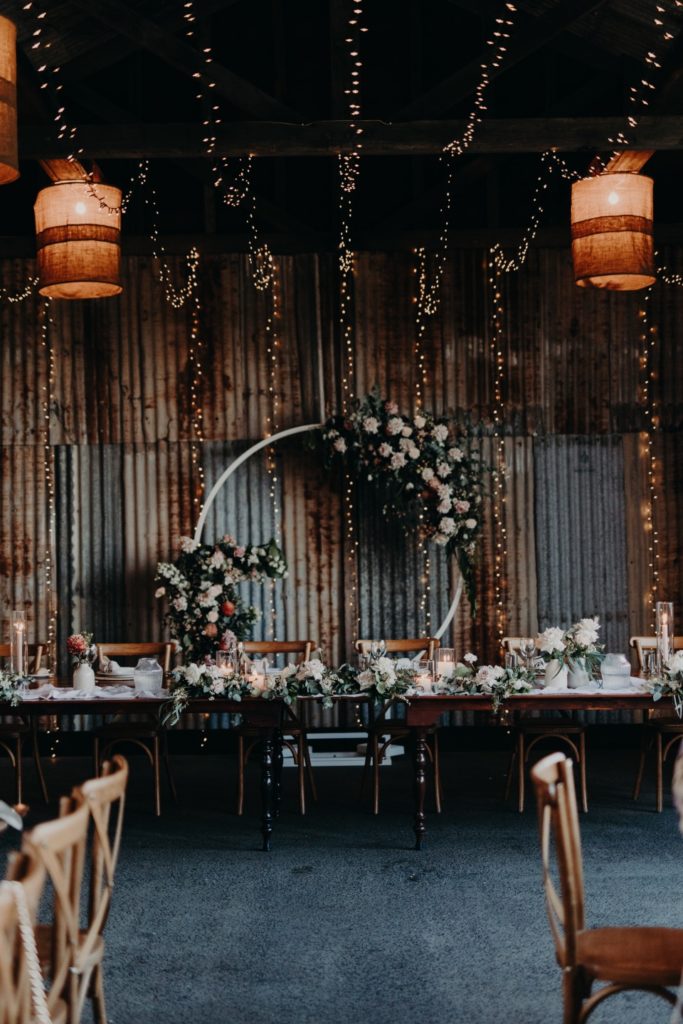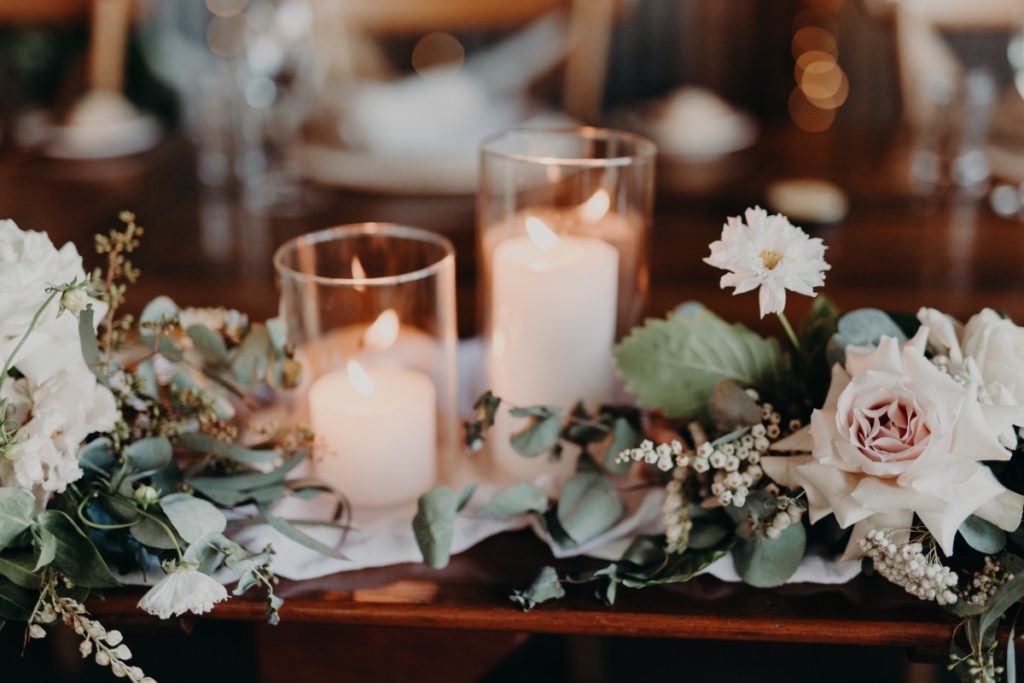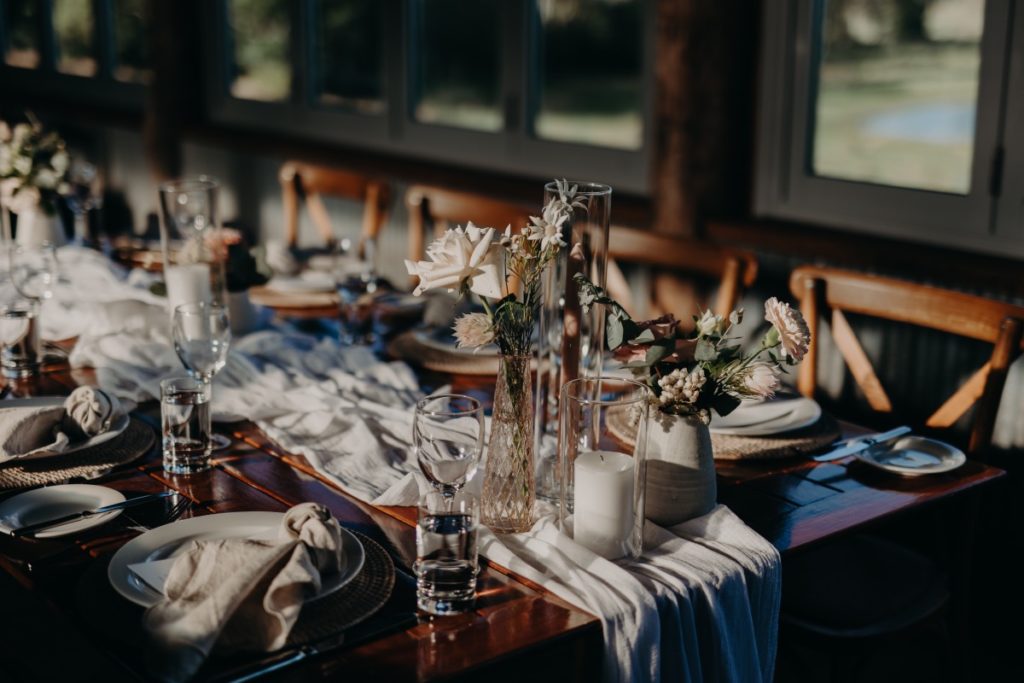 Reception Space
The Dairy Barn is the perfect, iconic rustic barn setting with exposed timber beams and loads of character. This is one of our favourite venues to add hanging installations as there are soo many options for placement with loads of beams and power sources for drop lighting too!
What options have you got for hanging installations? Over the years we have created a collection of rigging, frames and bases to design different styles and shapes of installations. So we have a style to suit many different budgets and visions. As the barn is so long and high, a popular choice is to create 3 installations in the centre of the beams, breaking the barn into approx 1/3 sections – this is a real WOW design and one that guests remember. Designs are all around with floral features on each side so it looks lovely on all sides for guests. Another option is to create one longer, more narrow design in the centre of the barn following the line of the tables this elongates the features and creates a central focus. This design tends to be more floral on the edges where the bulk of the guests view it and a smaller amount on the ends. Another popular option due to it being more budget friendly, is the single sided design over the bridal table. This design sits just overhead of the bridal table and due to no guests being behind it, florals need only be on one side, this can be a sweetheart design or a long design to balance the length of the bridal table. We have created an inspiration blog with some ideas for hanging installations click here to view
Tables. Due to hanging installations being so popular at Yandina Station and the lush share fare dining style, couples tend towards a more pared back design with table florals. Popular options for tables are: Clustered vessels – a mix of vessels in different shapes and sizes from our collection, grouped together allowing for candles and food to be placed on the tables. Depending on your layout if you have no guests on the ends of your tables, mini waterfalls or table end florals are a great idea as the centre of the table can be filled with food. A larger central bowl design also works well with the share fare feasting, so food can go either side, this creates a nice central feature when food is not served and dishes are cleared away.
Transferred Florals. We love to get the most from your ceremony florals and Yandina Station is a perfect venue to get the best from your florals as it is a short transfer and being a larger venue, some arbours and freestanding designs can be transferred as a whole, creating a lush bridal table backdrop or stunning cake display or lounge area.
We hope you have enjoyed our insight into one of our favourite venues. Here is a link to some weddings we have done over the years. Willow Bud at Yandina Station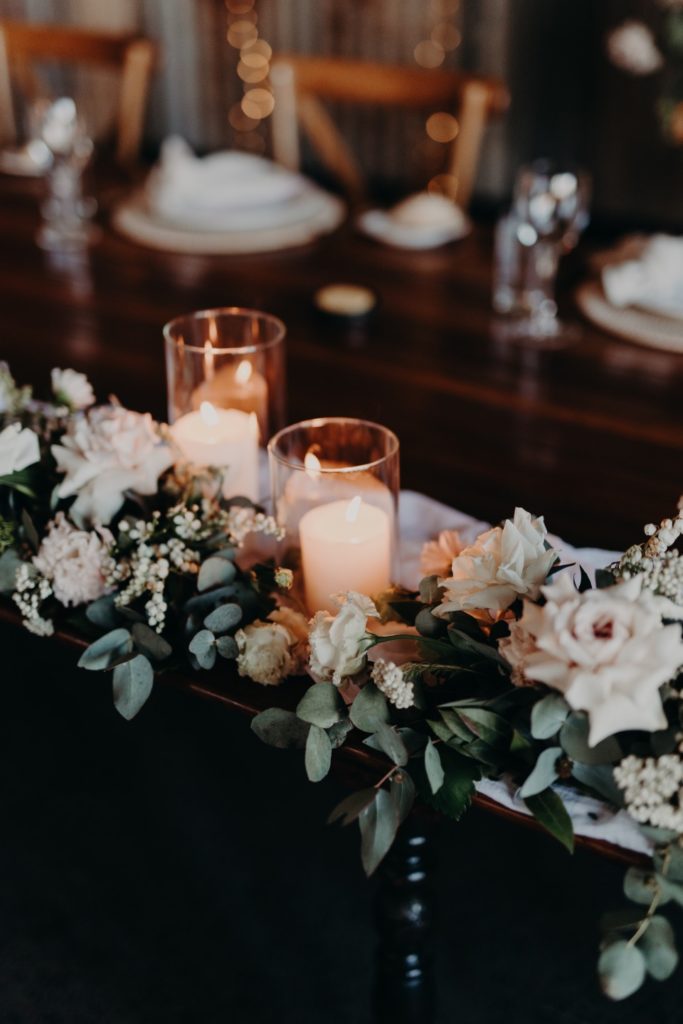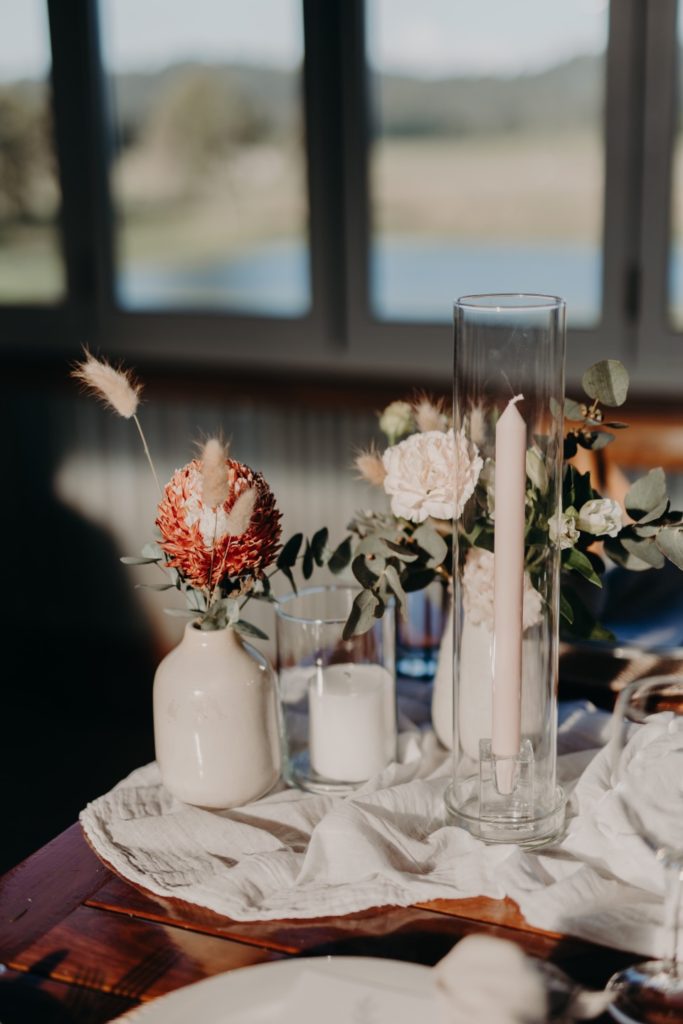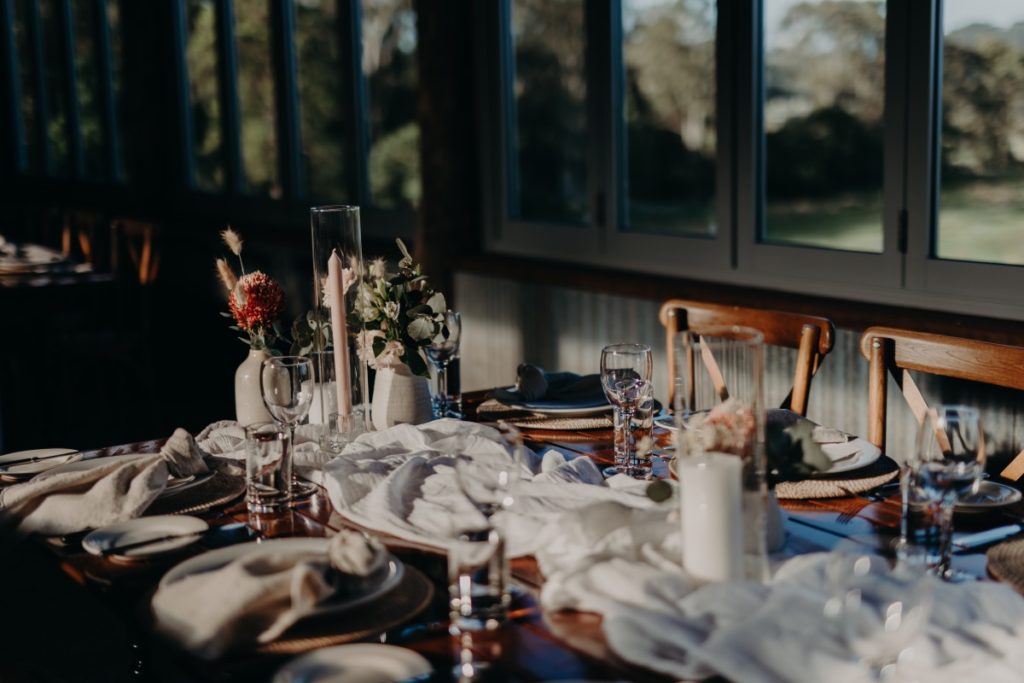 Date NOVEMBER 2022 | Venue YANDINA STATION | Photographer INGRID COLES PHOTOGRAPHY | Stylist SIMPLY STYLE CO | Cake VEGAN YUM