HEIDI + LACHLAN AT YANDINA STATION
YANDINA STATION
AUGUST 2019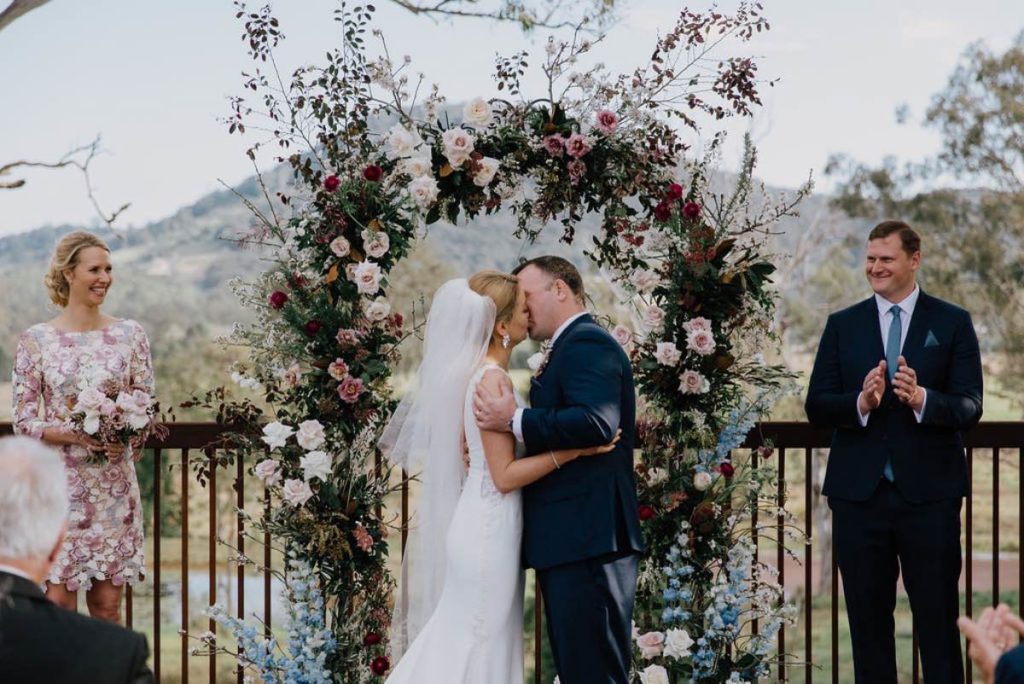 Heidi and Lachlan were such a lovely couple who wanted a gorgeous romantic elegant garden theme for their August wedding day. Like a lot of our couples, Heidi confessed she didn't know anything about florals but knew what she liked and she loved our work. They both trusted us to create their vision and dream while allowing us the freedom to build on their ideas and theme. Something that makes our jobs as wedding florists so much easier. We love our couples and love that they believe in us and trust us to do the best on the day.
Heidi and her bridesmaids had stunning bouquets that complimented those floral patterned dresses to a tee! The bouquets were made of roses, ranunculus, tulips, and sweet pea clusters – they smelt divine! We included textural goodies like andromeda, jasmine, Ruscus, and burgundy foliage.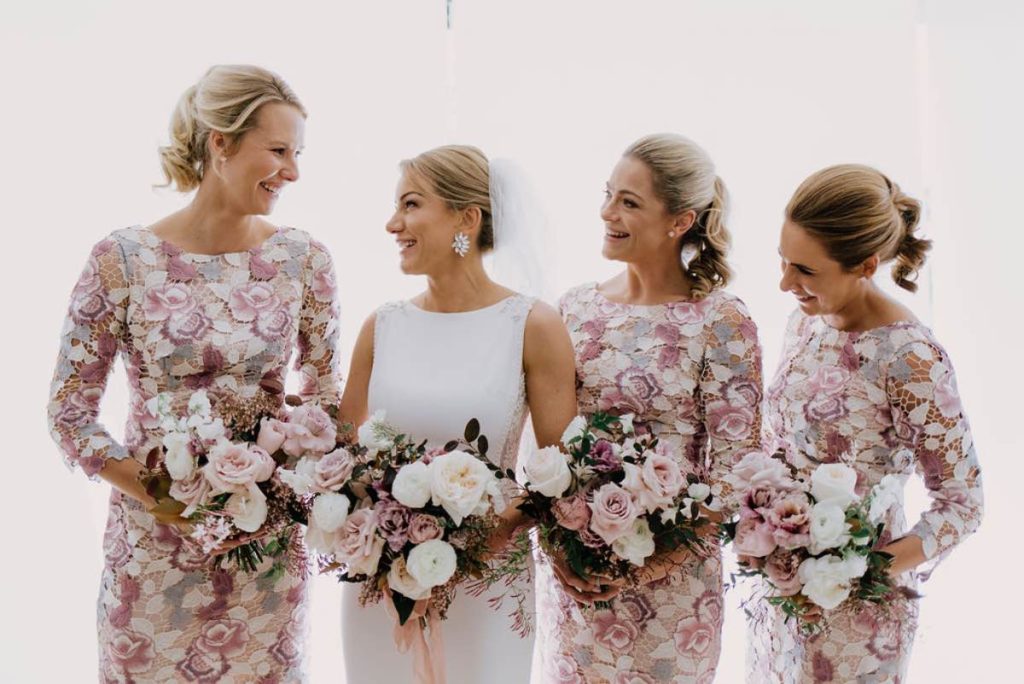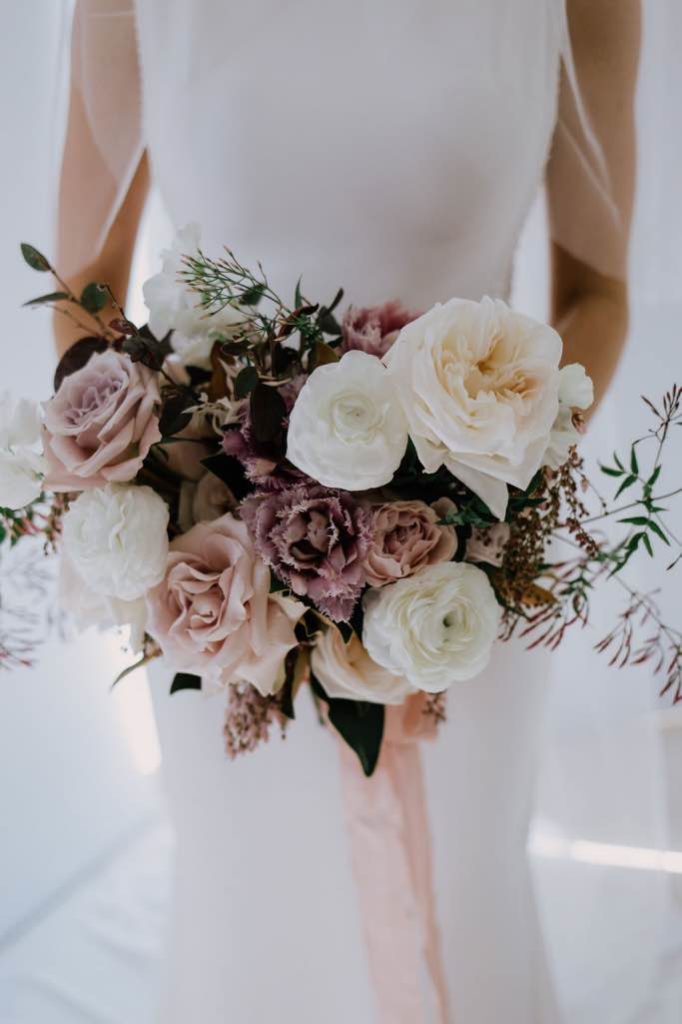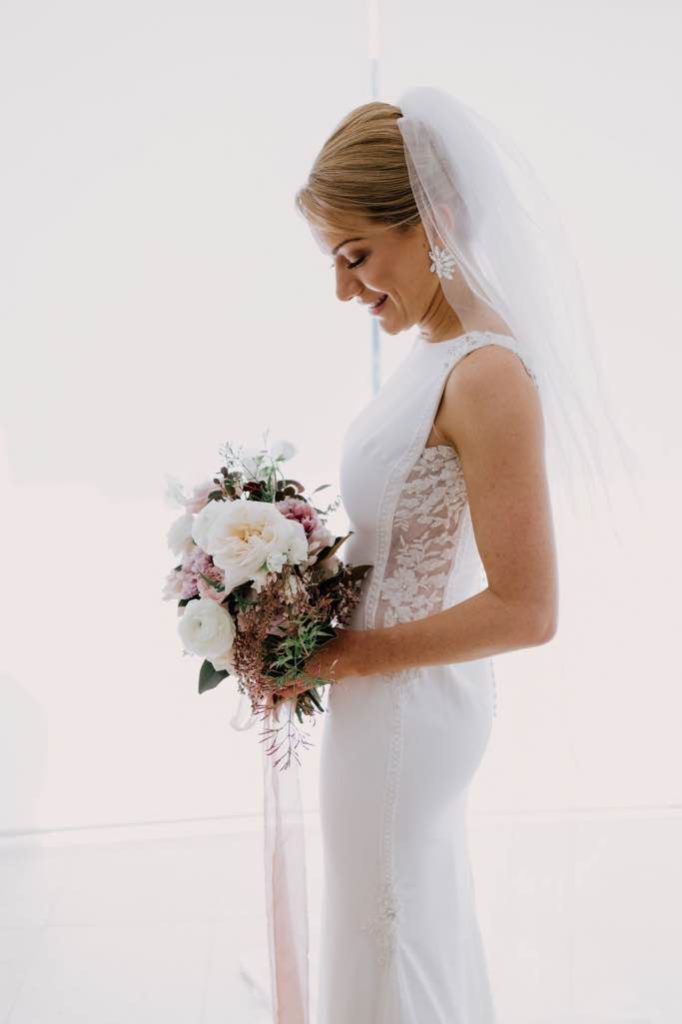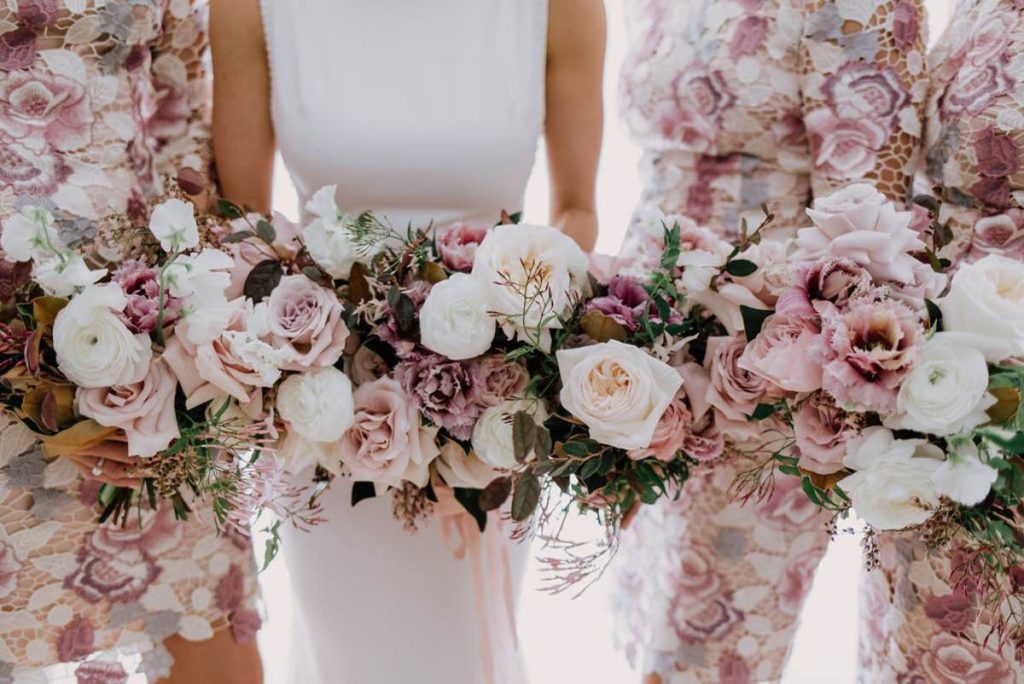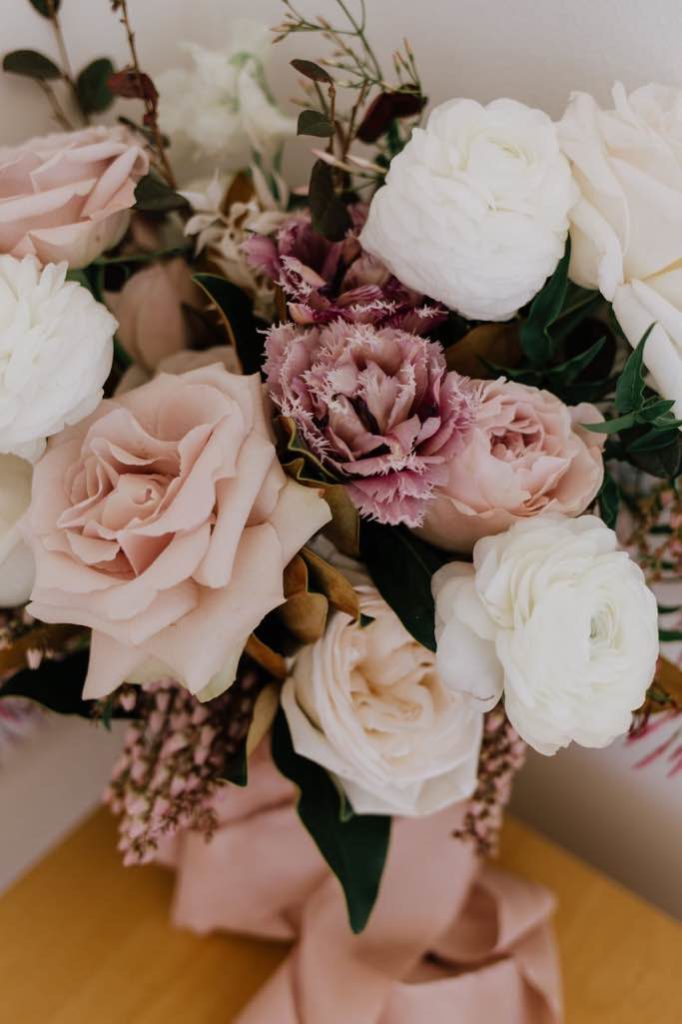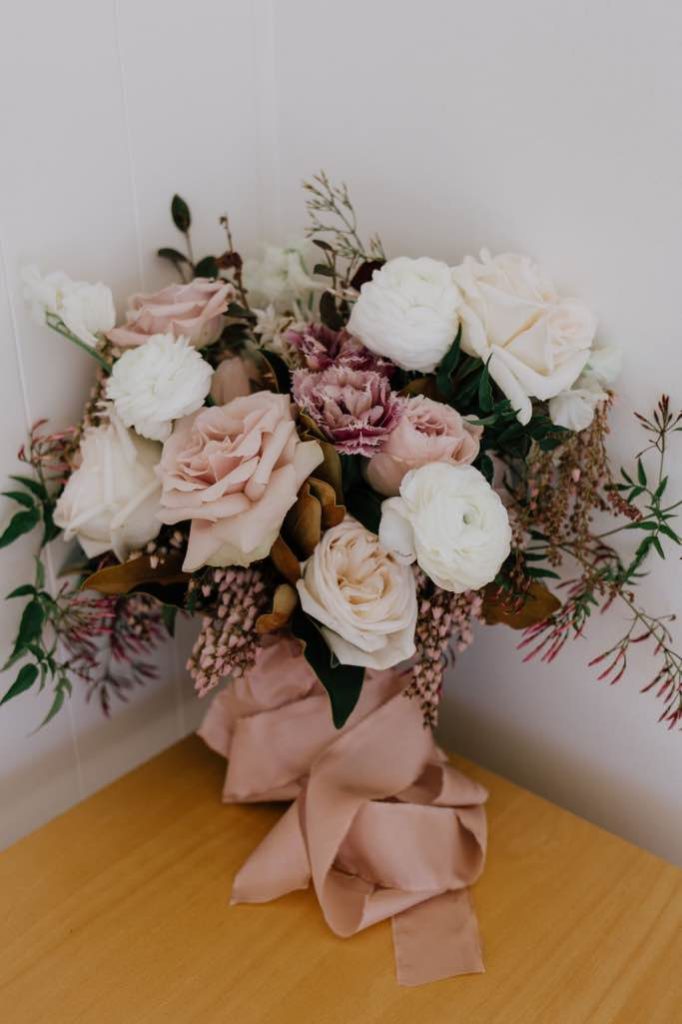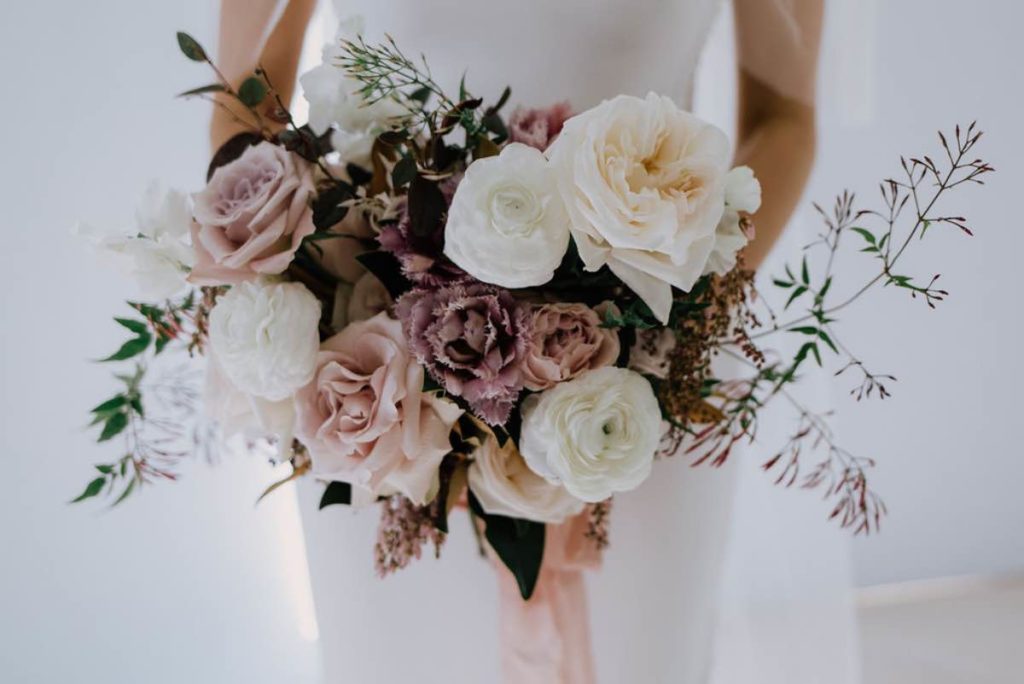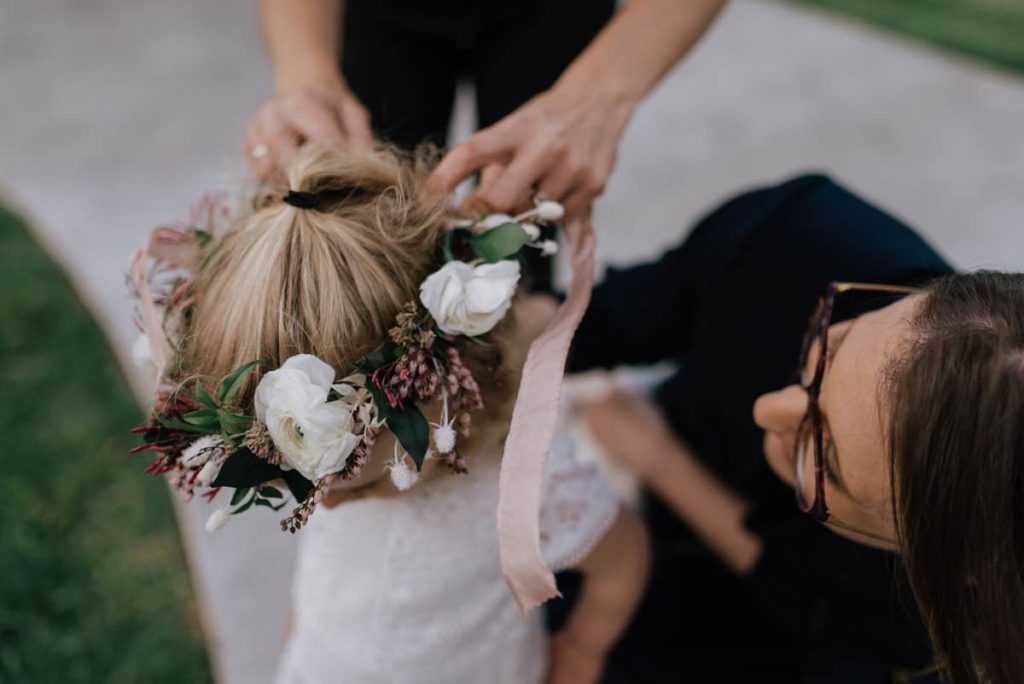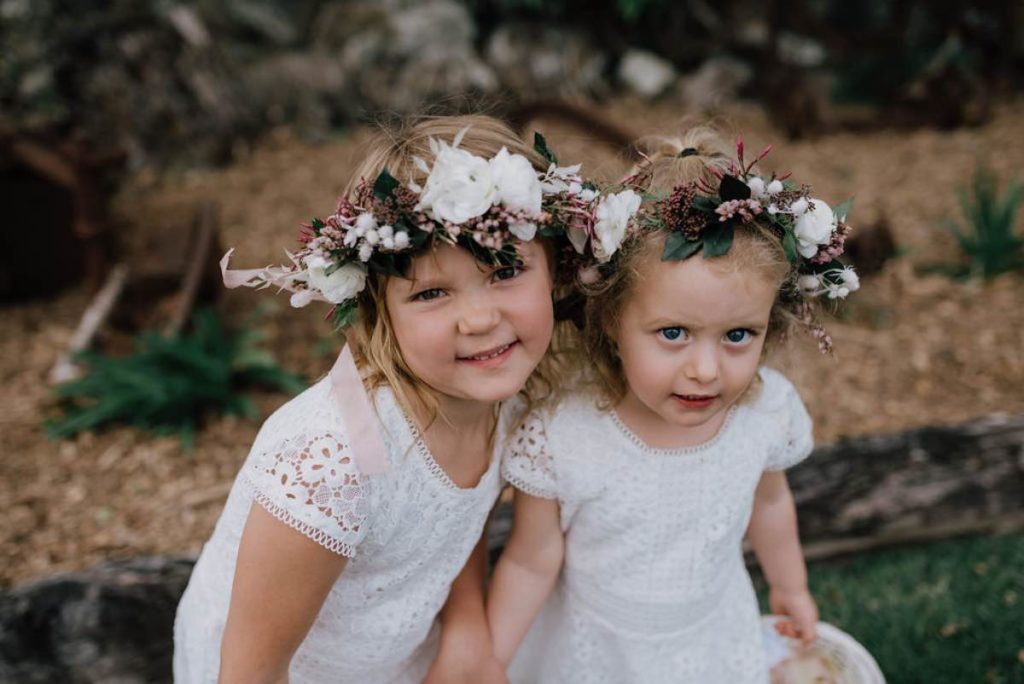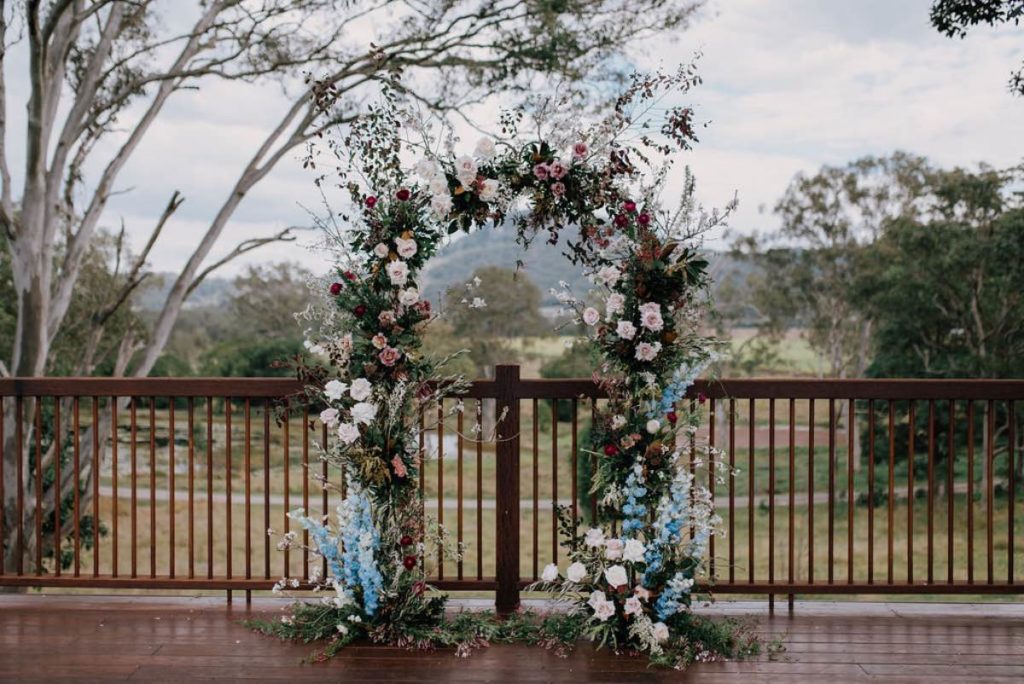 The Ceremony!
Want garden-themed gorgeousness then our garden arch is the perfect arbour design for you! We created a lush but not overly full design with lots of movement and texture including blossom branches, delphinium, ranunculus, roses, and tulips. Sooo pretty!
This was later moved inside the reception near the lounge area – so decadent and lovely.
We also attached florals to the back of the chairs along the aisle, to create a garden feel on the stunning Yandina Station deck! The deck just frames that view so perfectly it really is lovely spot to have your ceremony with shade and a view!
Heidi made a 'whirlwind' entrance, which created a stir- but she was the happiest and most amazing bride and we are so happy that we got to make this stunning ceremony space for you both. Look at Lachlan's face when he spots her on her way over! LOVE.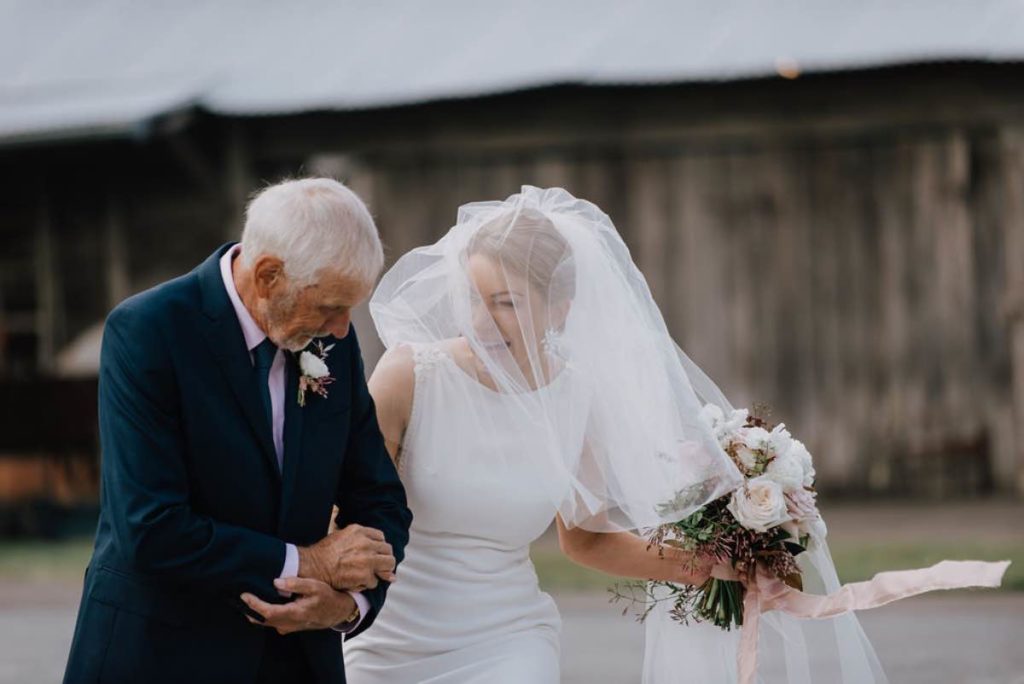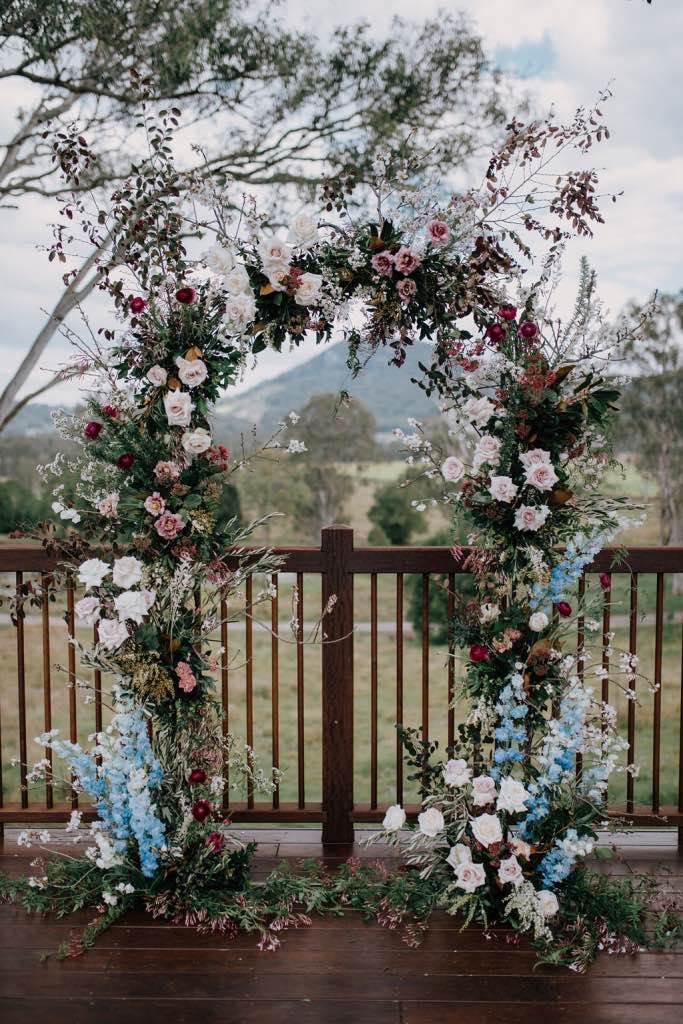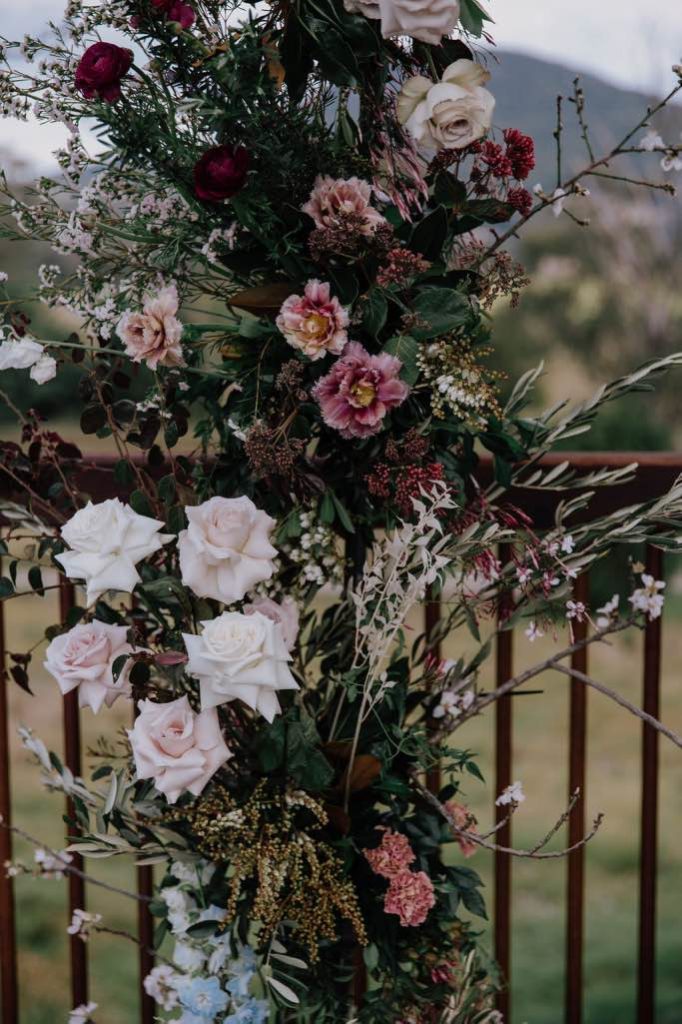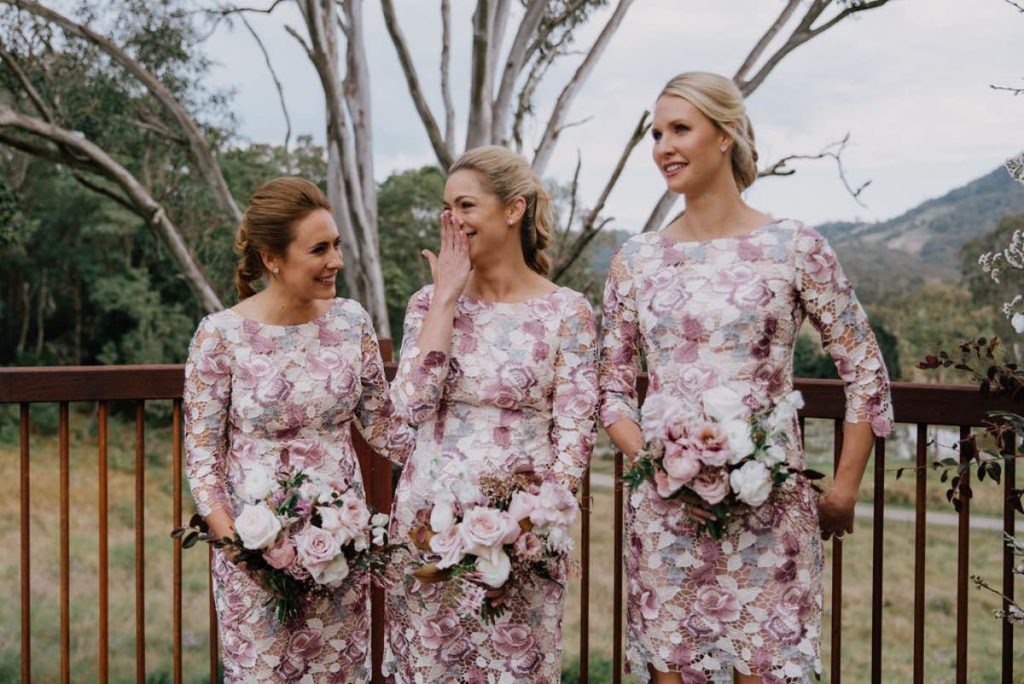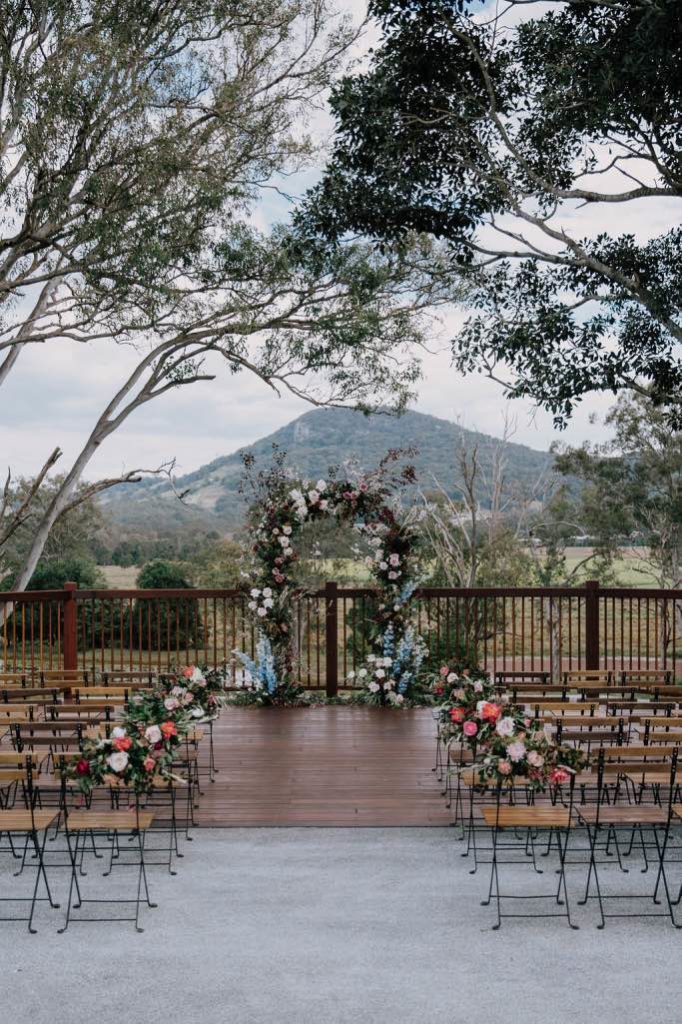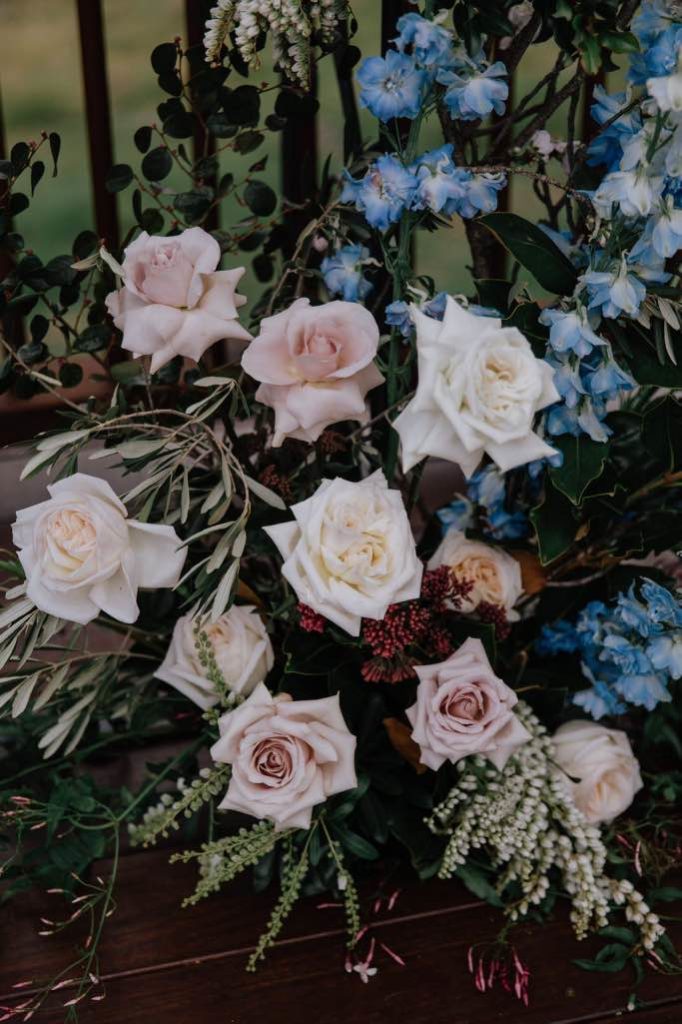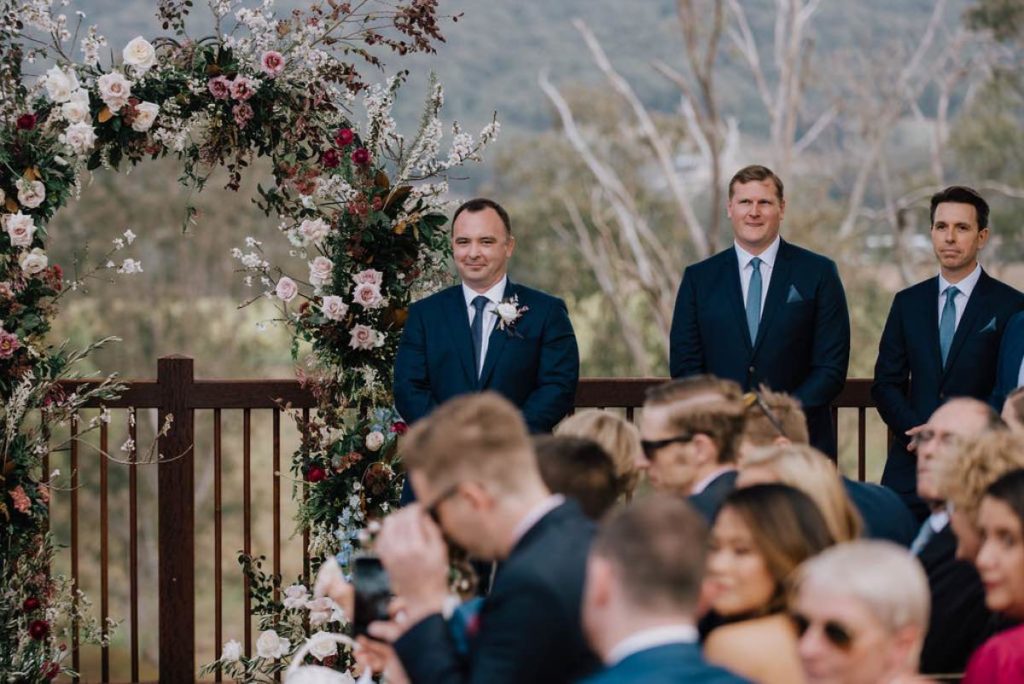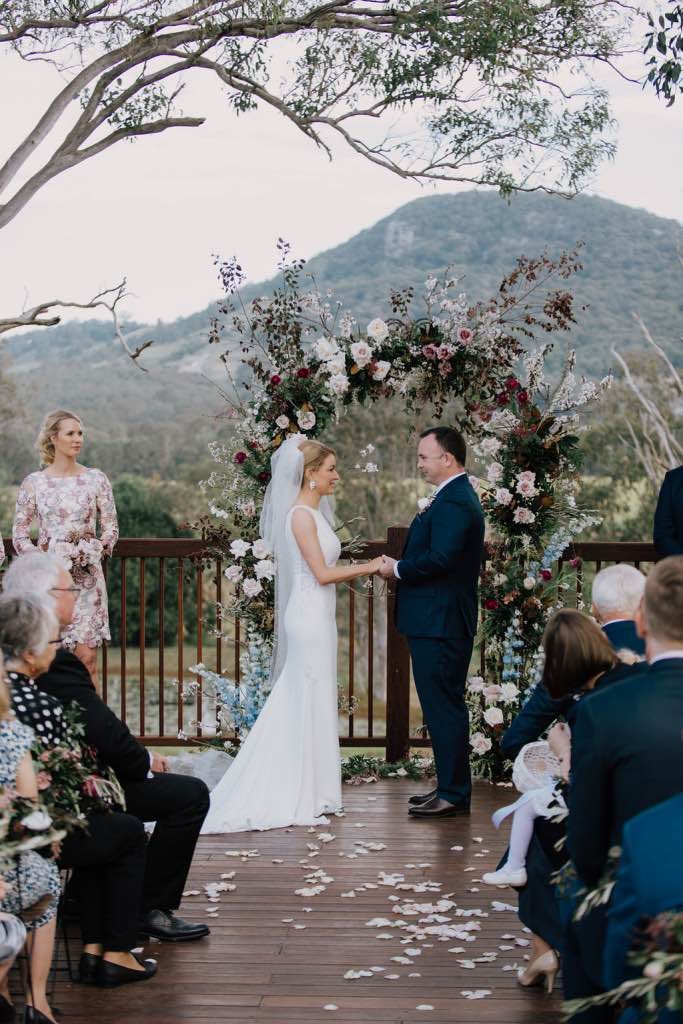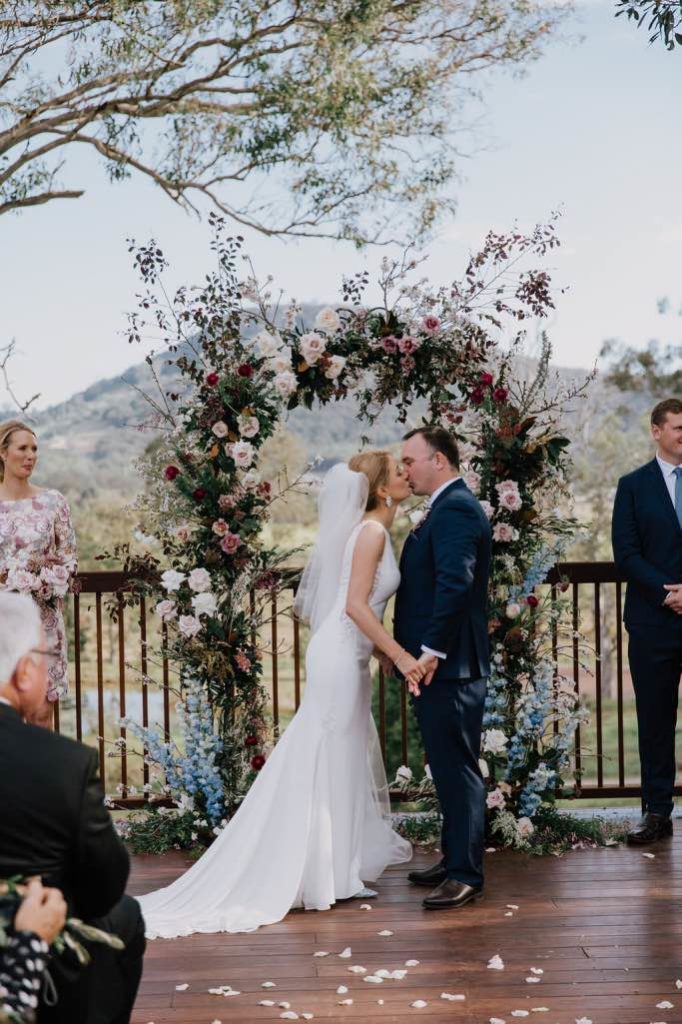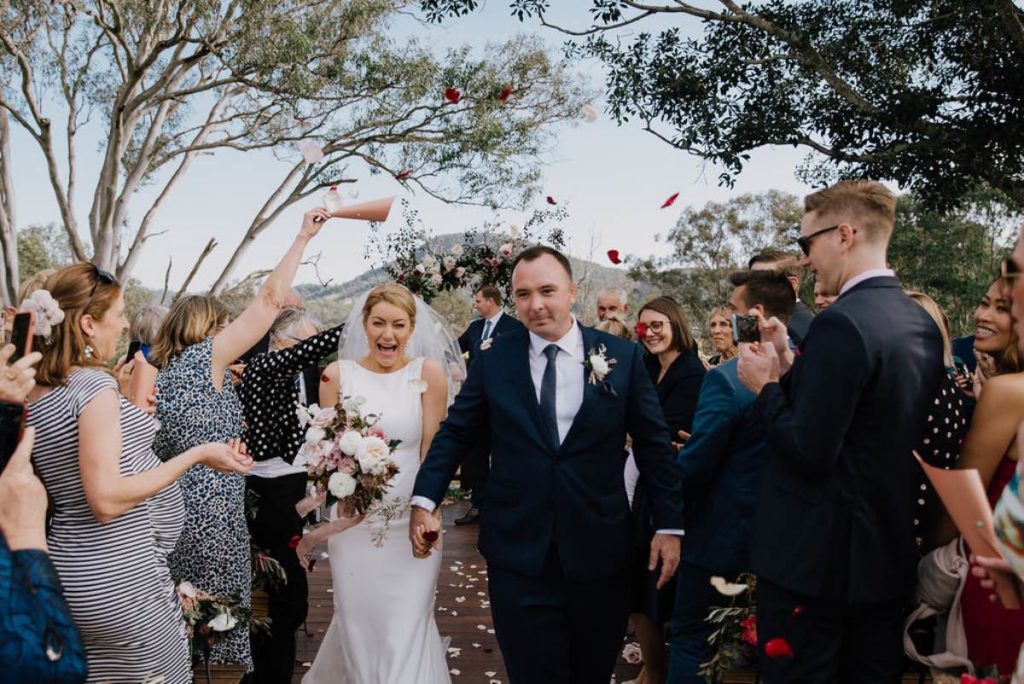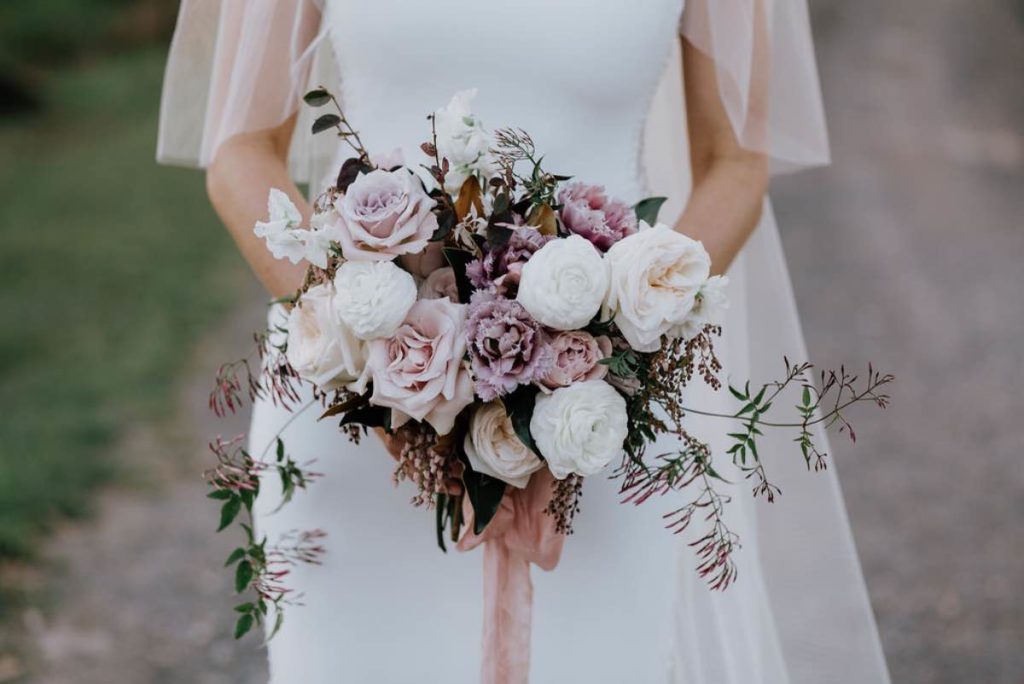 You're beyond amazing...you made it all so perfectly us. I loved arriving at my wedding to see what you'd done.... It was like a dream. Could not have been happier.... Everything you touched turned to perfection!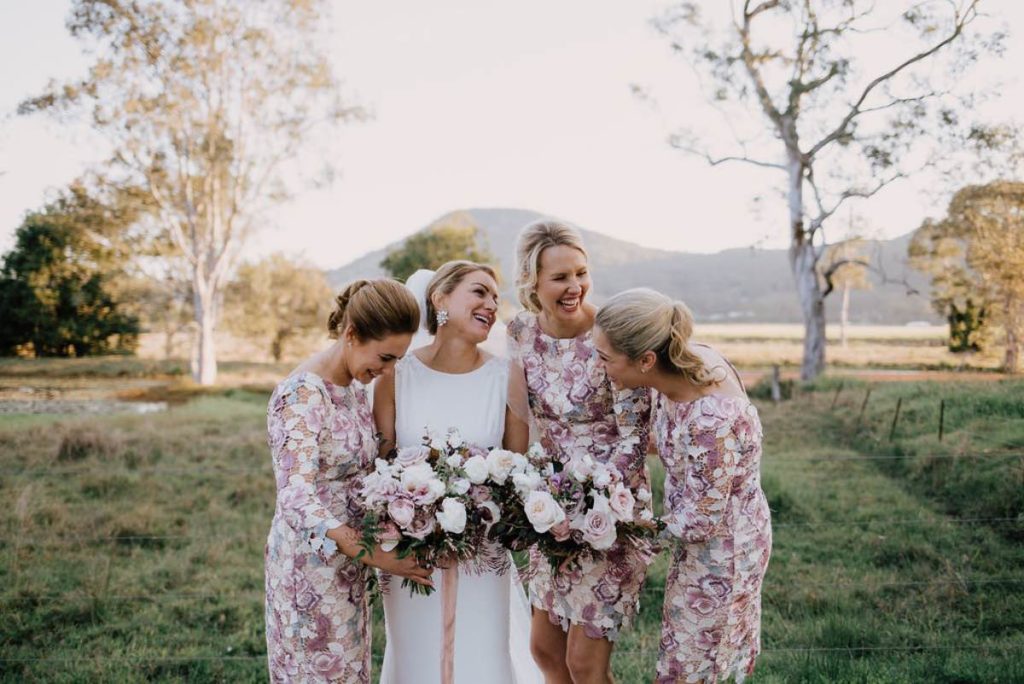 Reception styling was simple table designs allowing room for yummy platters of Yandina Stations finest! Paired with our stunning hanging installations with pendant lighting from Splash Events. This colour palette really suited the old diary decor and all the timber features. The tables had mixtures of ikebana arrangements and mixed vases and vessels of blooms grouped to allow for lots of candlelight and food!
The chair back florals from the ceremony were repurposed here along the bridal table and the arbour was moved to the lounge to relax and admire as well as smelling amazing!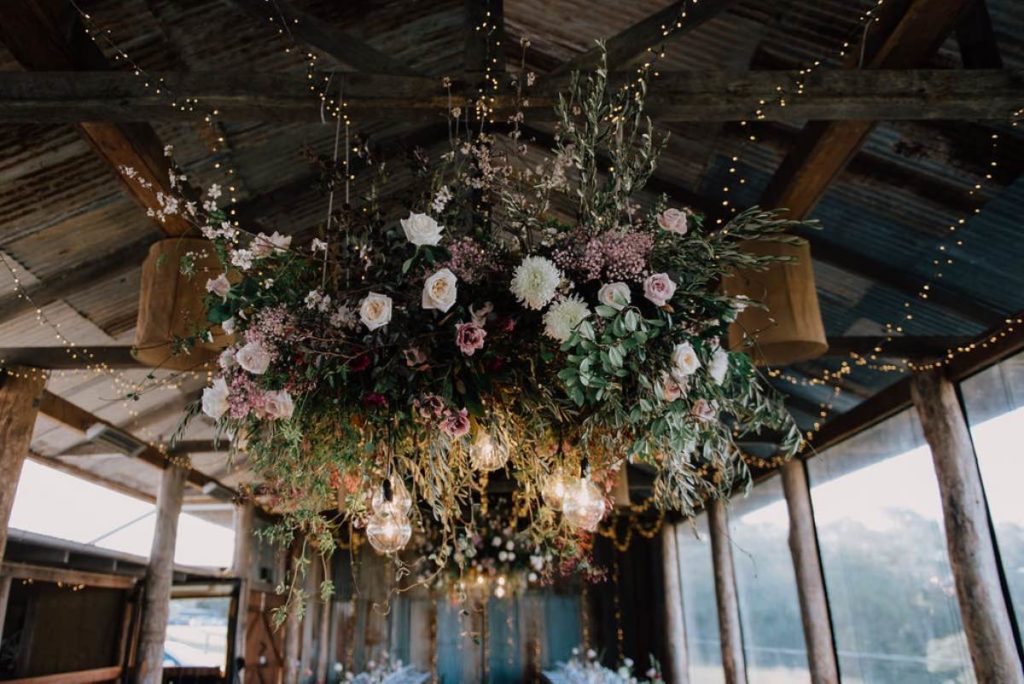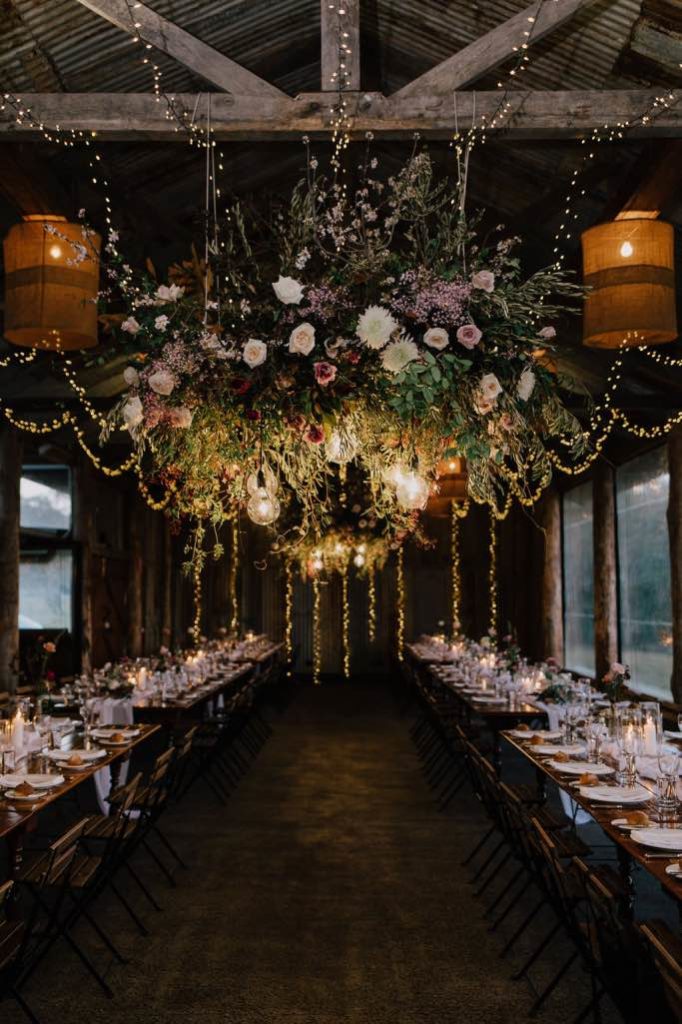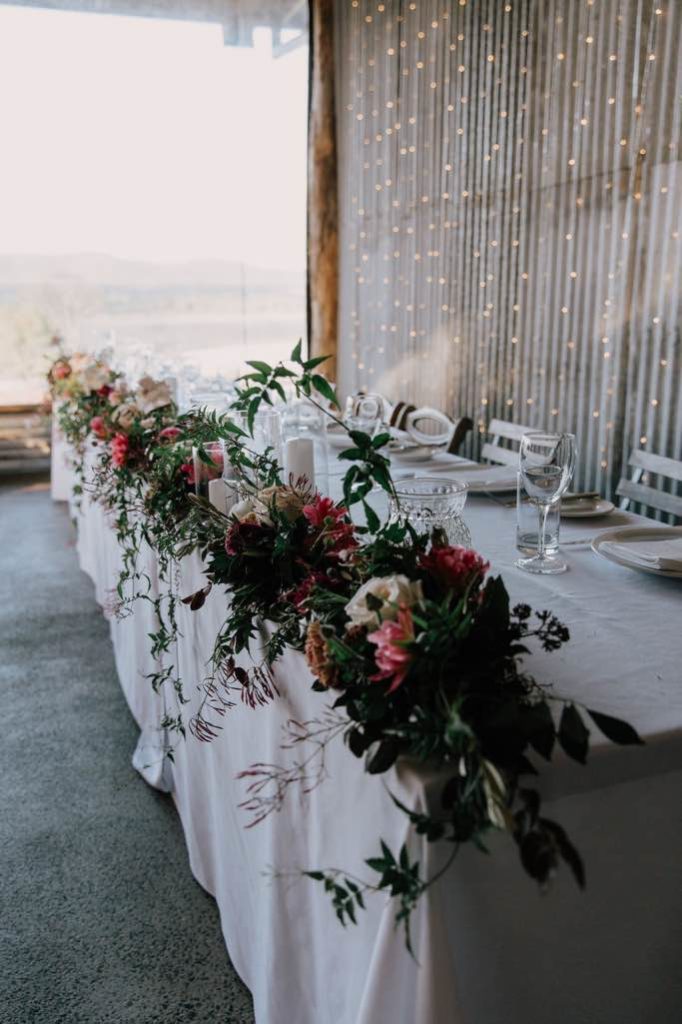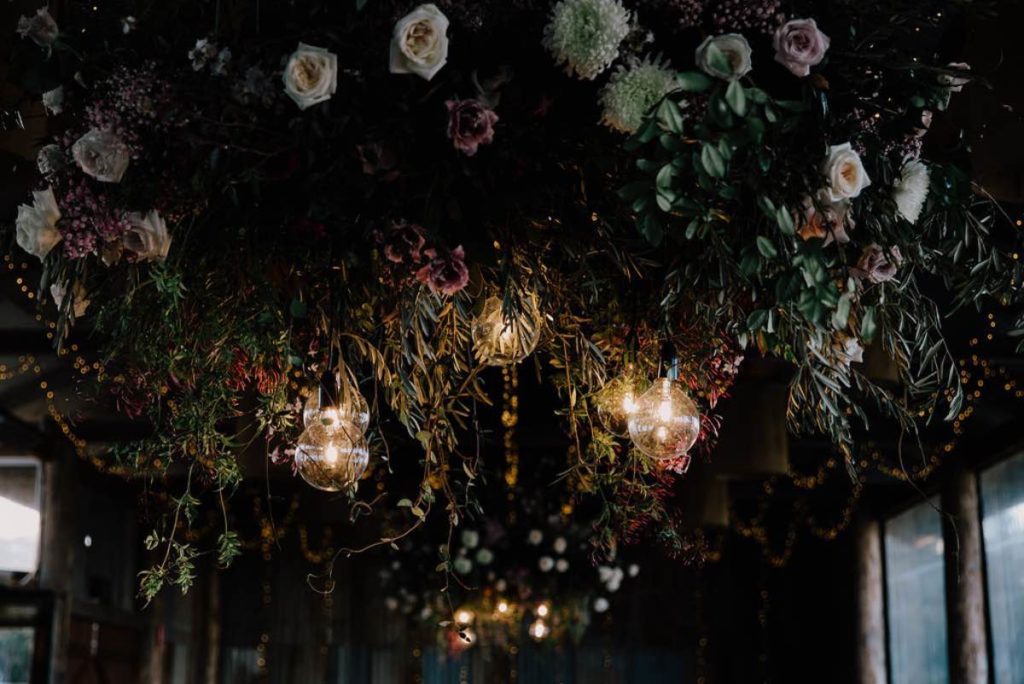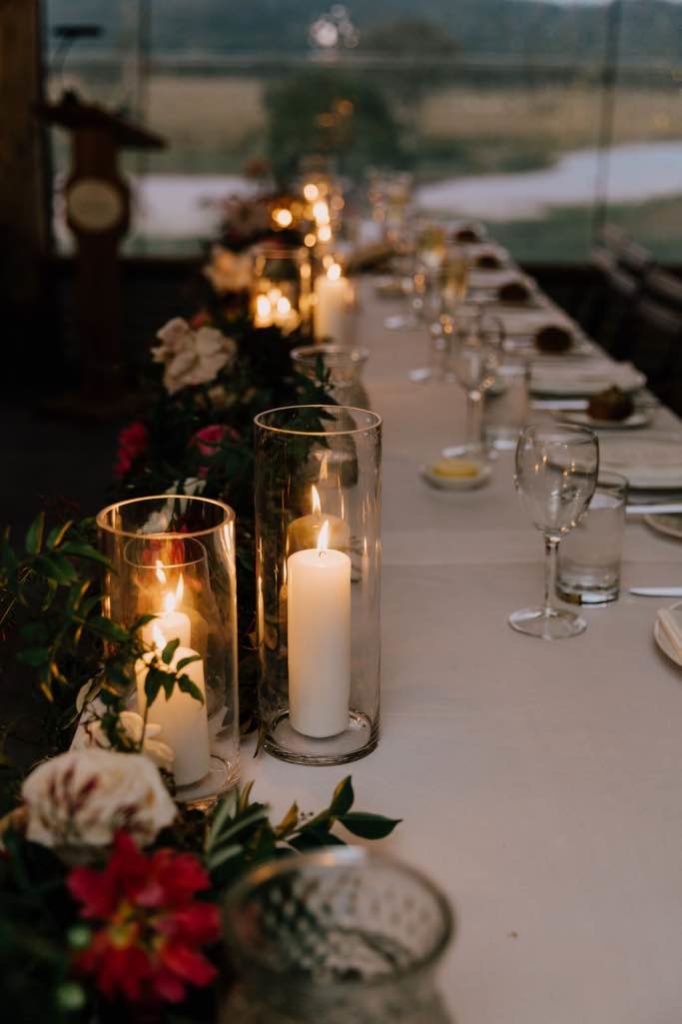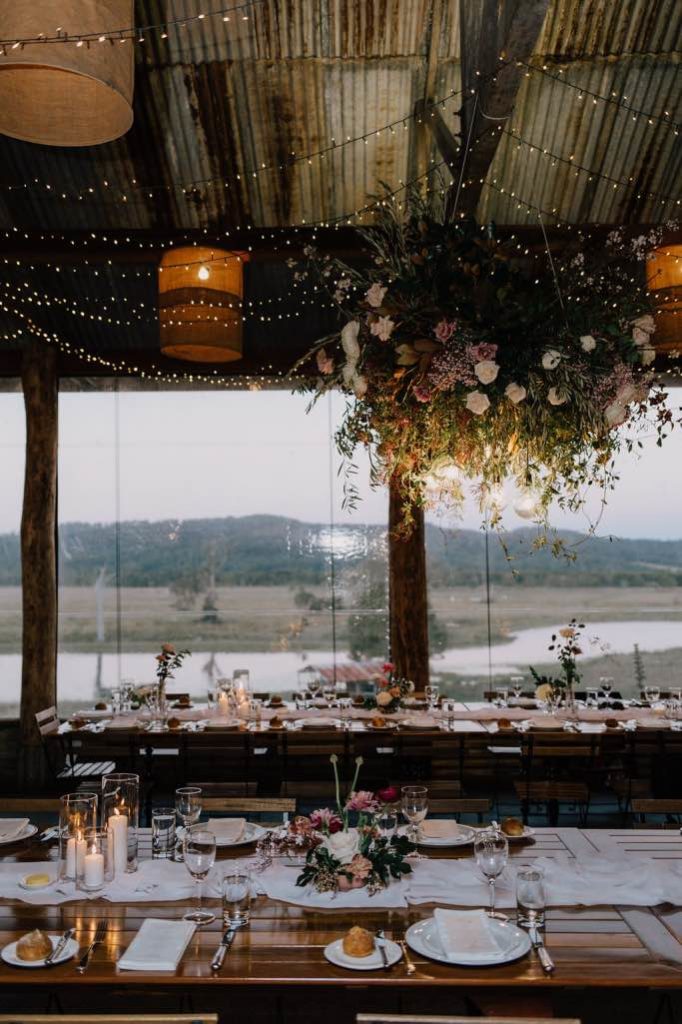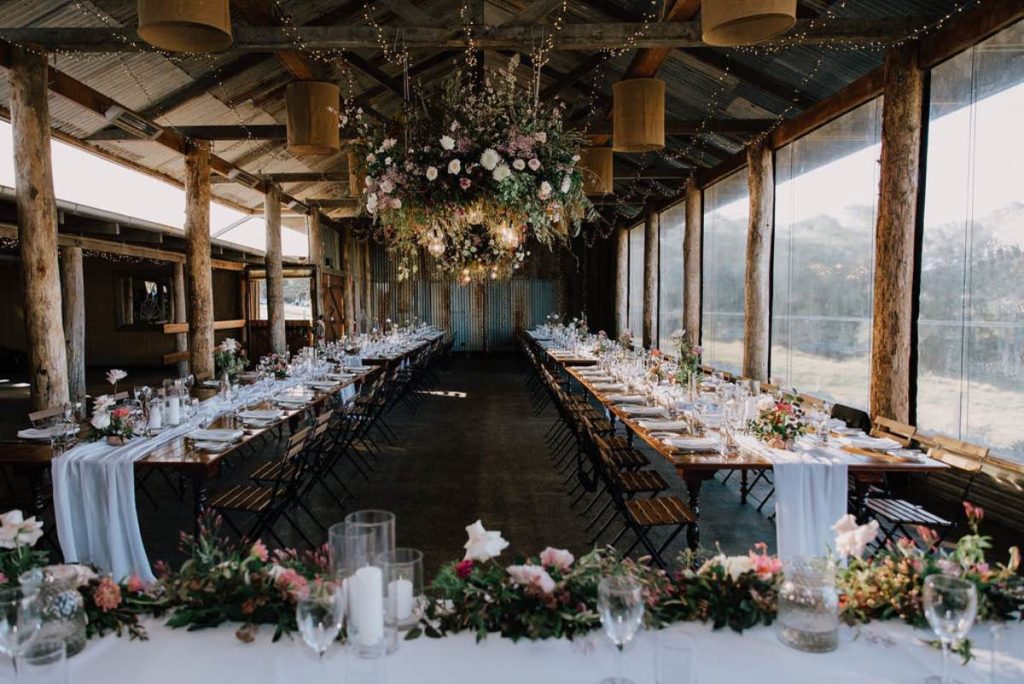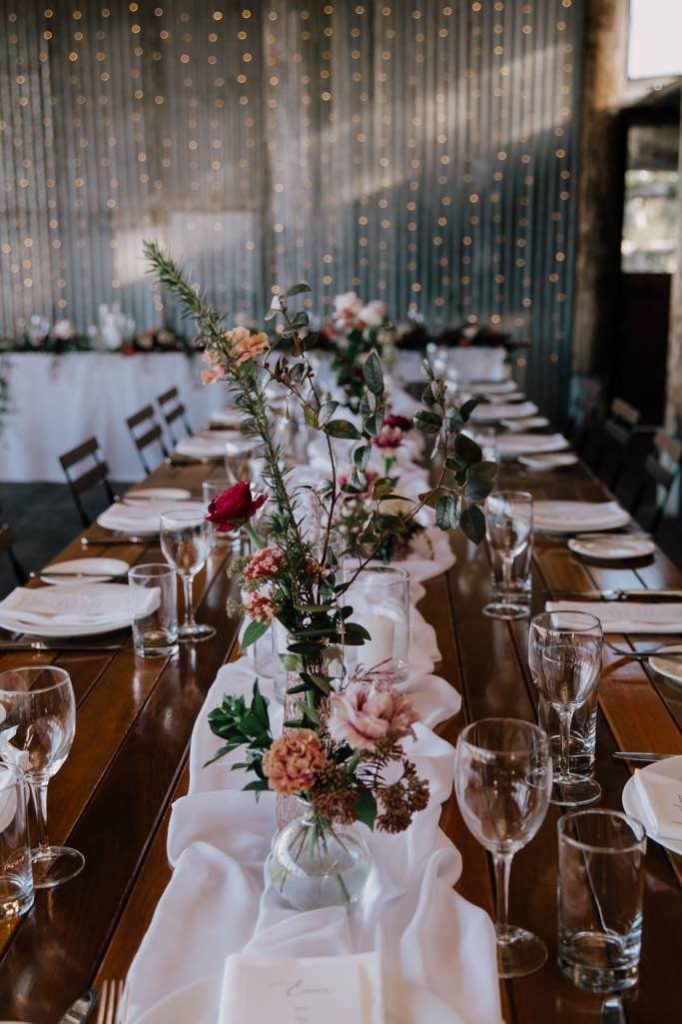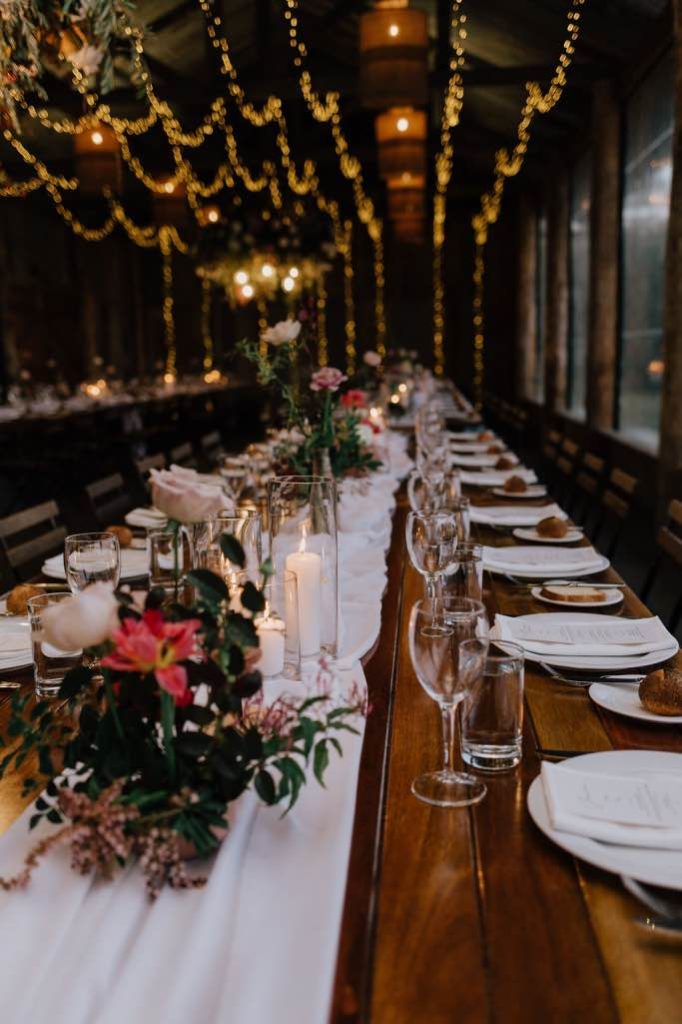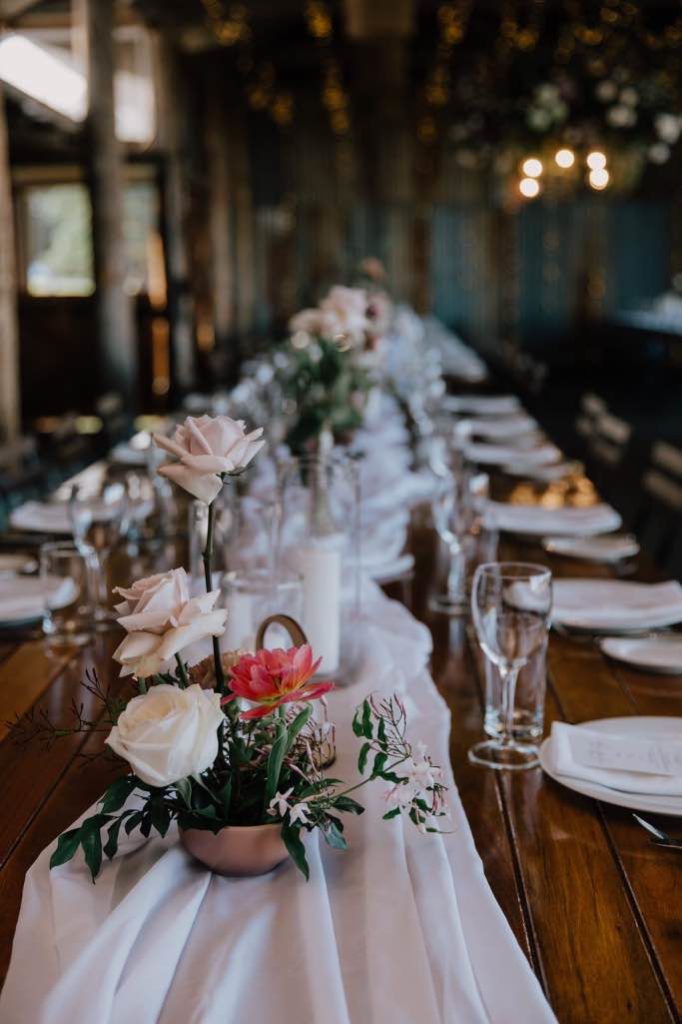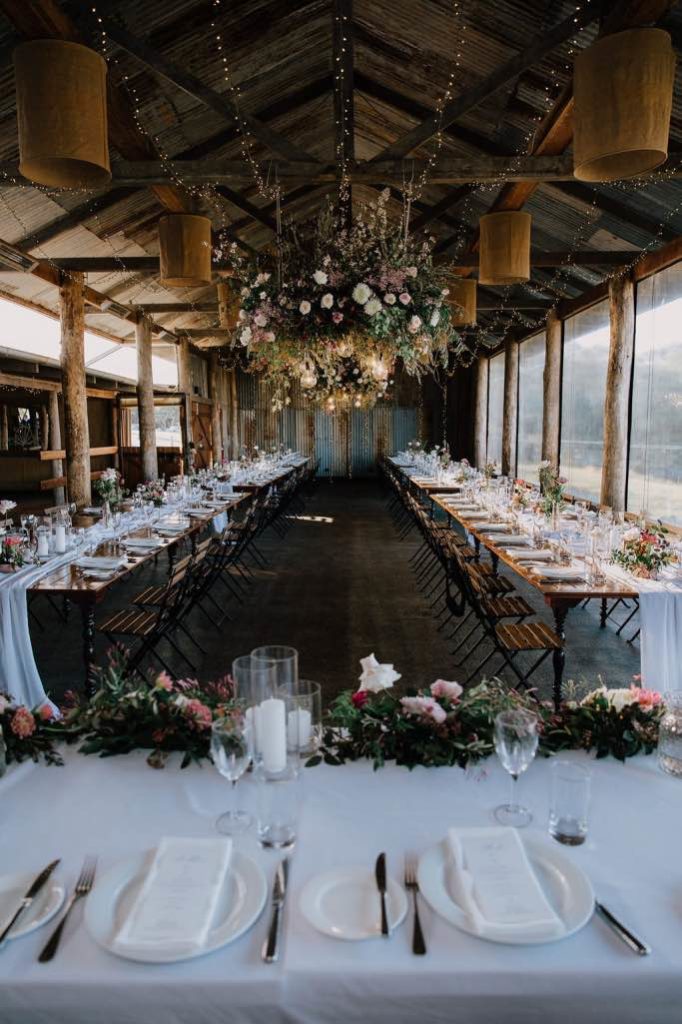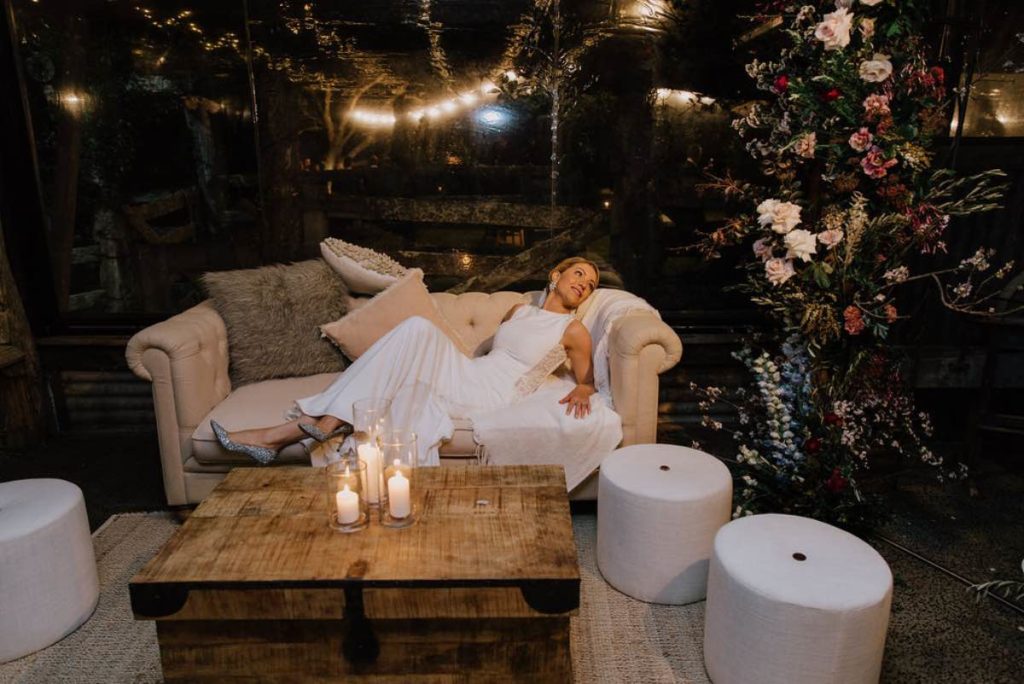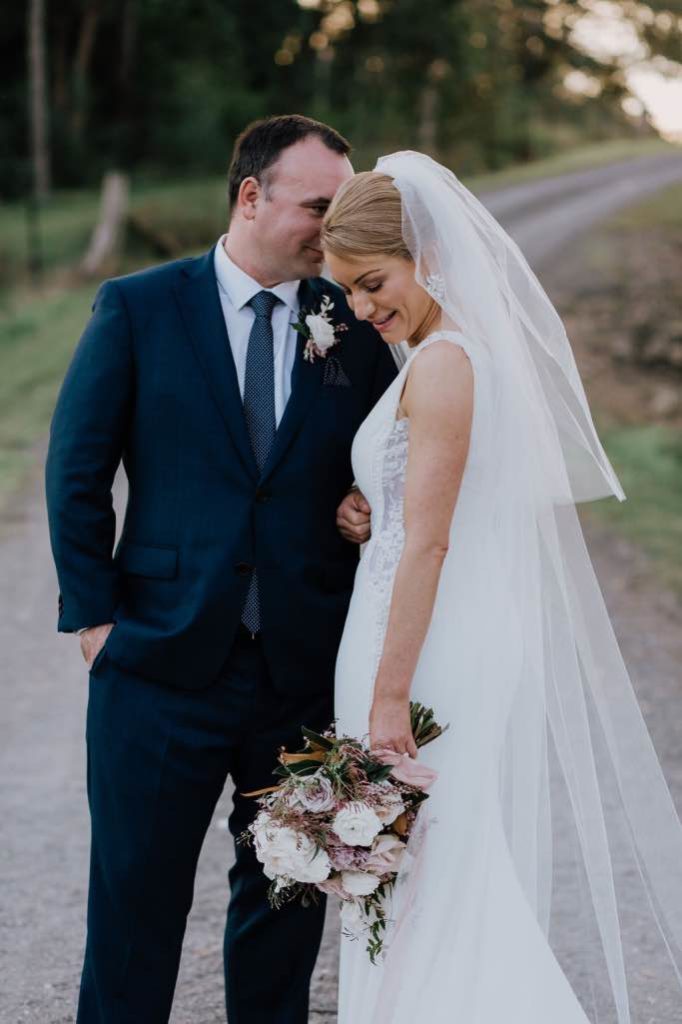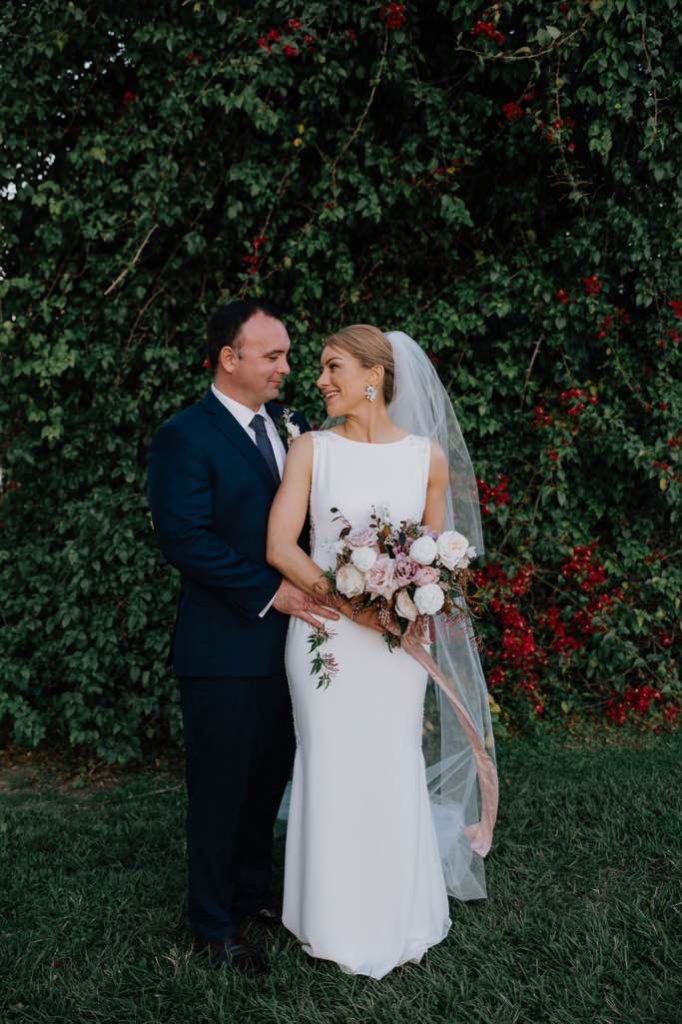 Photographer KIRK WILCOX | Venue YANDINA STATION | Styling SPLASH EVENTS | Celebrant JARRAD BAYLISS | Make Up NATALIE HUNTER | Flowers WILLOW BUD
Willow Bud Wedding Florist created these wedding flowers and bridal bouquets. The wedding ceremony and reception designs were created specifically for this bride at this Sunshine Coast wedding venue, but this style could be created at many of our beautiful Sunshine Coast hinterland wedding venues in Maleny, Montville, Mapleton, Obi Obi, and Flaxton. This wedding styling and wedding florals would also match perfectly with venues and beaches in Noosa, Mooloolaba, Caloundra and private properties across the Sunshine Coast.