A WEEK IN THE LIFE OF A WEDDING FLORIST: PART TWO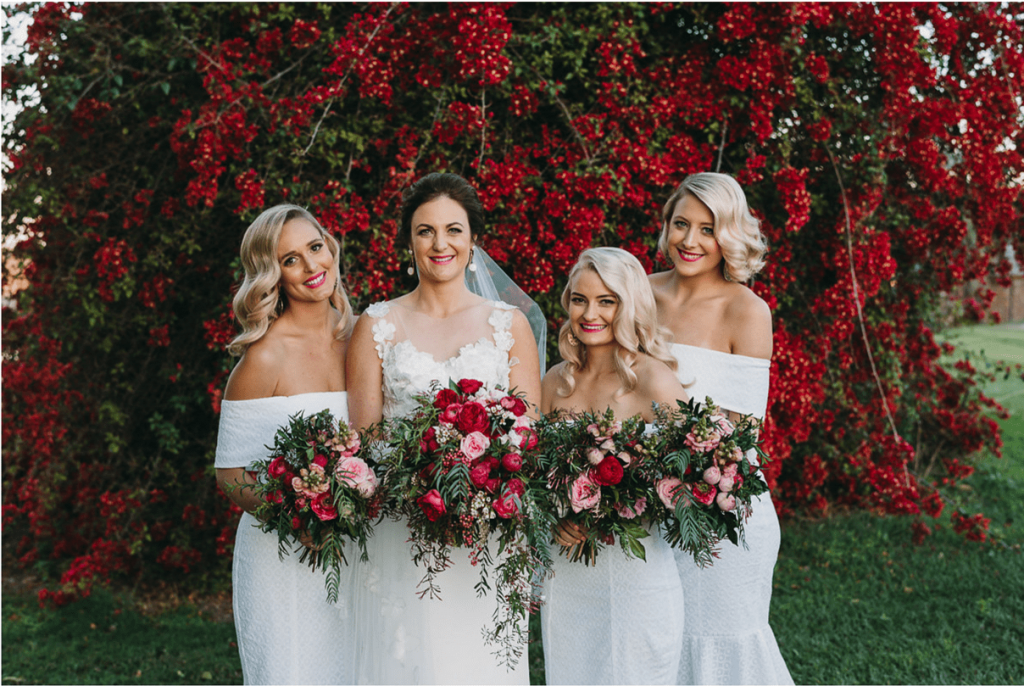 FLOWER PICK UPS
It's 3.15am and my alarm has already been buzzing next to my head for a few snoozes (please tell me I'm dreaming?). It's still dark outside and it's so quiet not even the birds are stirring. BUT the flower markets are calling and its time to start the weddings for the week! In the hour and a half drive to the markets I have a bit of time to first wake up and get my head around what we've got going on for the days to come.
In high season, we have multiple weddings each week so I need to make sure we have accommodated accurately for each bride. The flower orders are in hand, and there are scribbles all over it with suggestions for extra flowers and substitutes should I need them!
Usually I arrive at the markets by 5am. I check what of my order has been filled then I spend some time looking around in the cold rooms, selecting additional flowers for each wedding and choosing substitutes here and there. I'd like to state that I do try and keep a fairly tight budget in most areas of my life, however that word seems to miraculously disappear from my vocabulary when I step through the market doors! I mean, who wouldn't want to go spend crazy (like a rapper flicking hundreds in a music video) when there's so many beautiful things you want to take home?! *Deep breath*
So the sun is finally up and I have made my few stops to our different suppliers in Brisbane. It's time to head back to the Sunny Coast with the van so chockers I can barely see out of the back! We like to source local flowers and greenery from some amazing organic suppliers near our studio, so more often than I will not stop at these places for a little extra something-something on the way home as well. `
Once I finally get home (around 9am) the girls are already there and its time to get the creative juices flowinnnnn.
LETS GET DOWN TO BUSINESS
First cab off the rank is filling up a mountain of buckets (and I mean a mountain!) with water, re-cutting each and every flower stem and putting the flowers in the cold room. I don't know if you can imagine, but a whole van load of flowers equals a heck-of-a-lot of stems to condition!
On a busy week our cold room gets quite full and we spend a fair bit of time reshuffling to make sure every flower is nice and cool (cause nobody likes to feel all hot and bothered!). Most weeks we end up spilling out into the studio and it very much feels like we are living and working in an overgrown, weirdly diverse jungle.
Once all of the flowers are in water and safely cooling down, I get my team together and we have a little meeting to go over the tasks for the week and what we need to accomplish each day. Like any business, being on the same page is crucial for a wedding florist as it means we are all in the know and working efficiently towards the same goal!
THE FLORALISING BEGINS
Over the course of the next three days (Tuesday, Wednesday and Thursday) my team and I will work long and hard hours to get everything ready for the weekend. Every arrangement we do here at Willow Bud is carefully and artfully put together. Each flower for the bridal bouquets is scrutinized individually and only the best are set aside. Flowers for buttonholes, corsages, hair flowers and cake flowers are also selectively picked out and put aside to fulfill their floral destiny later in the week.
More often than not I have consultations scheduled in on these days as well, so I will leave the girls to their own devices for a few hours while I meet with my couples. (I also attempt to stem the never ending flow of emails in this time as well!)
By the time it hits 5 o'clock on each day we have been at it for at least 8 hours. We've picked up countless heavy buckets, stripped hundreds of flowers, our feet are a bit achy, our nails are dirty (and in dire need of a mani!), we've got blisters, calluses, cuts and the occasional thorn wound, but we've had a productive day! Each wedding is well on it's way and we are ready to continue the final preparations before the weekend. Now it's off for a wine and a bath and a mental reprieve before the real craziness begins!
To be continued in PART 3:
{All images beautifully captured by Bush Turkey Studios}