RACHEL + CHRIS AT FLAXTON GARDENS
FLAXTON GARDENS
SEPTEMBER 2019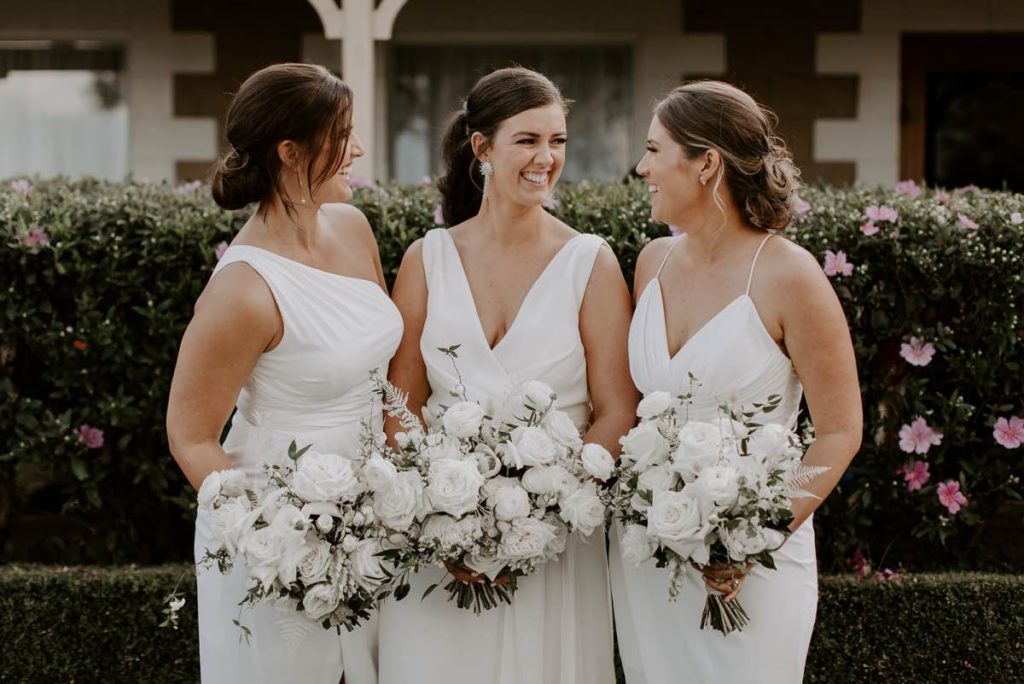 Rachel and Chris' September Wedding at Flaxton Gardens was a celebration of florals. This wedding was a perfect example of a wedding wonderland. Florals draping from the light fittings, trailing from the tables to the floor. Stunning arbour and wine barrel blooms and the prettiest bridal bouquets ever! Rachel and Chris were a dream couple and were so wonderful to deal with. Their day was captured brilliantly by Julian Beattie-hence me being unable to choose a favourite few shots and including many many many!
There is always the saying "White is always right…" and it sure was the case here.
Rachels bouquets were romantic, light, bouncy, and full of blooms including; ranunculus, tulips, roses, andromeda, bleached fern and bleached Ruscus, bunny tail grass, and soft and dainty may bush. They were a perfect match for the crisp white of the bride and bridesmaids' gowns.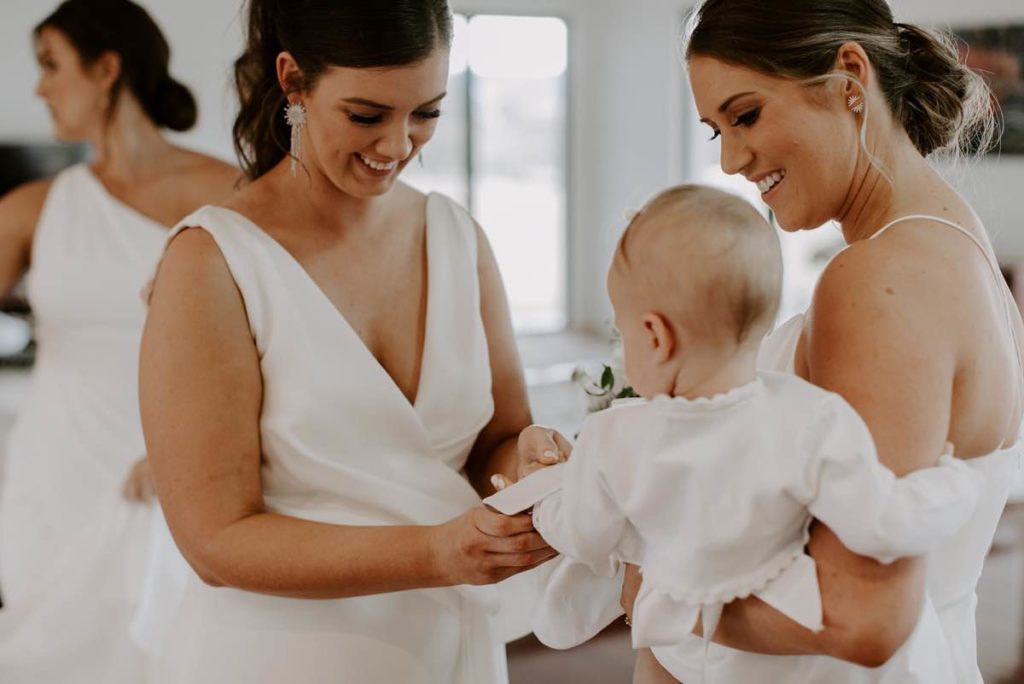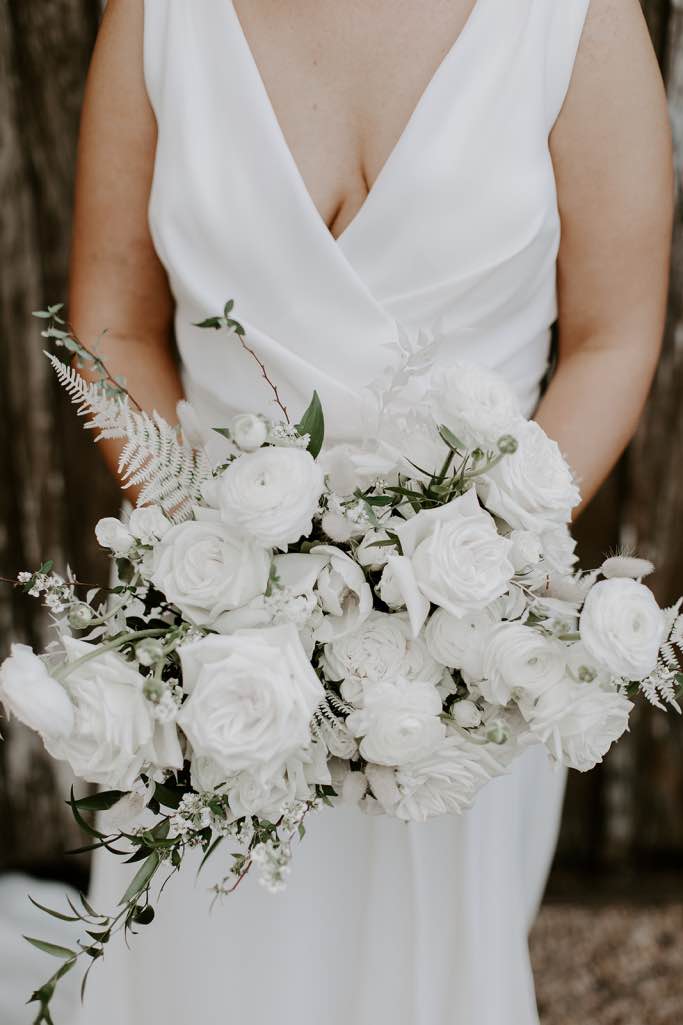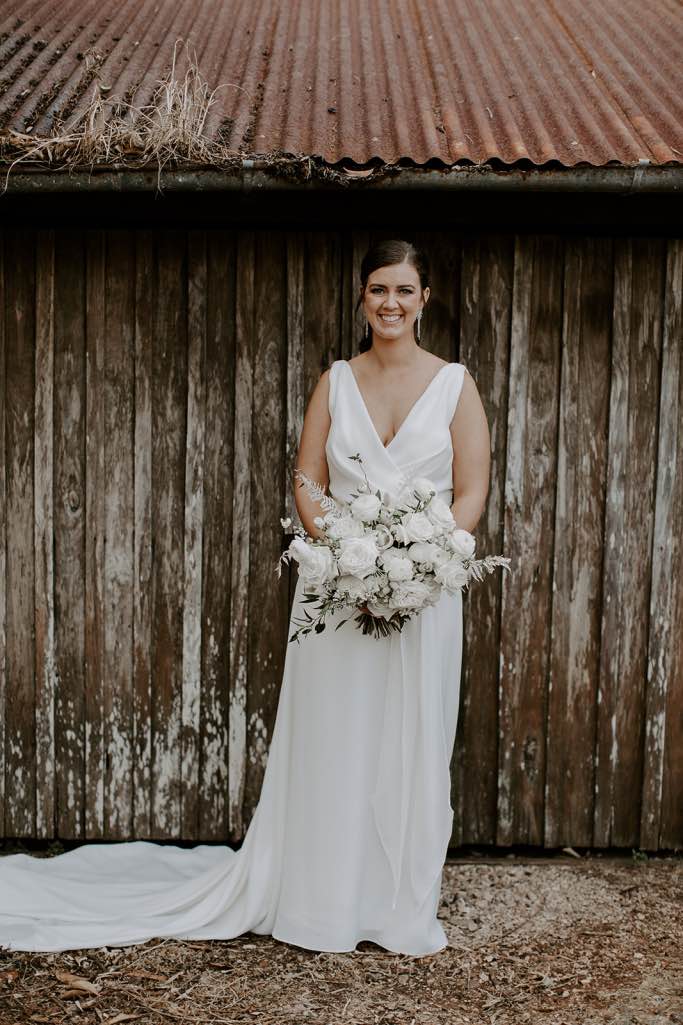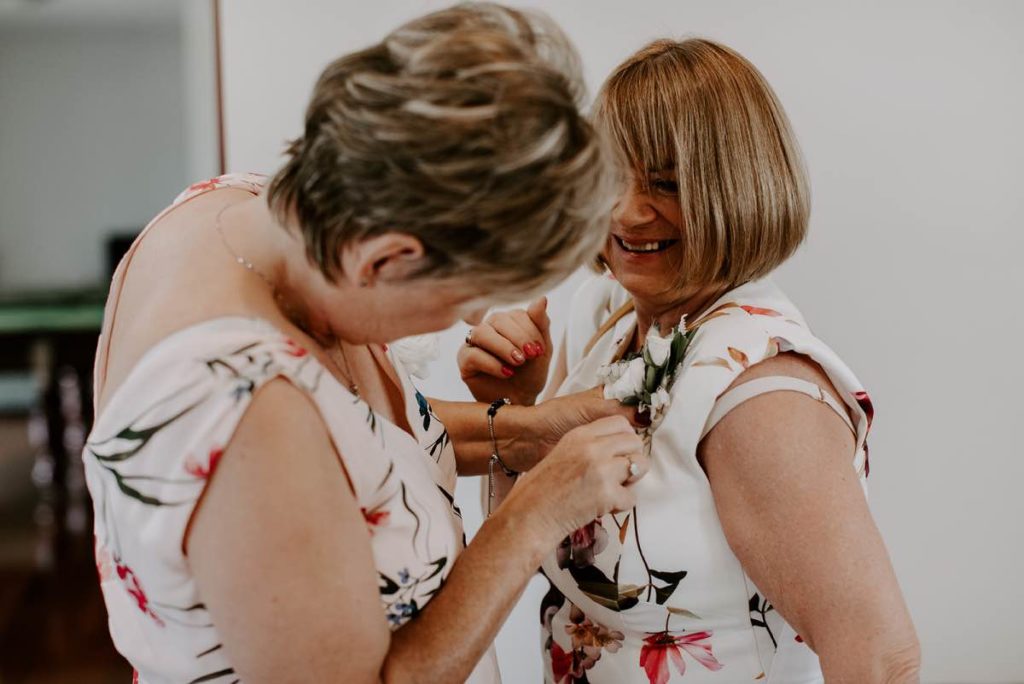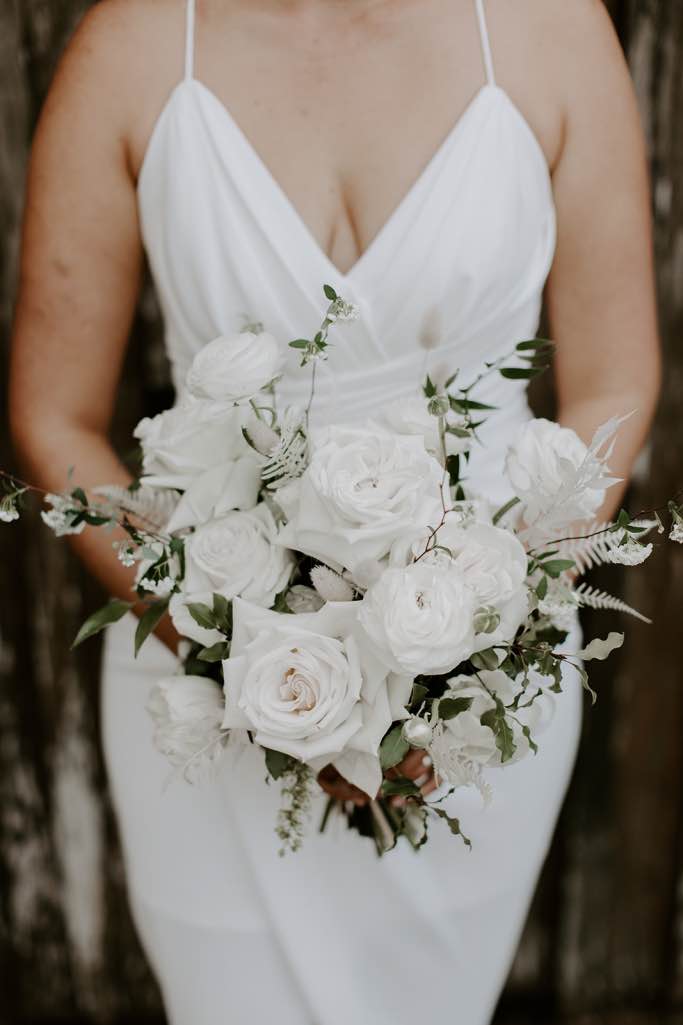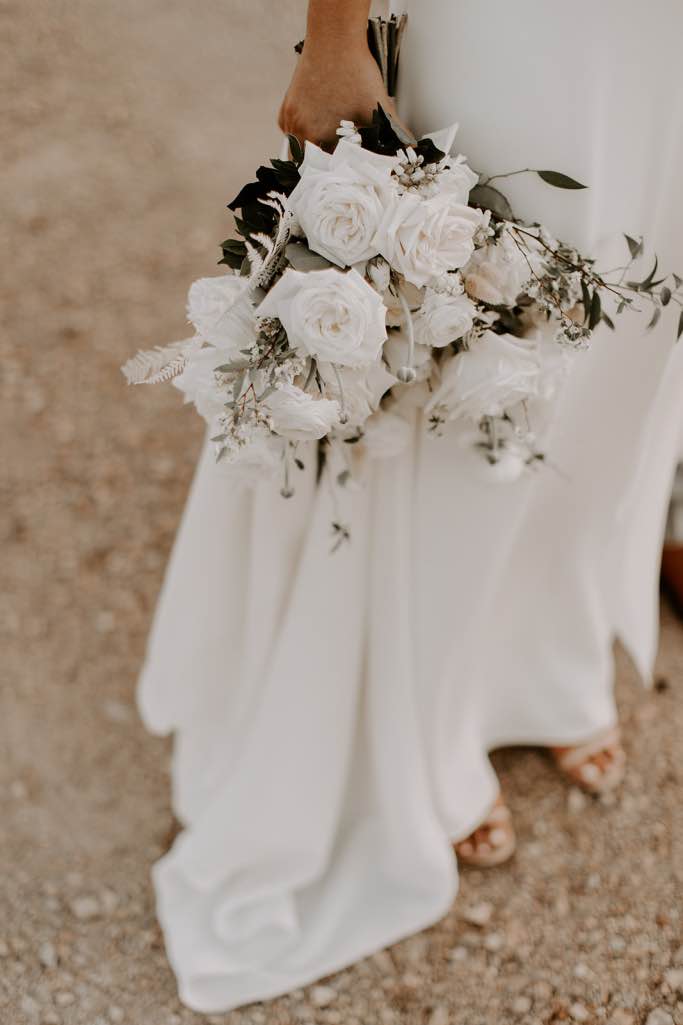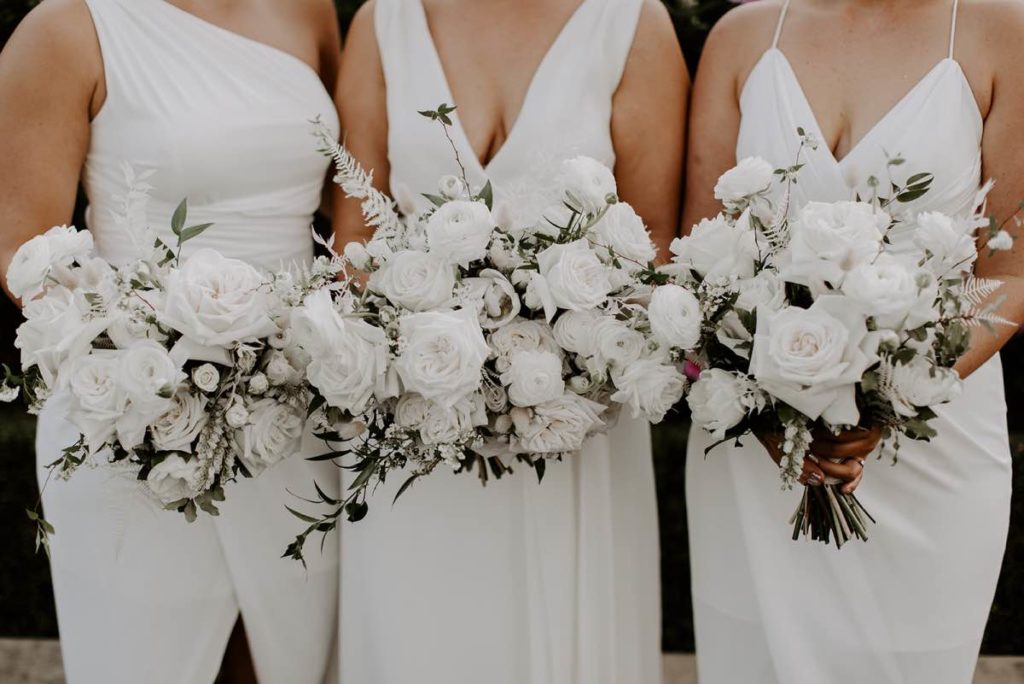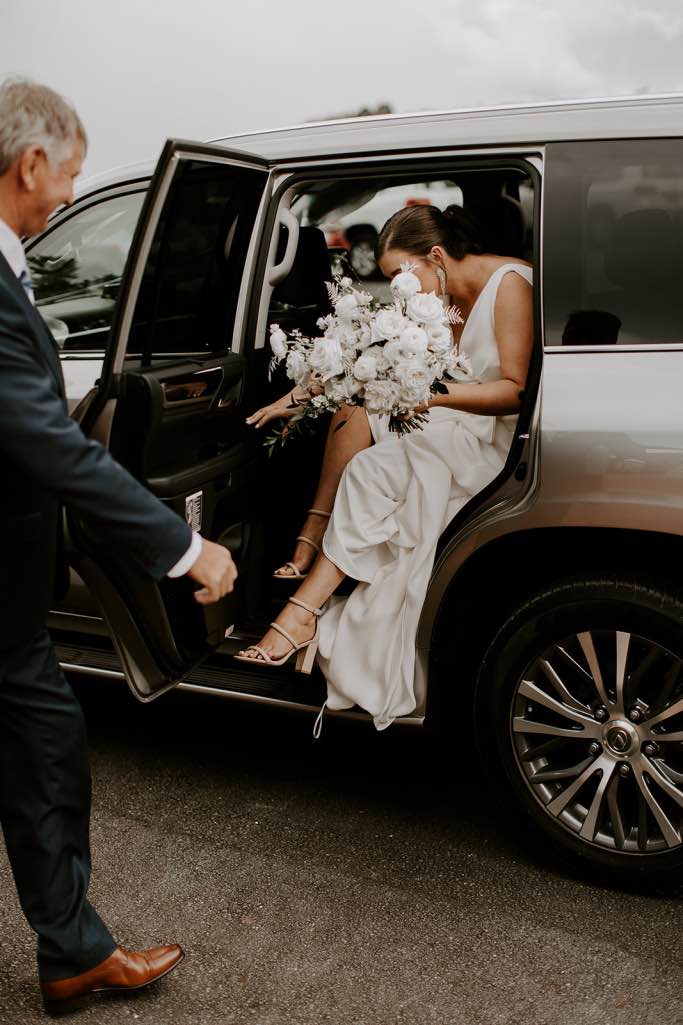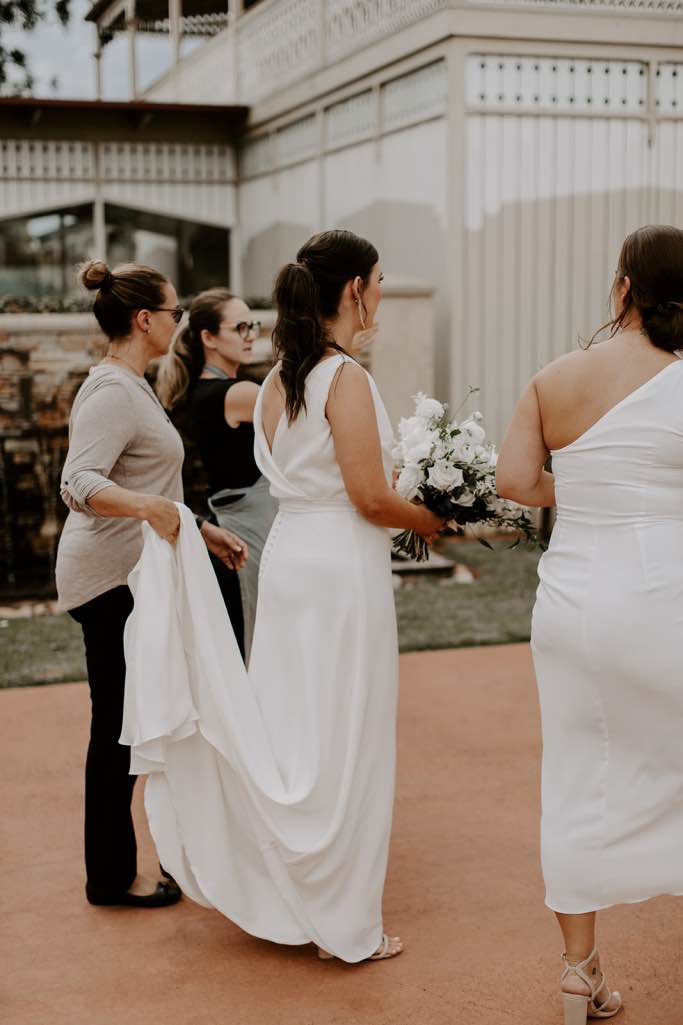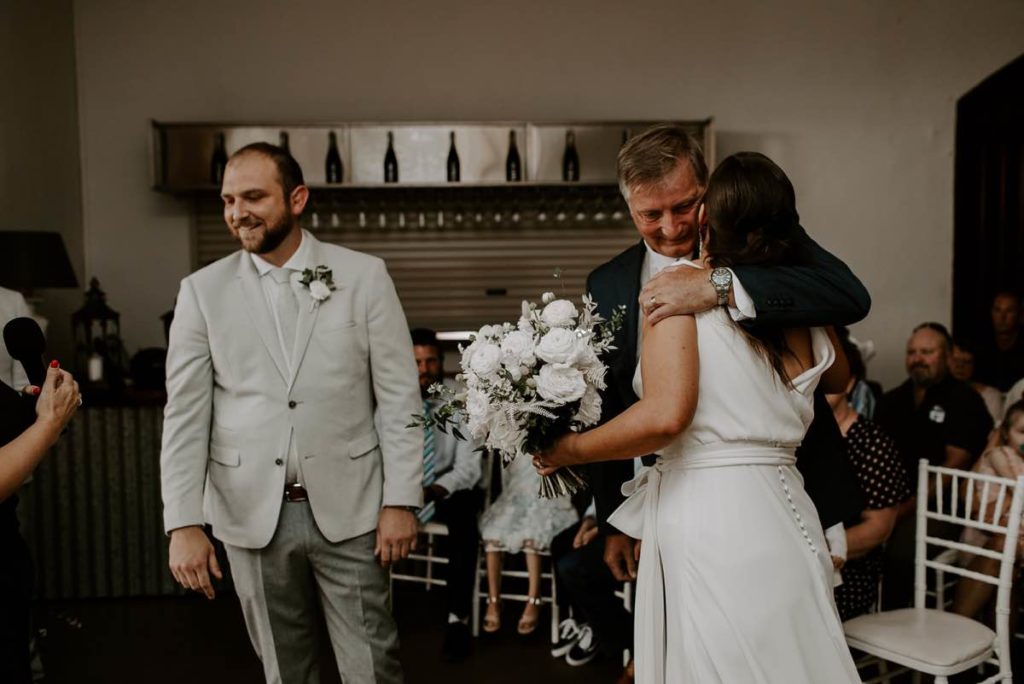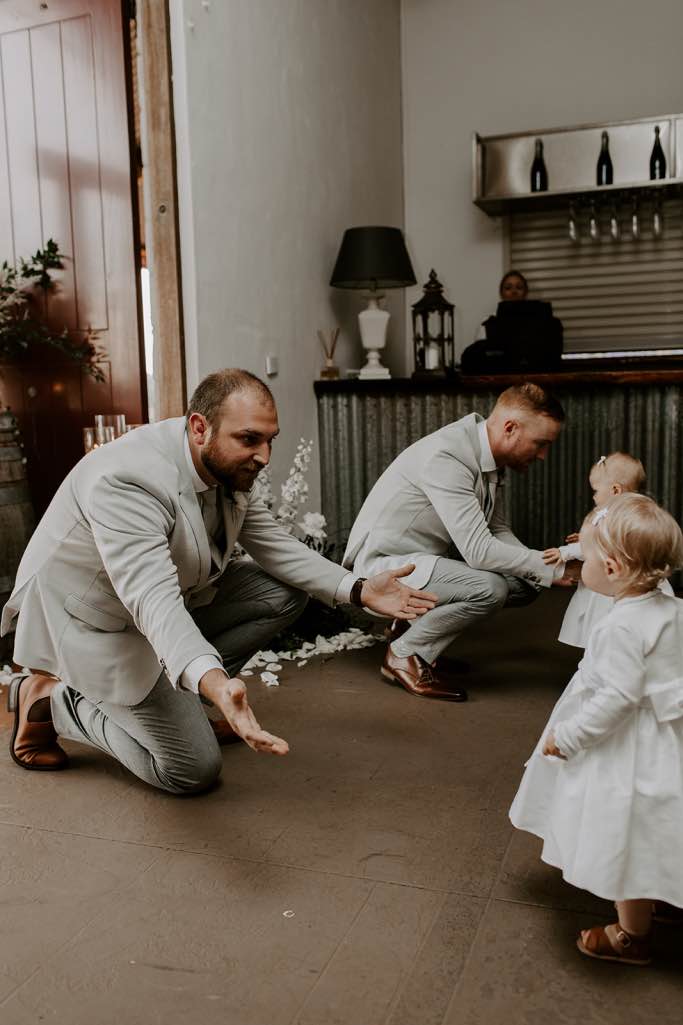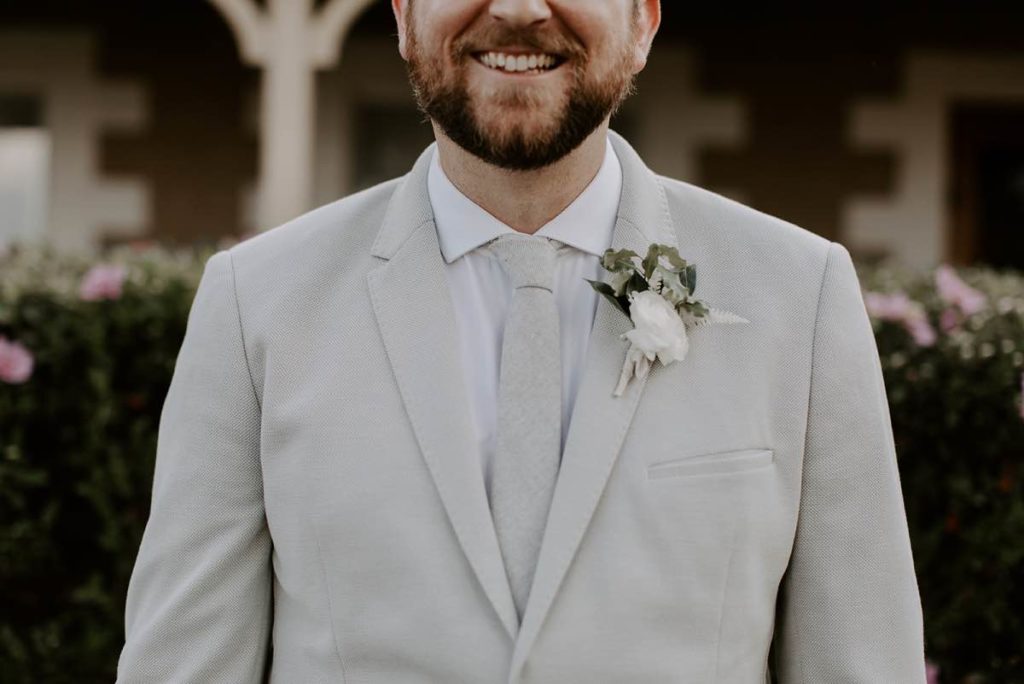 The Ceremony
WOW, what a space- especially considering this was moved indoors last minute due to the weather doing its best to spoil the show. The Willow Bud Team snapped into action creating a stunning space for the ceremony, whilst still taking in those views, creating a floral vision using layers of florals utilising the arbour, different sized wine barrels, and floor level florals. Add some (lots) of candlelight…MAGIC! Photographer Julian got some amazing shots considering the challenging lighting conditions too!
The Willow Bud team with the help of the Flaxton Gardens staff moved all of these florals to behind the bridal table where we created a floral cave for Rachel and Chris to be seated amongst. The florals were carefully re-designed to suit the new space and ready to welcome the newly married couple.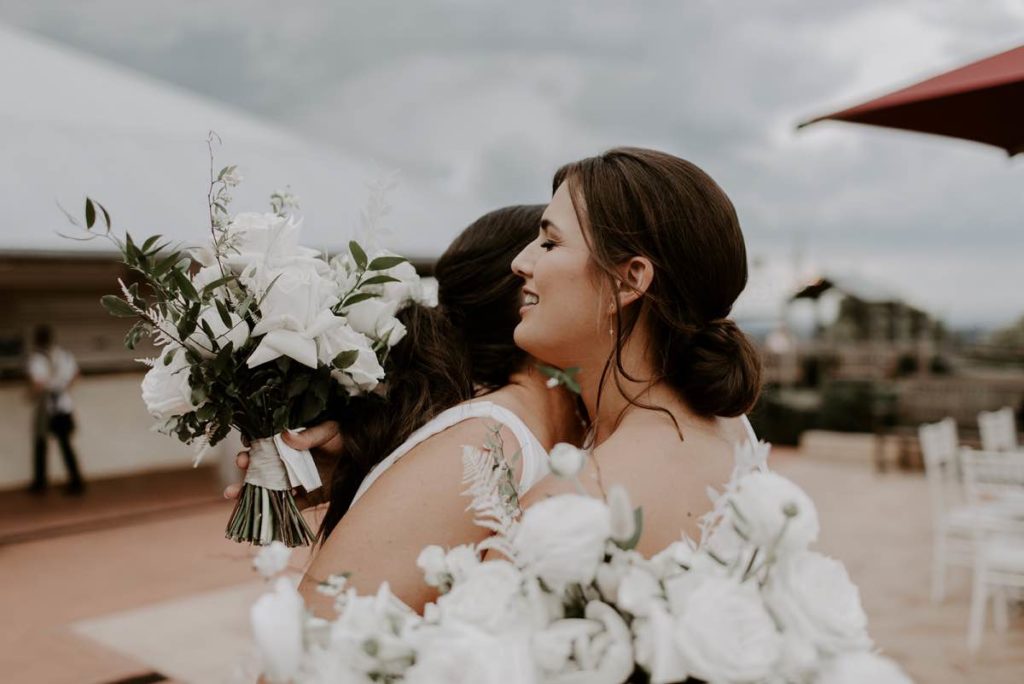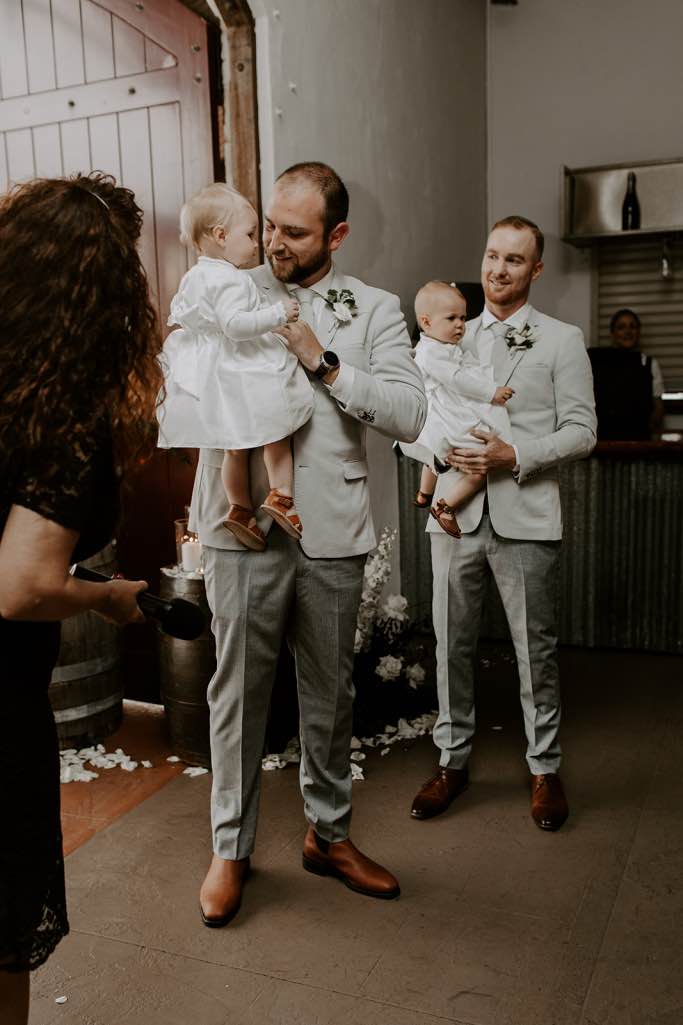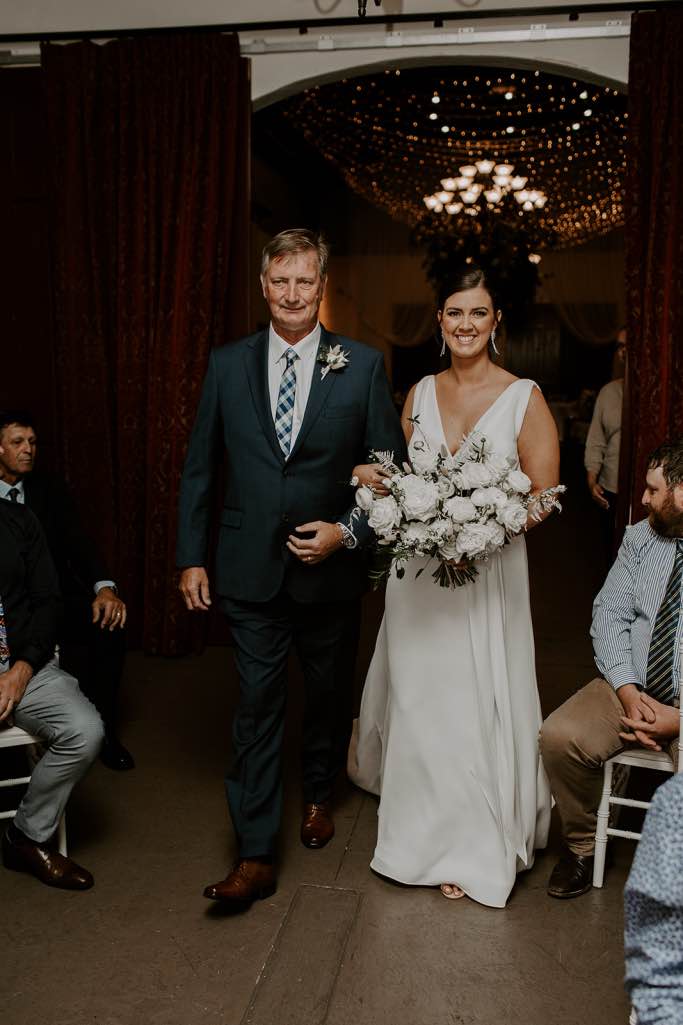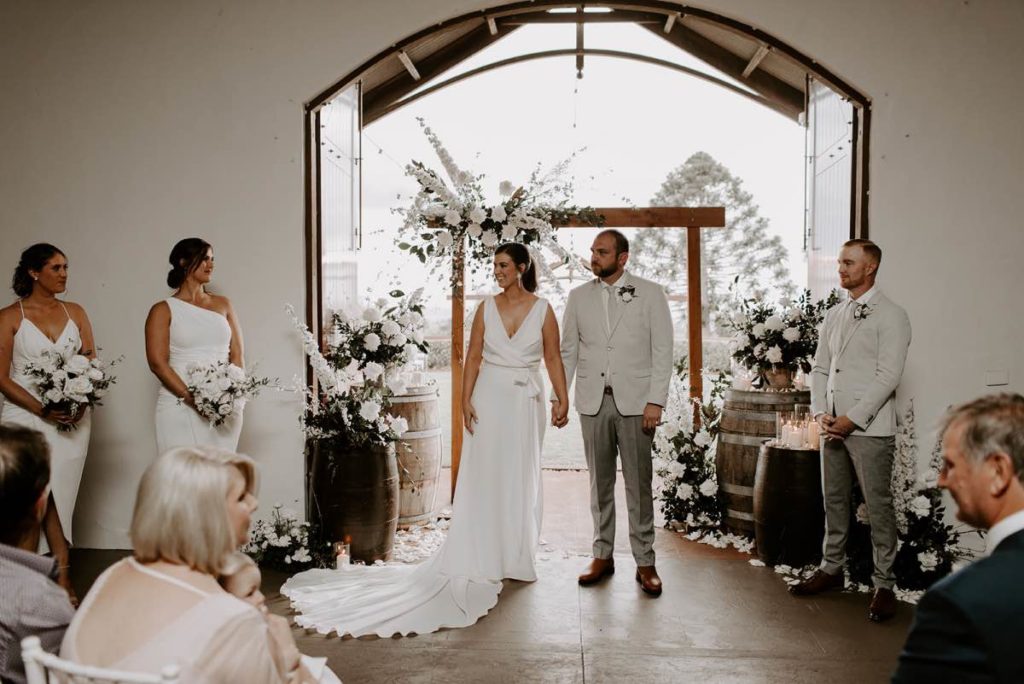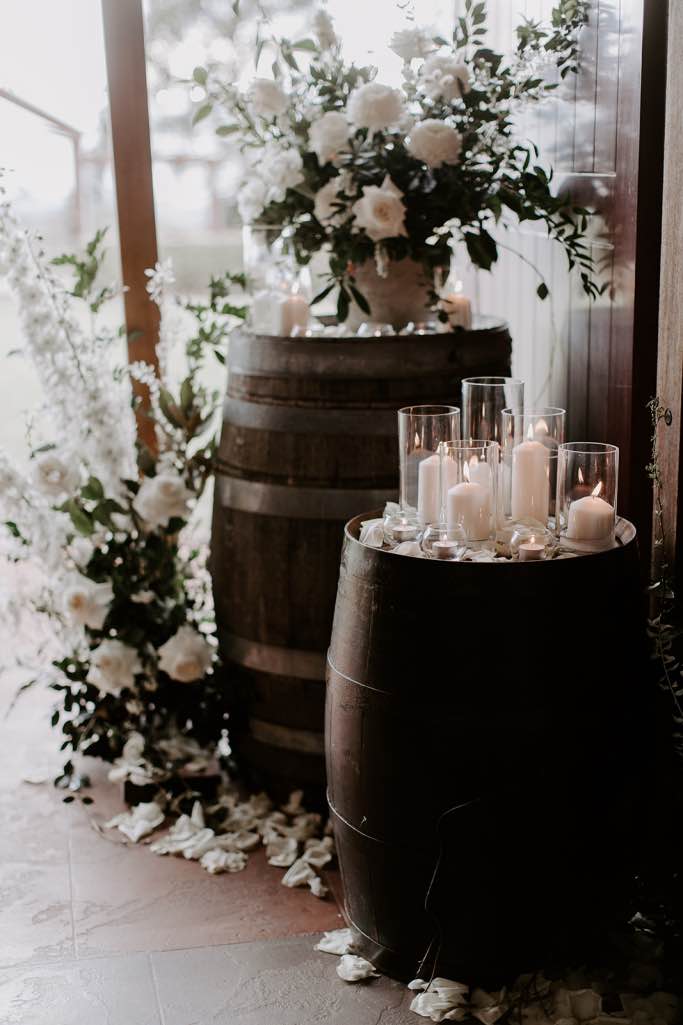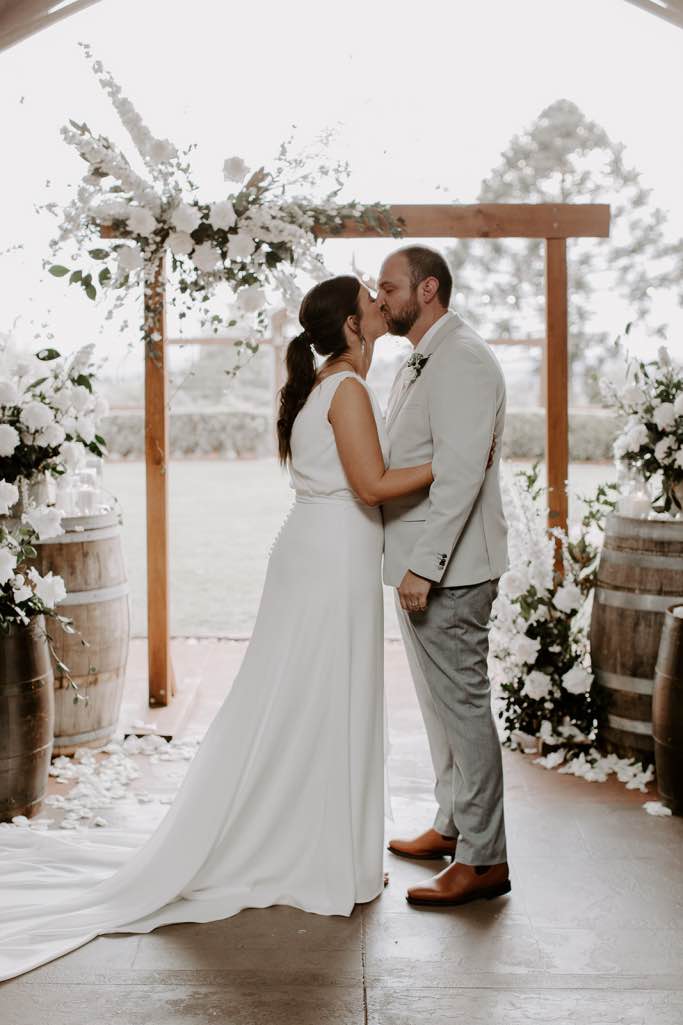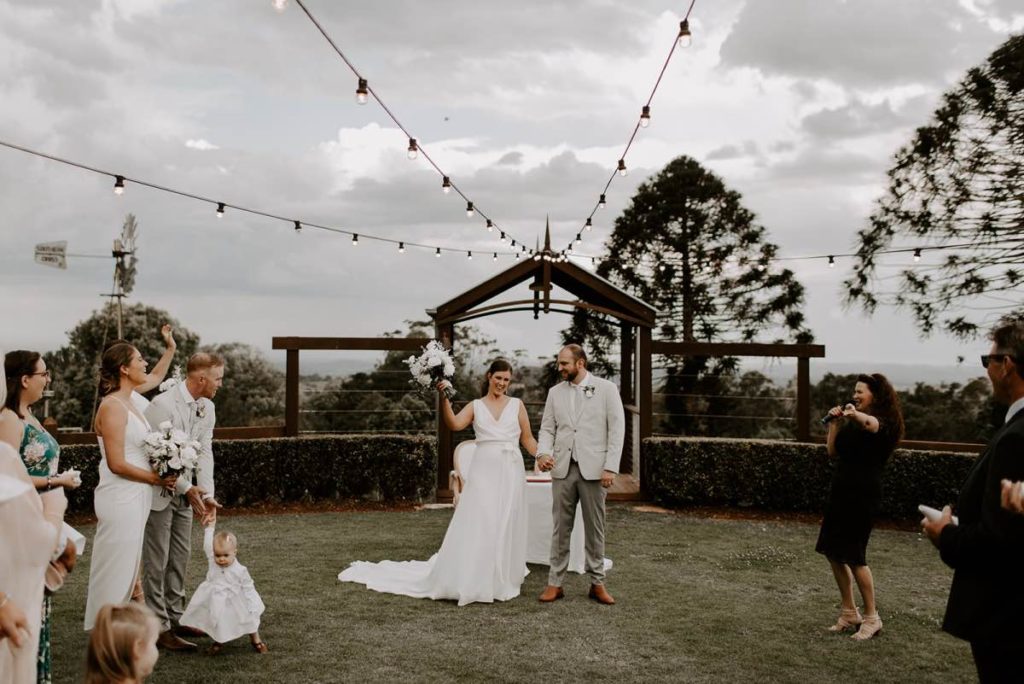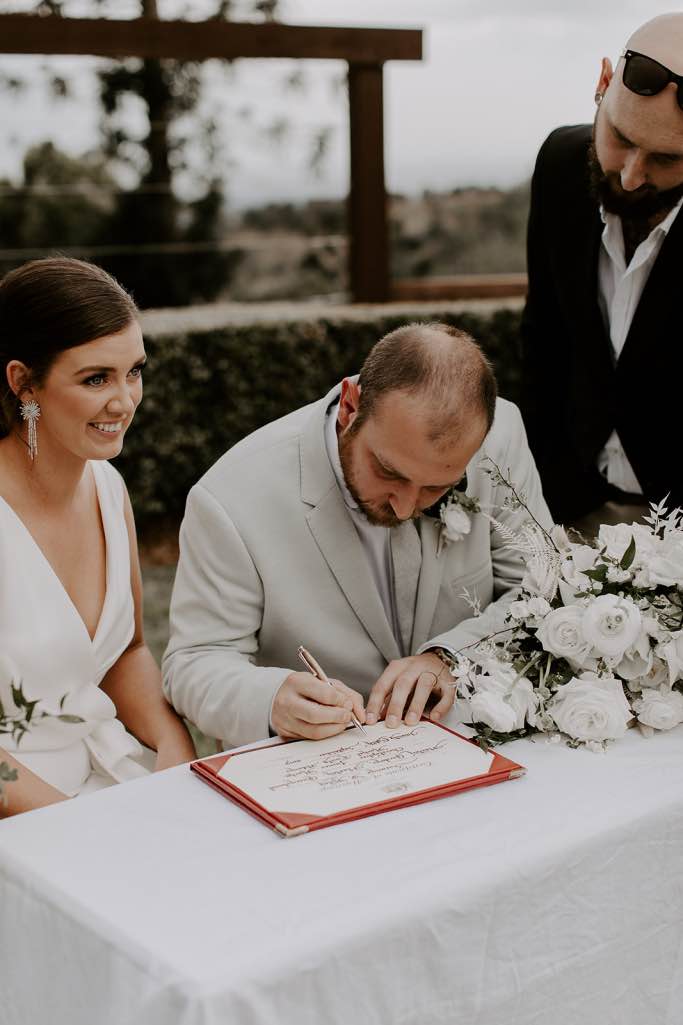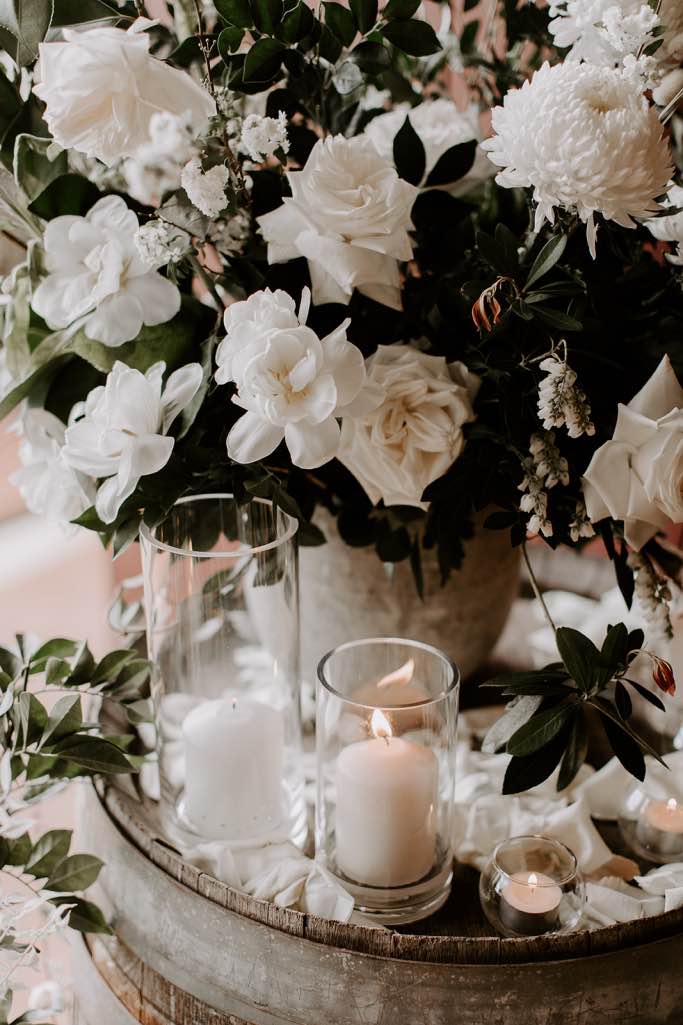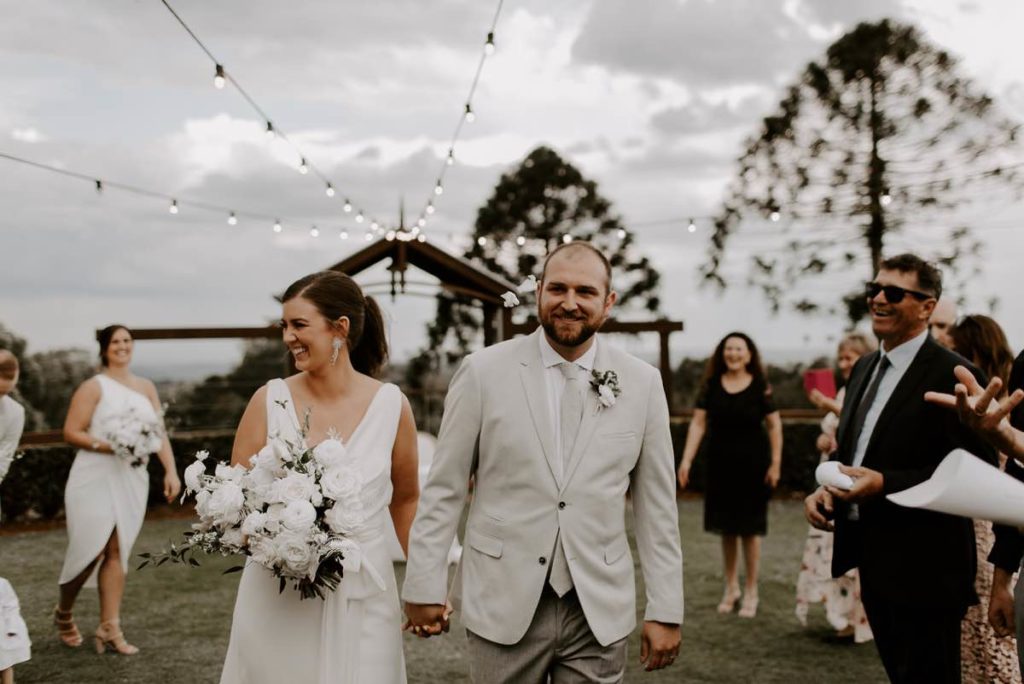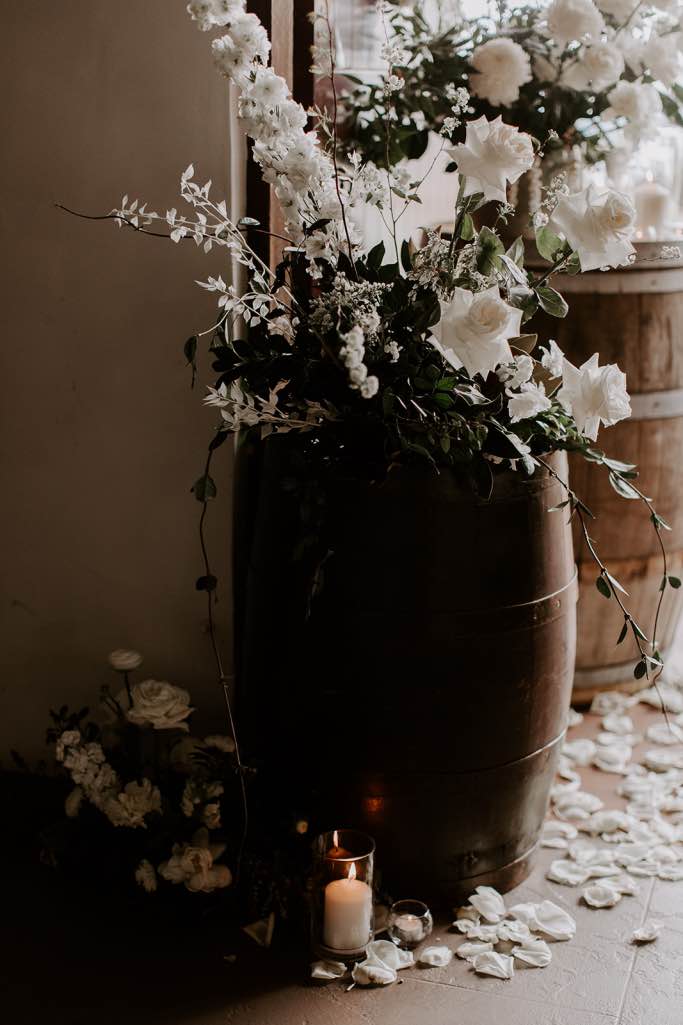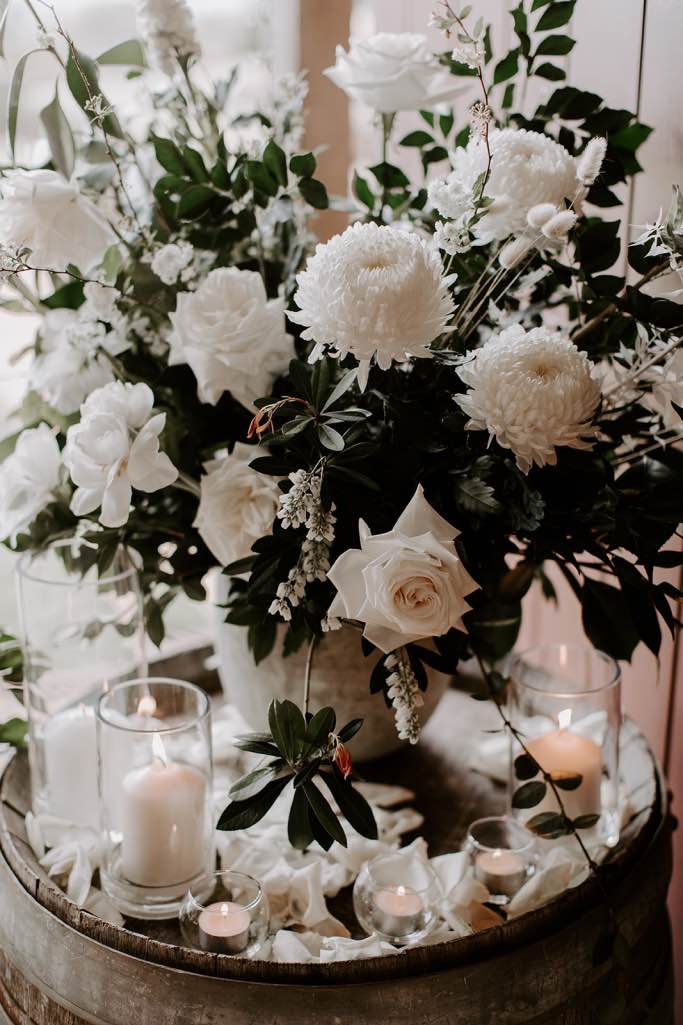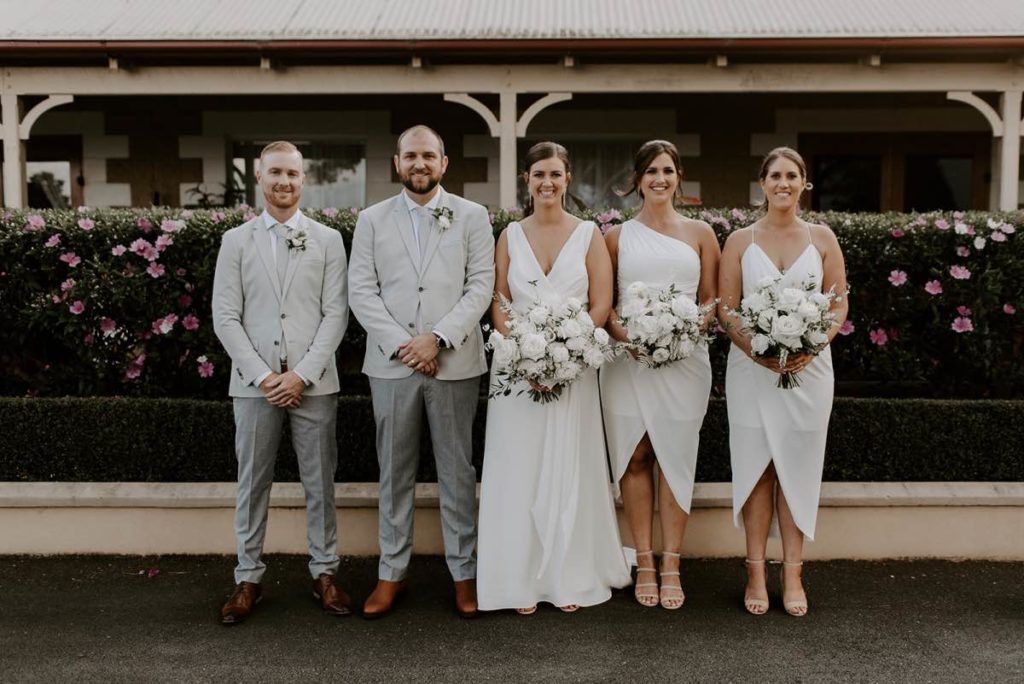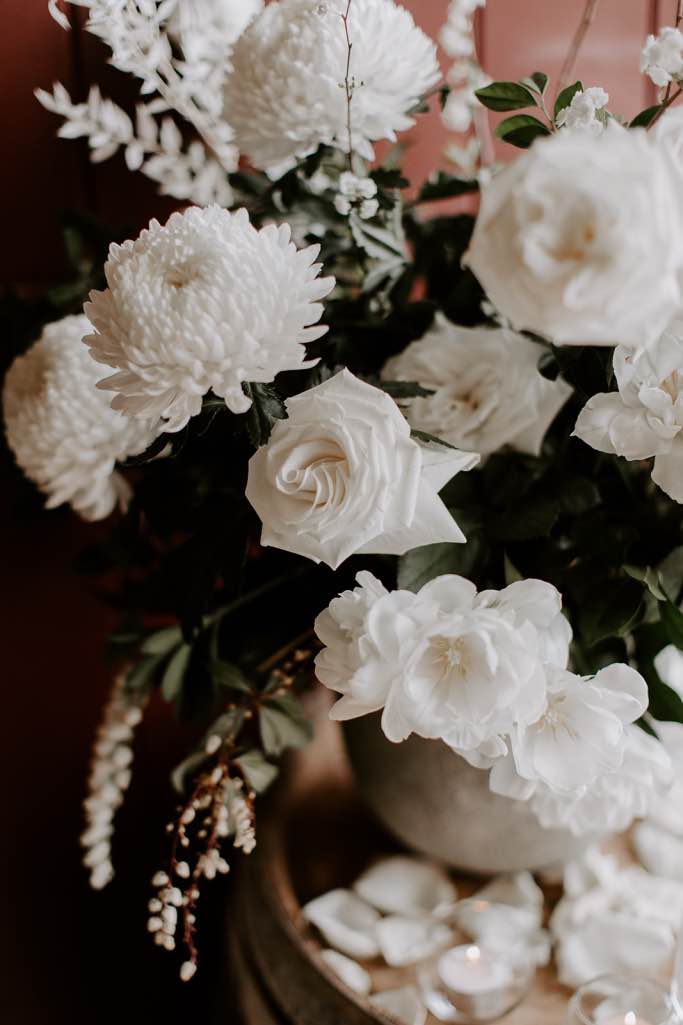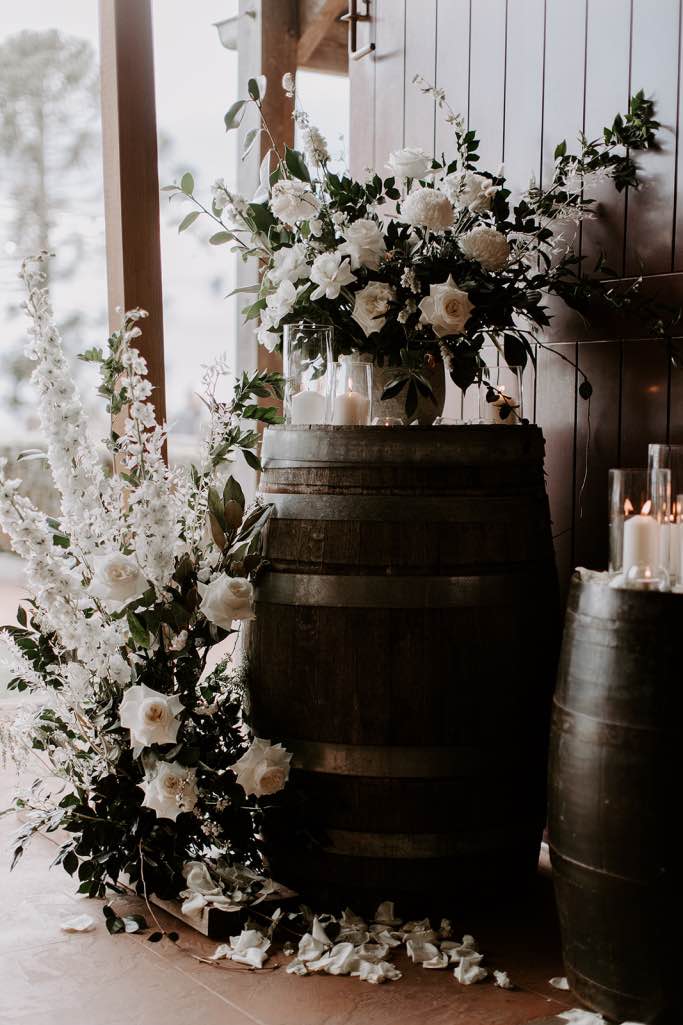 The Reception
This is where the real WOW was! Upon entering the space you were greeted with florals – everywhere! Flaxton Gardens has never looked so lush! We created foliage and floral chandeliers from Flaxtons existing light fittings, dripping down towards the timber tables of dense floral hedges and loads of candlelight! The floral hedges flowed across the tables and cascaded down to the floor. Once all of the ceremony flowers were transferred and redesigned the head table look full and lush with a full backdrop and stylish corner design allowing for the bridal bouquets to be placed along the length of the bridal table.
This was such a lush and lovely display and with a simple colour palette – it really allowed all the timber elements to sing.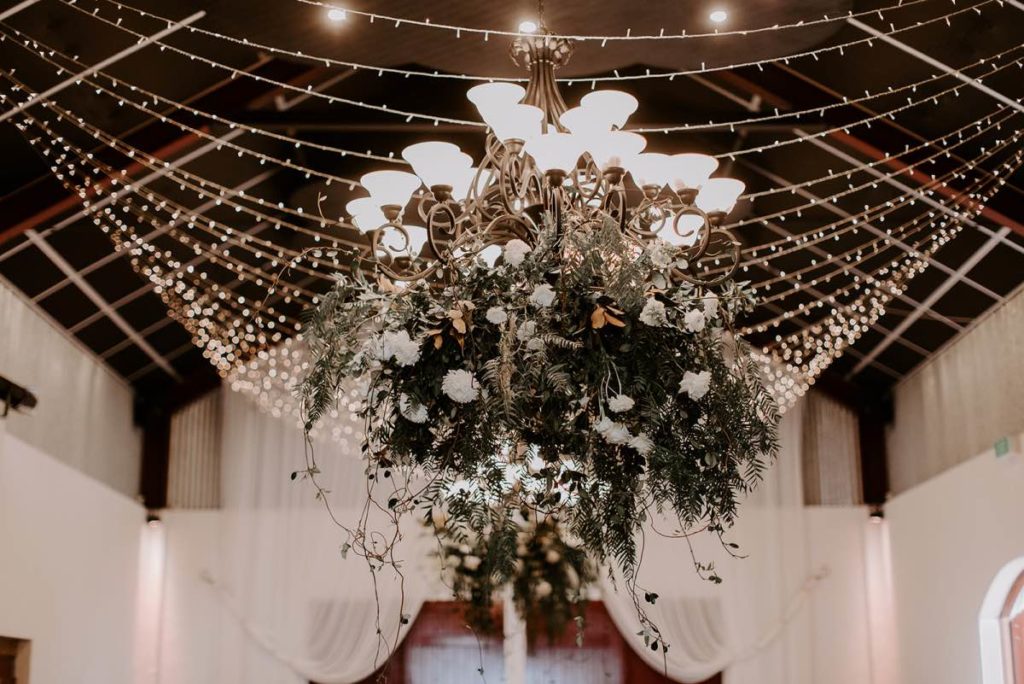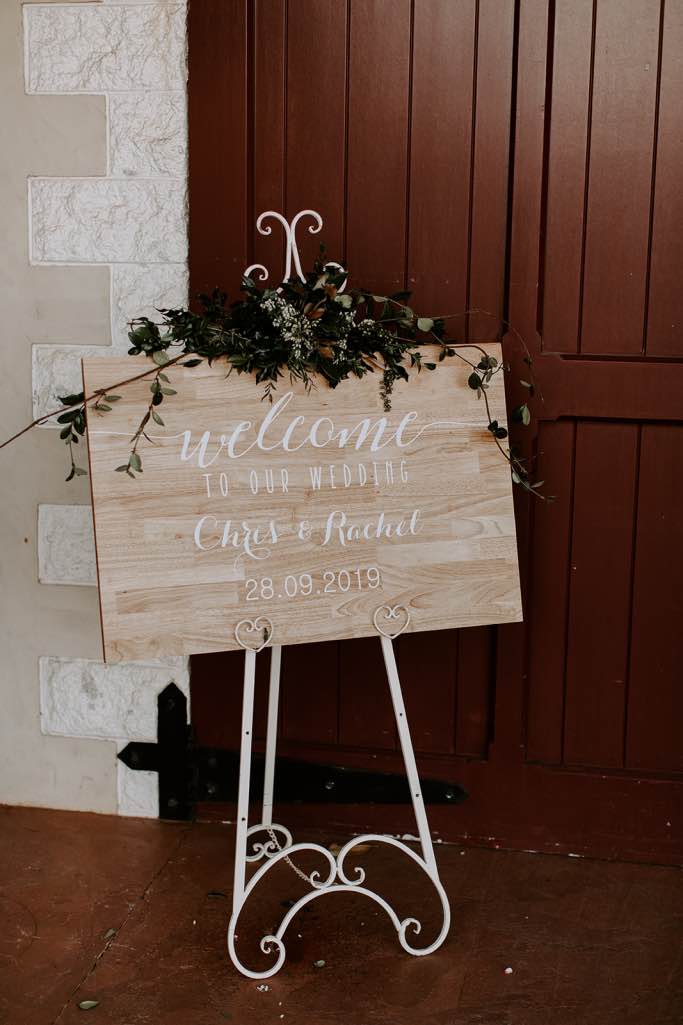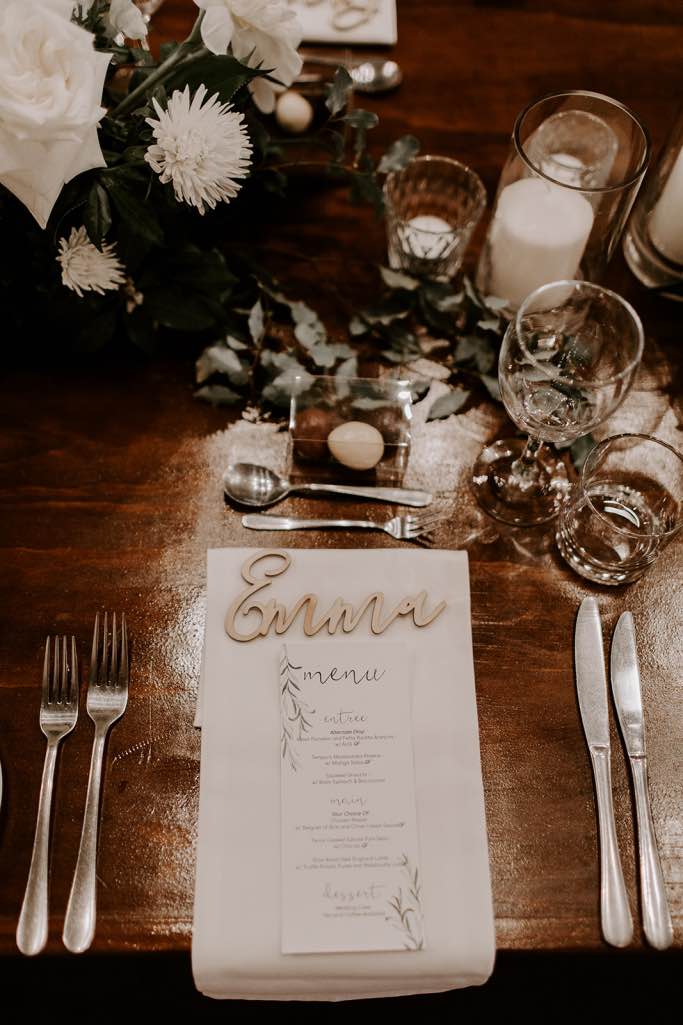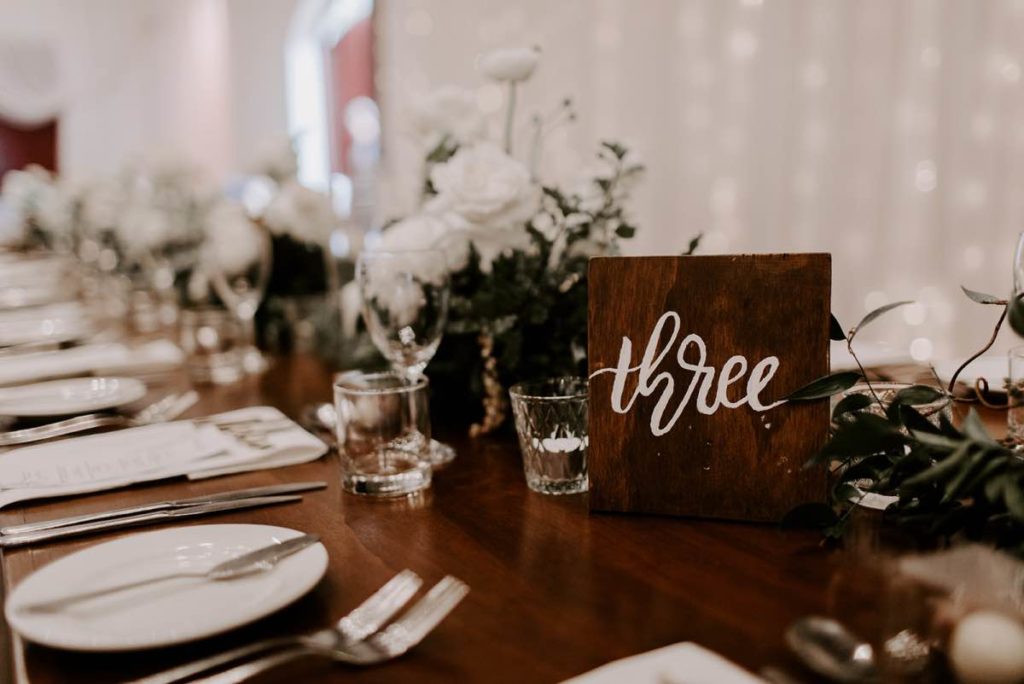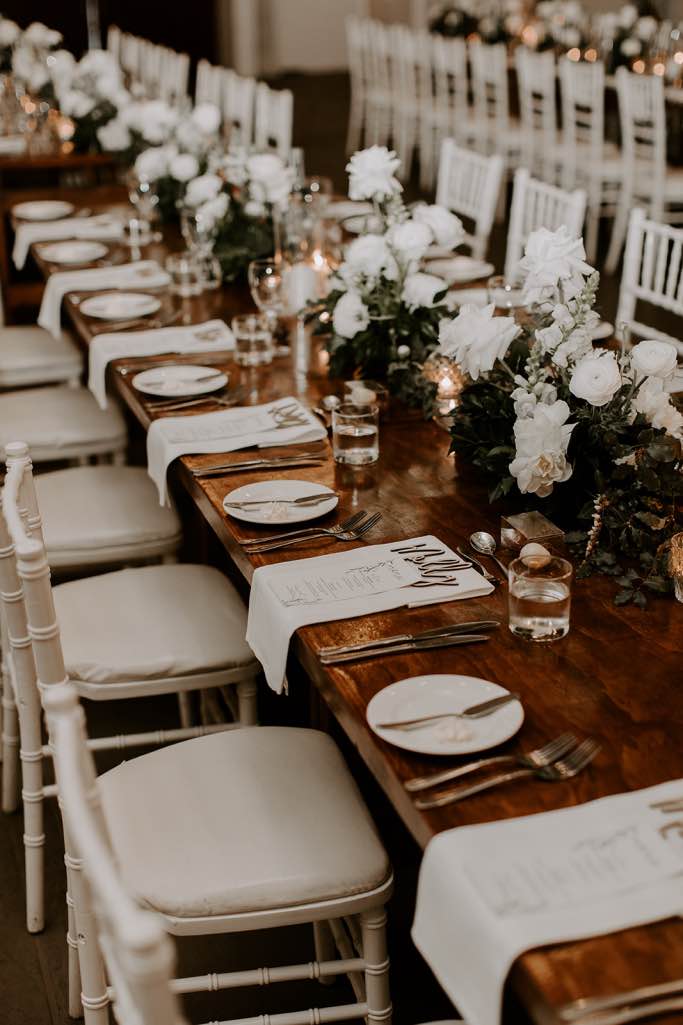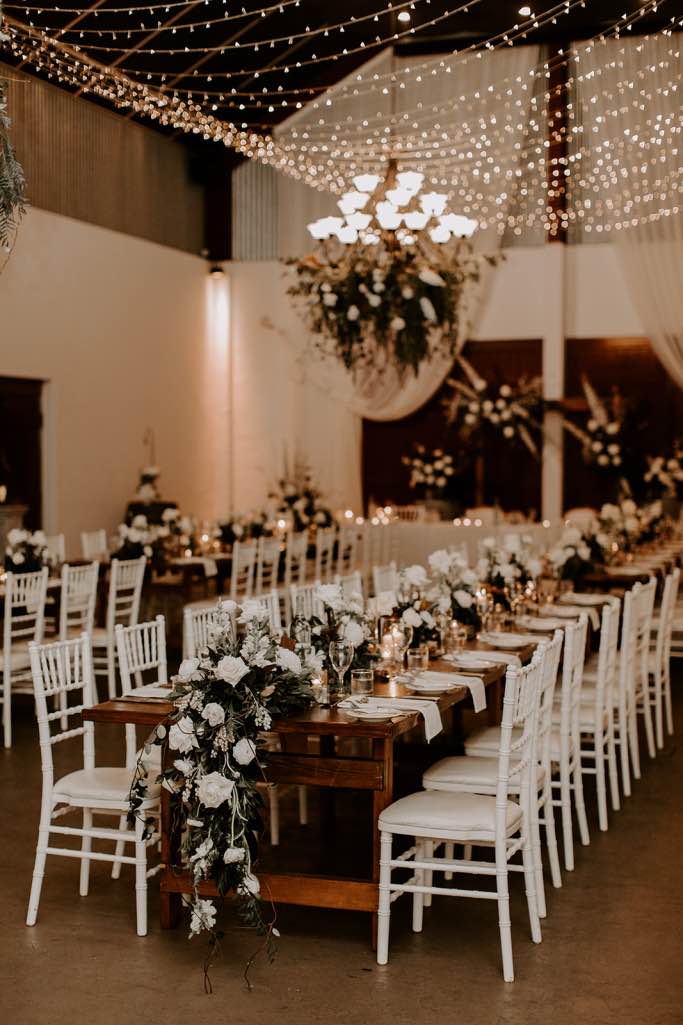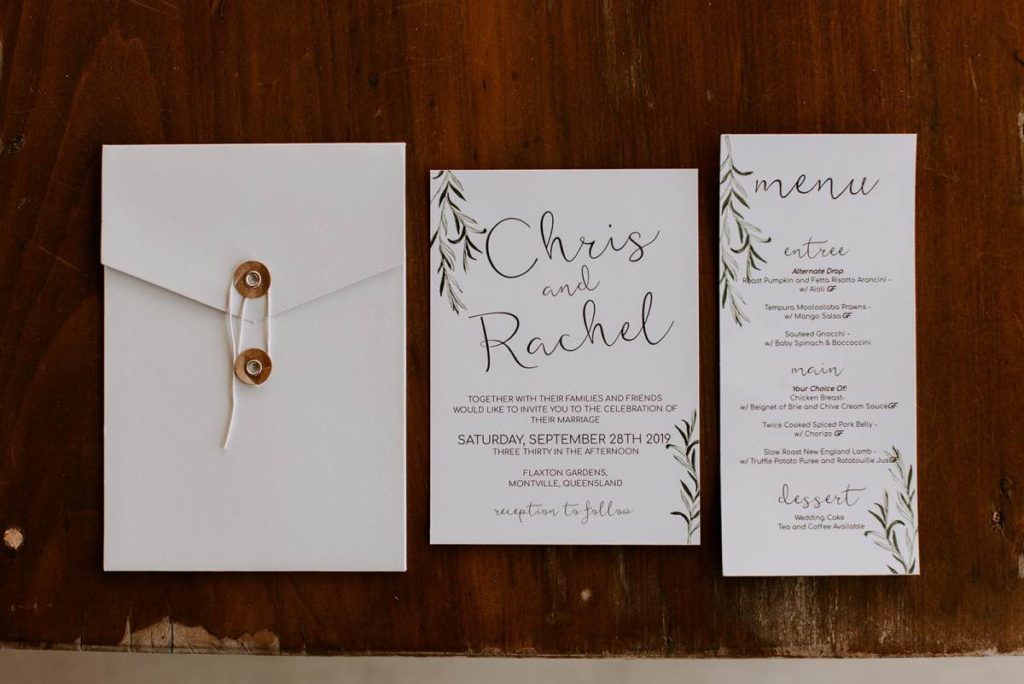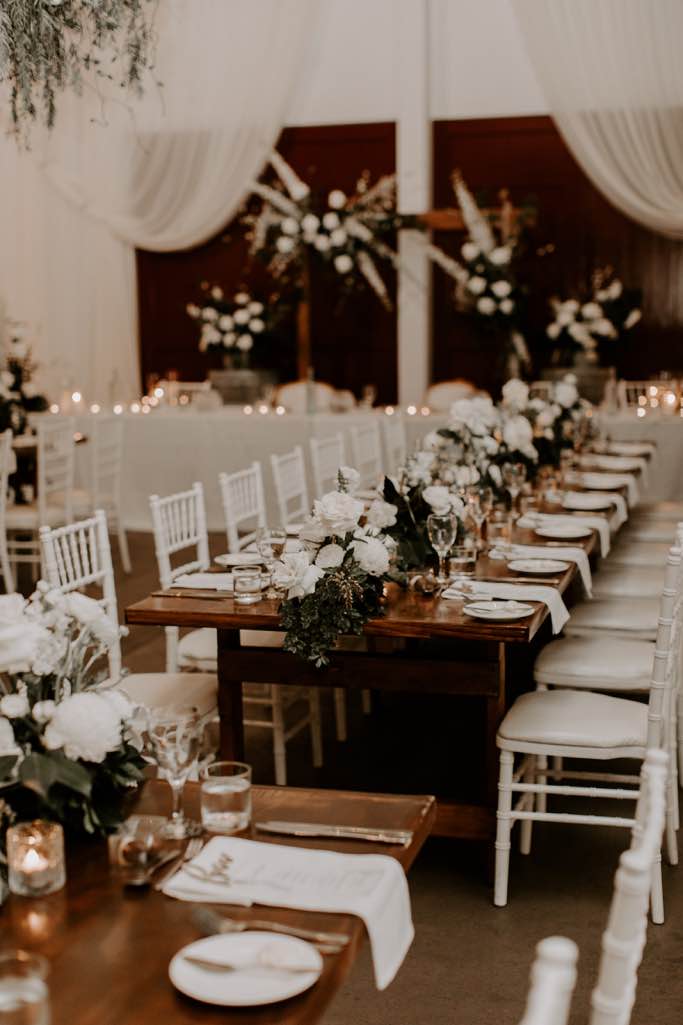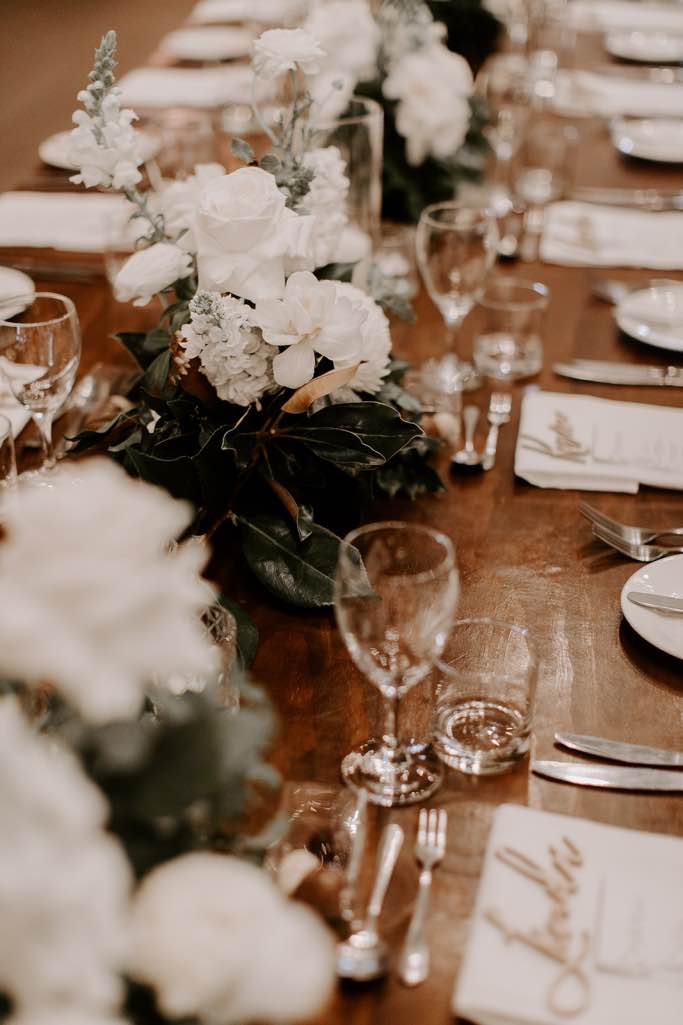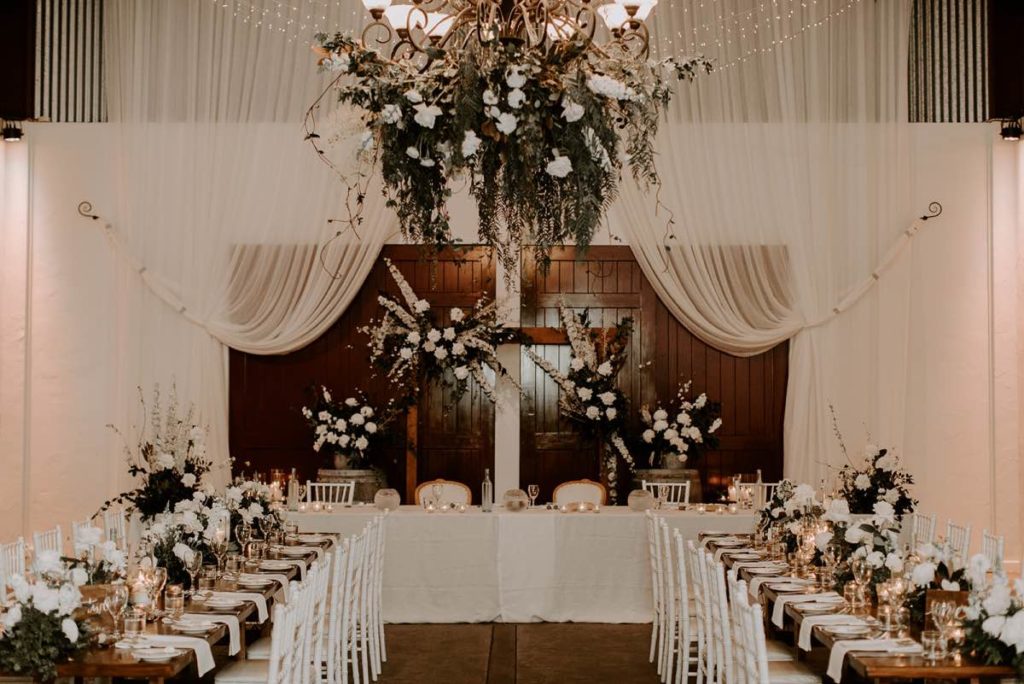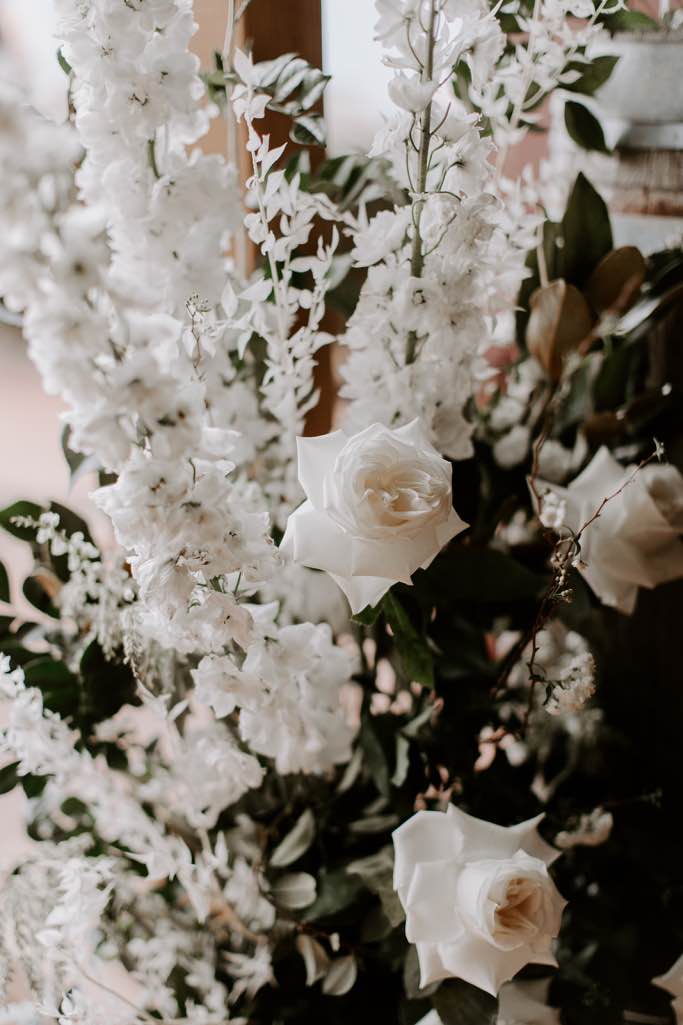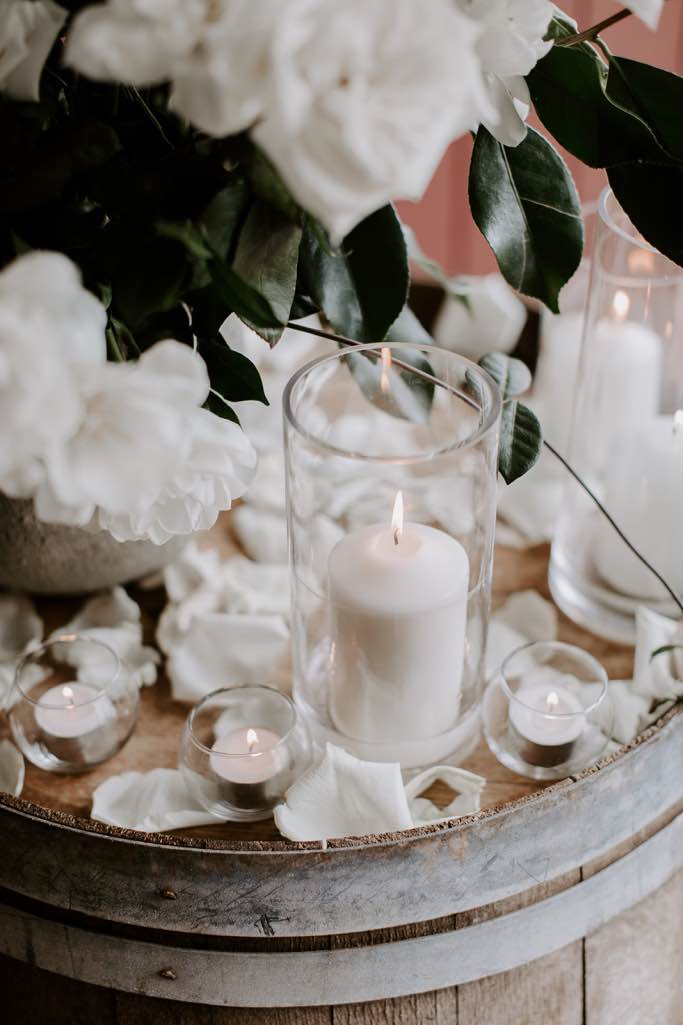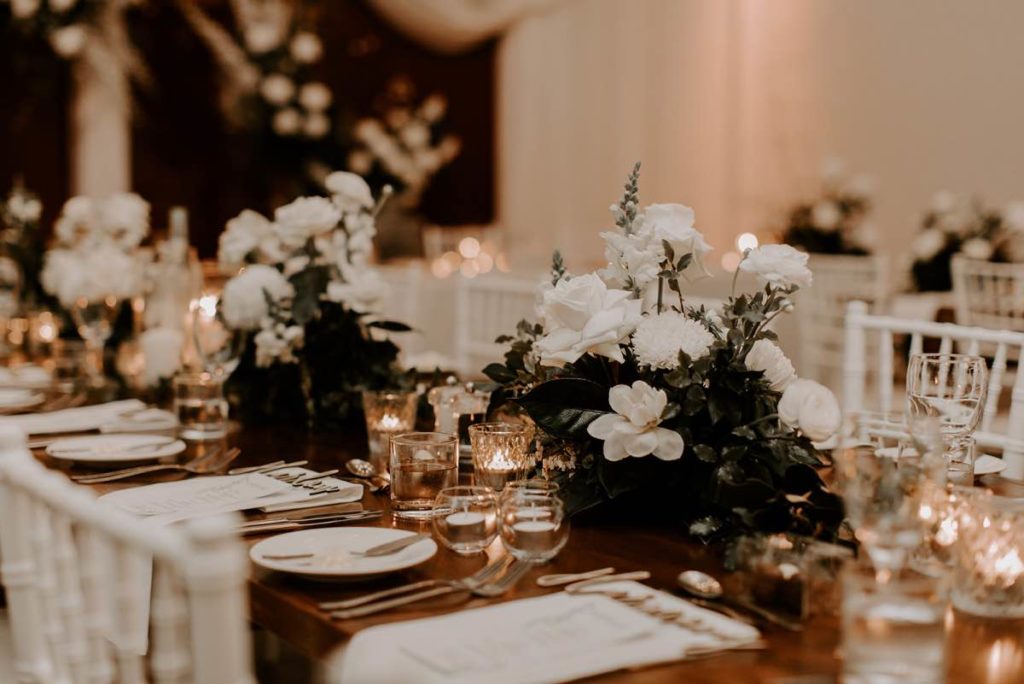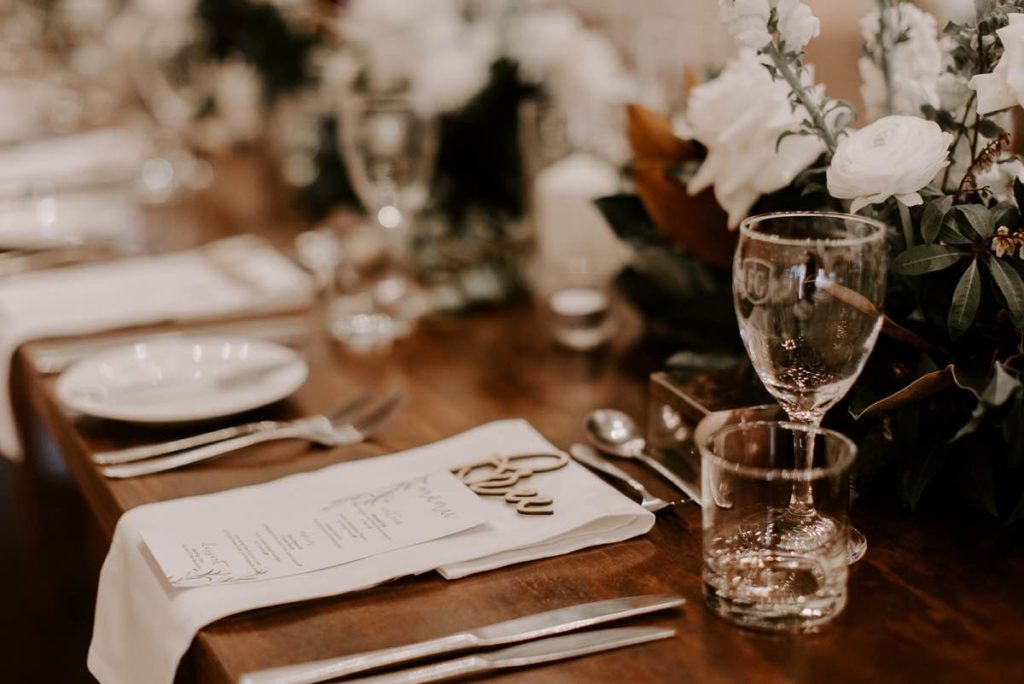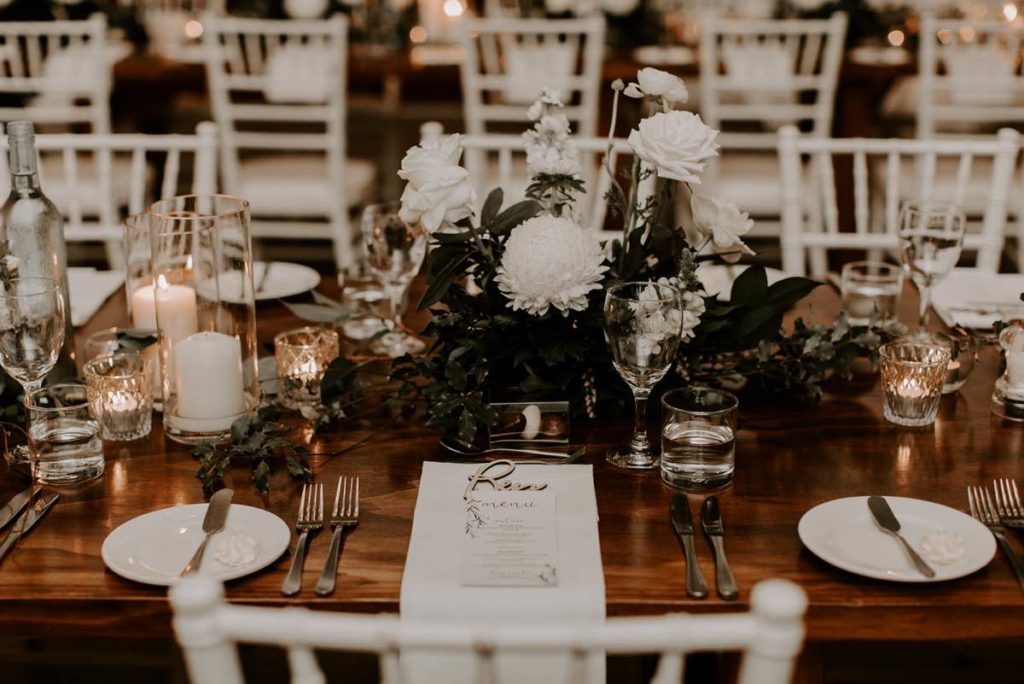 Wow! What an amazing experience we had! Sandi and her team went above and beyond for our wedding at Flaxton Gardens almost a month ago It was even better than we imagined and all our guests can't stop talking about them. The process was super easy and I could tell Sandi just loved her job so much as she wanted everything perfect for us. Highly recommend.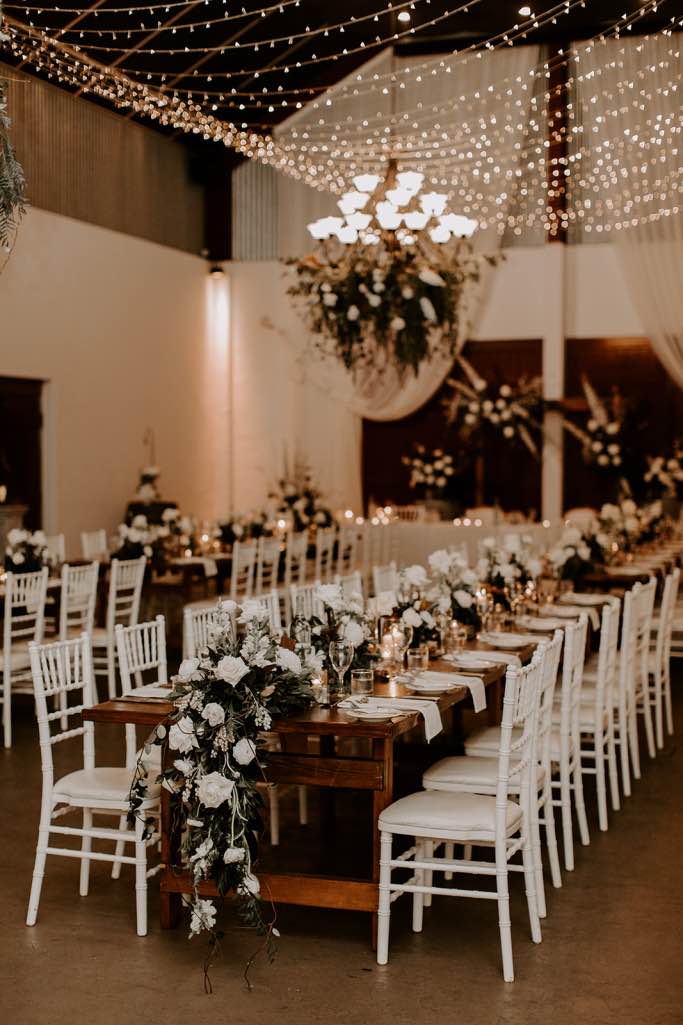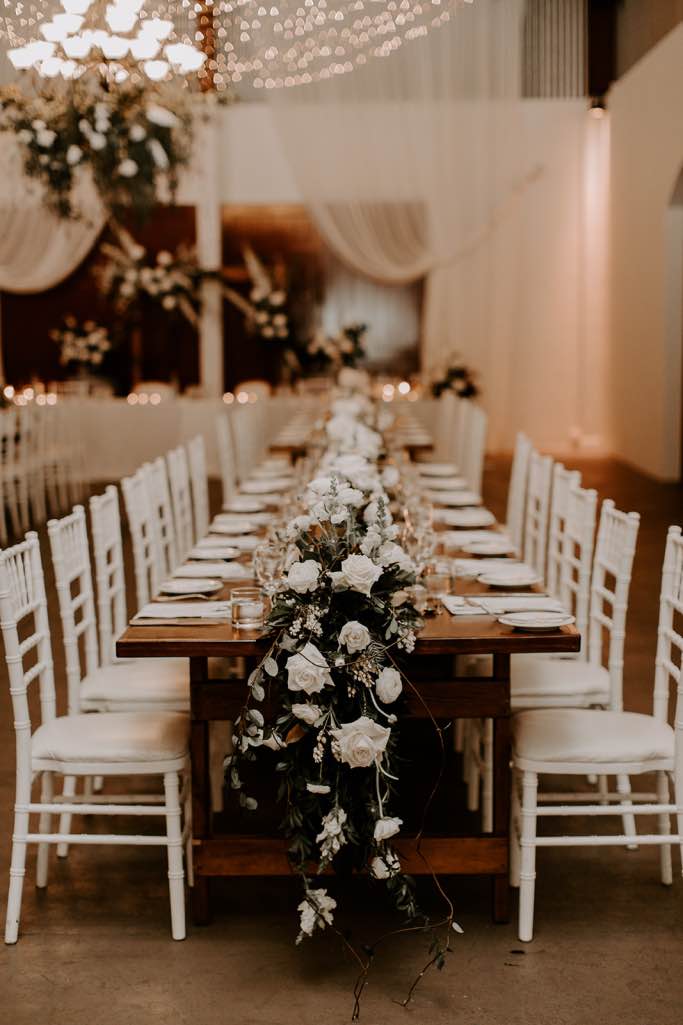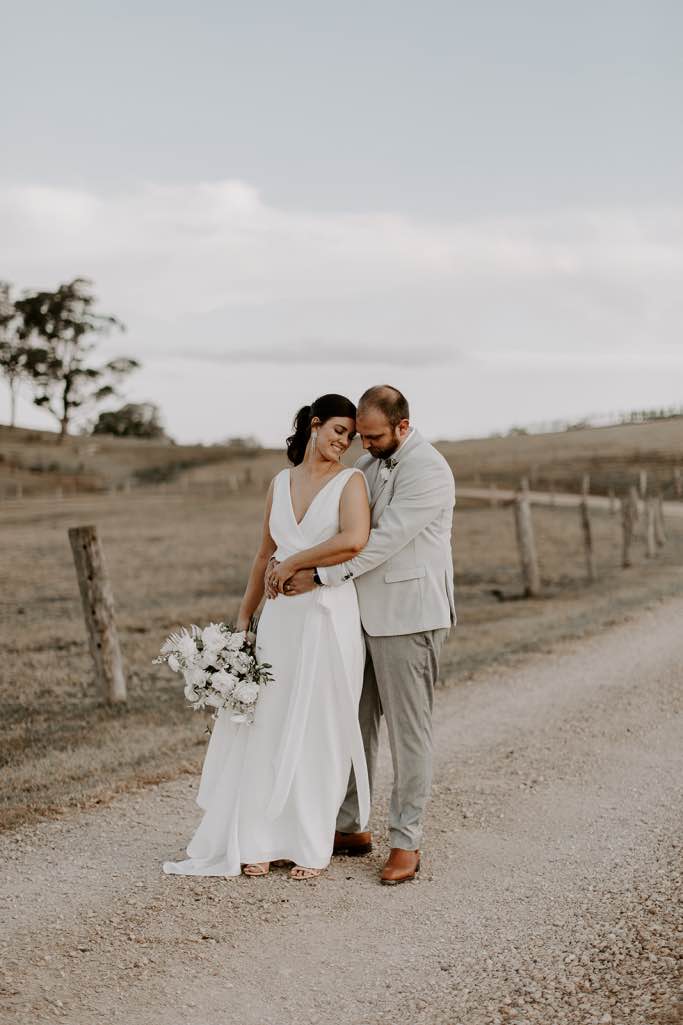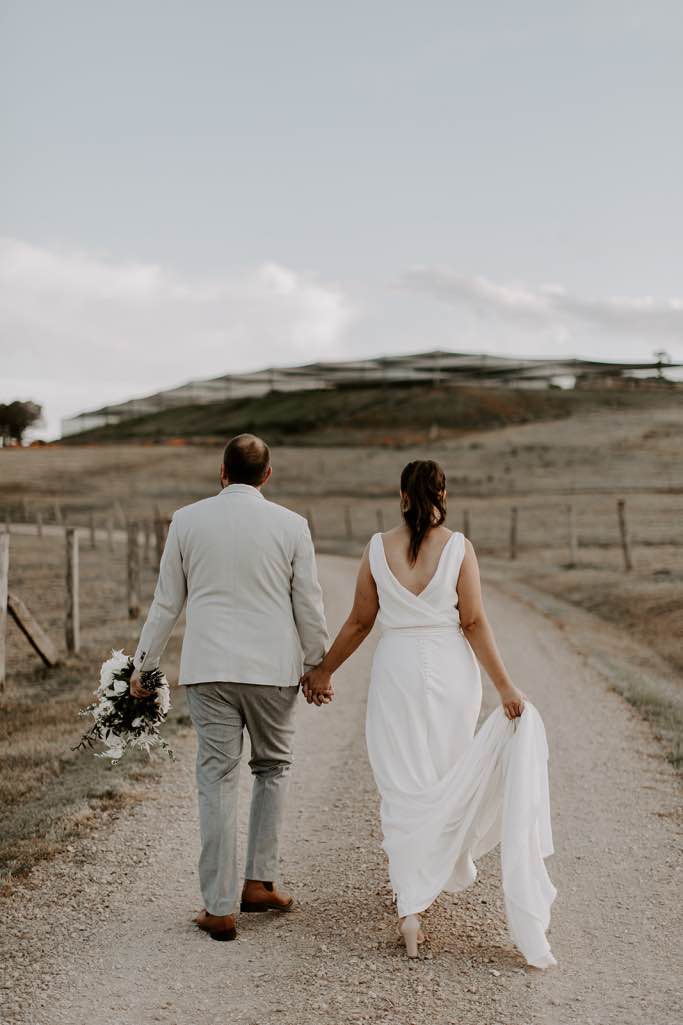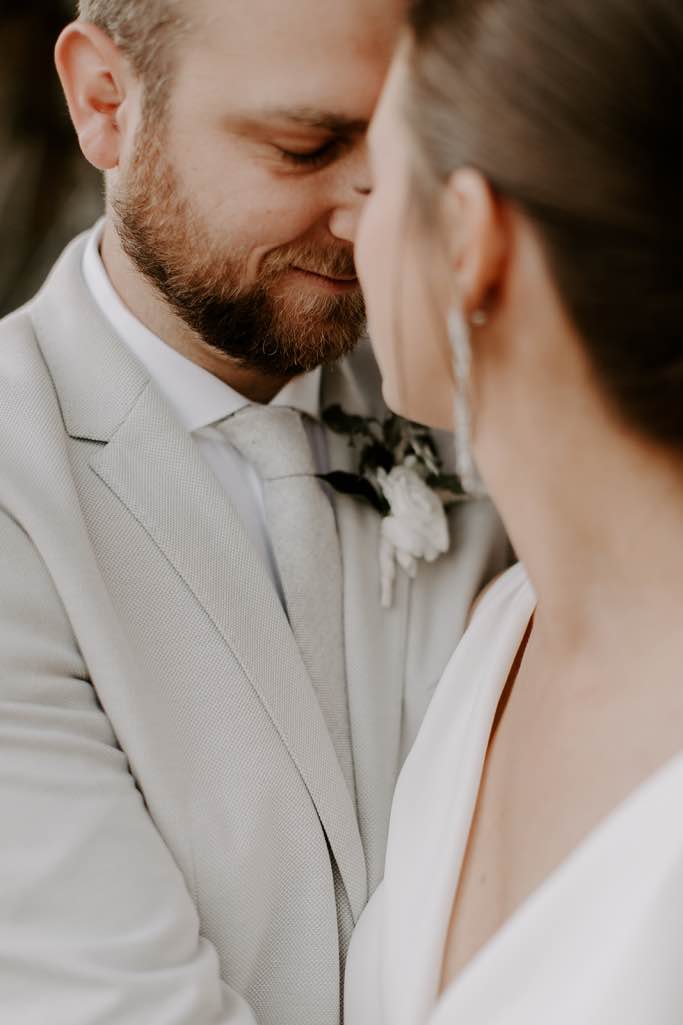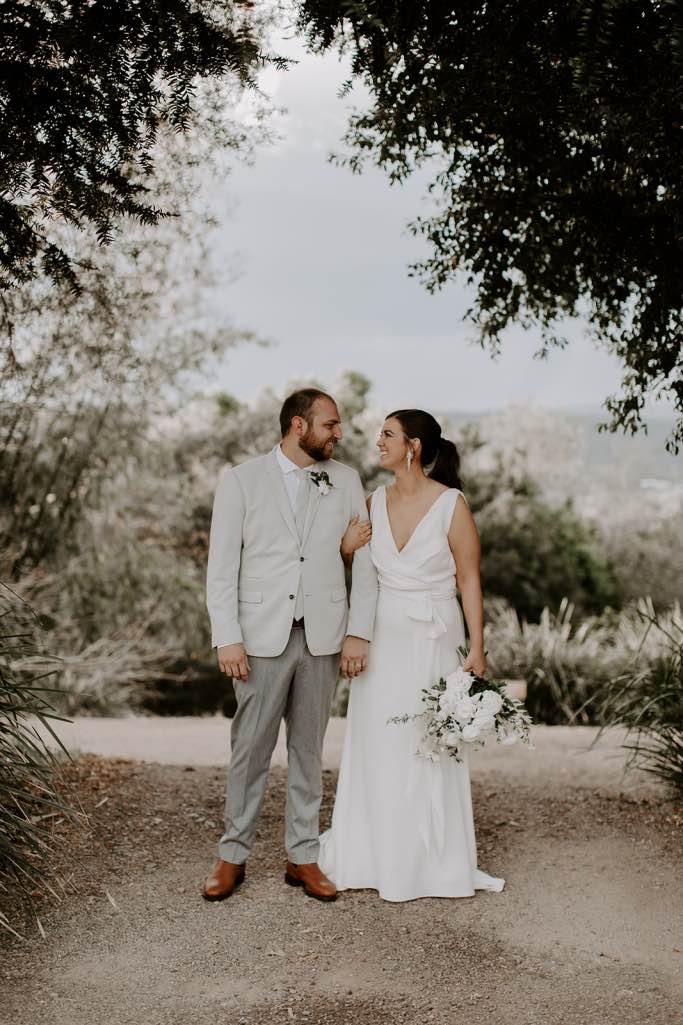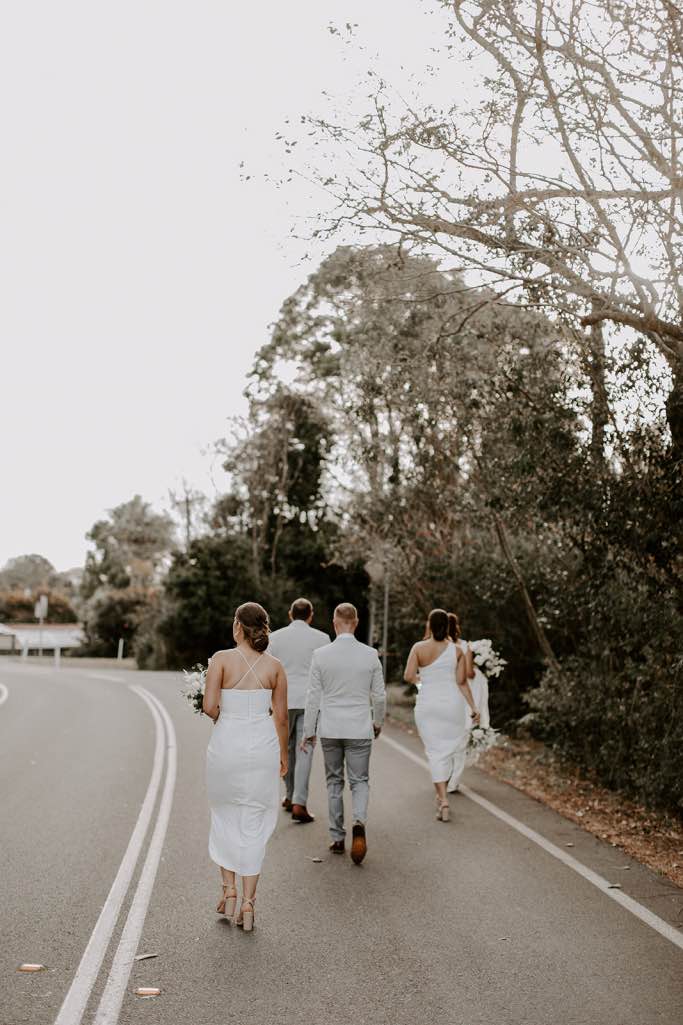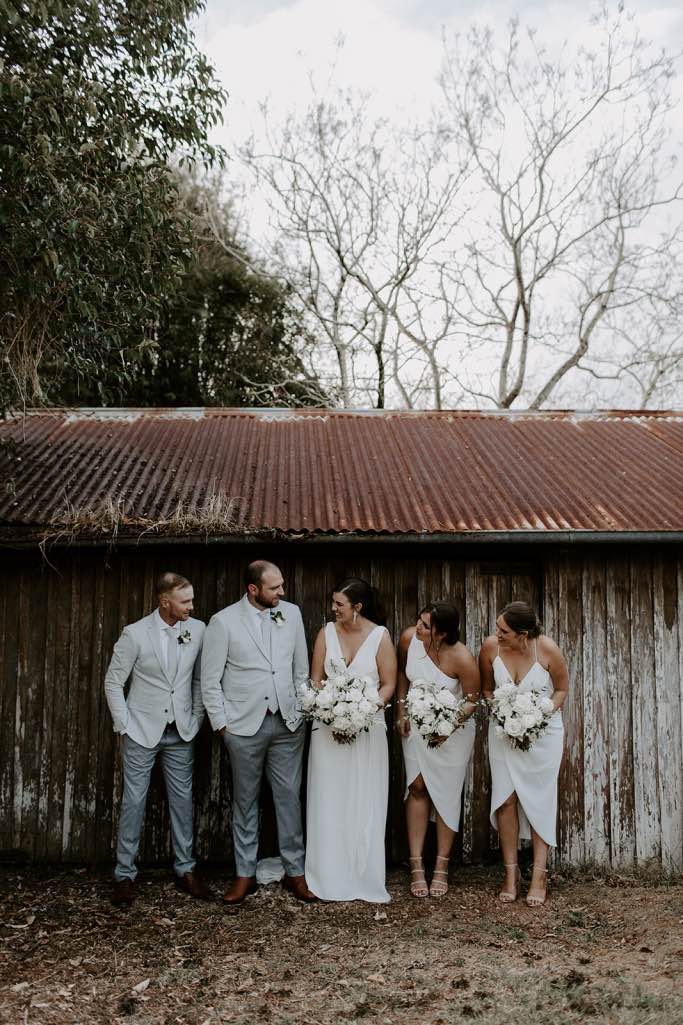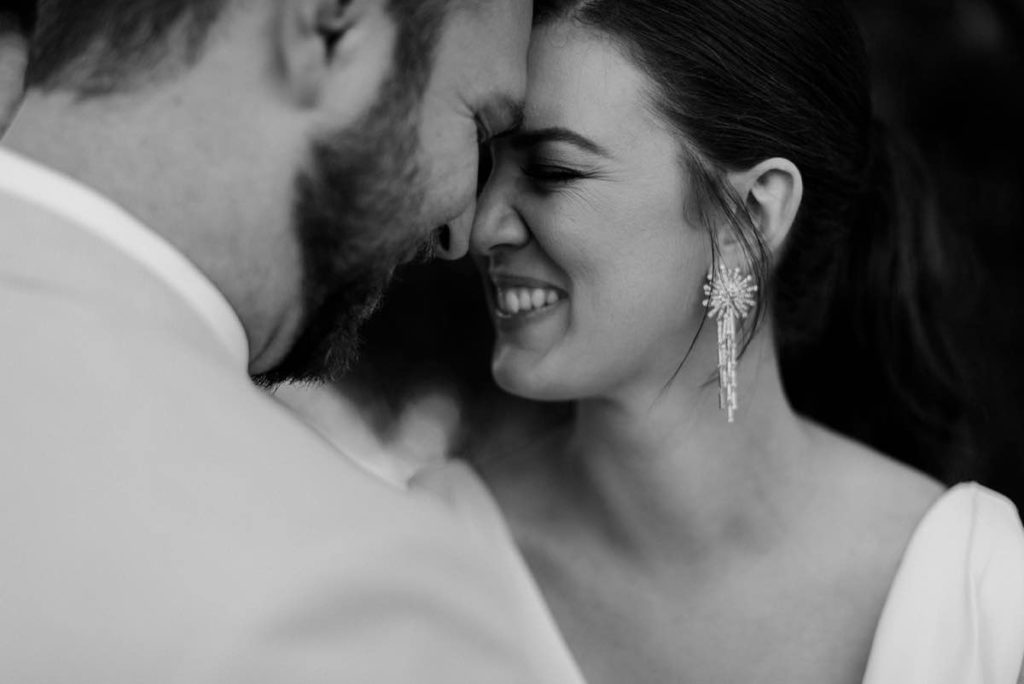 Date SEPTEMBER | Venue FLAXTON GARDENS | Photographer JULIAN BEATTIE | Cake CHOCOLATE 2 CHILI | Flowers WILLOW BUD | Styling SIMPLY STYLE CO. | SAY IT WITH LIGHTS
Willow Bud Wedding Florist created these wedding flowers and bridal bouquets. The wedding ceremony and reception designs were created specifically for this bride at this Sunshine Coast wedding venue, but this style could be created at many of our beautiful Sunshine Coast hinterland wedding venues in Maleny, Montville, Mapleton, Obi Obi, and Flaxton. This wedding styling and wedding florals would also match perfectly with venues and beaches in Noosa, Mooloolaba, Caloundra and private properties across the Sunshine Coast.